Stories you shouldn't miss:
1. California Senators Dianne Feinstein and Barbara Boxer unveiled drought-emergency legislation yesterday that seeks to counteract a bill approved by the GOP-controlled House of Representatives last week that would gut environmental protections in the state, the Bay Area News Group$ reports. And while environmentalists are pleased that the Feinstein-Boxer bill is not as draconian as the Republican bill, they are worried that it would still harm Northern California rivers and fish and wildlife, so as to ship more water to San Joaquin Valley farmers.
[jump]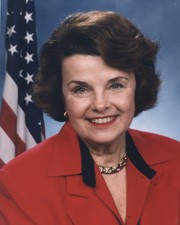 2. Organized labor groups have launched an initiative drive that would effectively end so-called "dark money" in California. According to Capitol Weekly (via Rough & Tumble), the proposed ballot measure would force nonprofit groups that engage in political activity to reveal their donors. Under current law, nonprofits can shield who is funding them from the public. The proposed measure comes in response to dark money groups spending millions of dollars on a 2012 political campaign that sought to reduce the power of labor unions in the state.
3. The Alameda County Board of Supervisors voted unanimously to put a health-care funding measure on the June ballot, the Bay Area News Group$ reports. The initiative would renew Measure A, a half-cent sales tax approved by county voters in 2004 that is set to expire in 2019.
4. An Amber Alert is still in effect for a girl who was in a vehicle that was allegedly carjacked by a shoplifter yesterday at an Oakland Safeway on Redwood Road, the Chron reports. An elderly man was in the vehicle as well — however, no one has filed a missing persons' report for the man or the girl.
5. And Oakland City Administrator Deanna Santana is a finalist to become the new city manager of Phoenix, Arizona, the Trib$ reports. Santana had been a finalist for the same position in Dallas but did not get the job.
$ = news stories that may require payment to read.