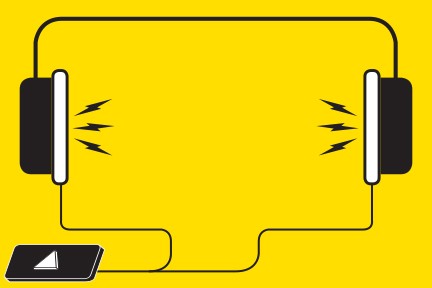 Sara Ahmed, student college student UC Davis
A few years ago, blogs were the predominant digital platform for discovering new music. But of the five people surveyed for this story, only college student Sara Ahmed said she uses them — specifically HotNewHipHop and 2DopeBoyz. She said she also finds new artists on the Pandora stations and Apple Music radio stations of artists she already likes. "If I listen to a song and I like the beat, I'll look into the producer and see who else they produced for — or listen to their instrumentals," she said. But her music library is where Ahmed listens the most. "I worked so hard to build it," she said. "My library means a lot to me."
Zeke Idelson, student, Oakland Tech High School
Idelson, an intern at Youth Radio and a junior at Oakland Tech, said SoundCloud is where he most listens to music. For more mainstream releases, he goes to Spotify. "Spotify is not really about discovering," he said. "Spotify is where you go to listen to people that you know. SoundCloud is where you go to find new people." His peers and supervisors at Youth Radio turned him on to new artists such as Boston rapper Cousin Stizz and rapper and singer Kevin Abstract. Because he mostly listens to music on his phone, Idelson prefers SoundCloud and Spotify because YouTube's mobile app is unwieldy.
Sam Gebru, content curator, Youth Radio
Gebru is a content curator at Youth Radio, editing the stories, music, and other media produced by high school students. He said his friends and family tell him about new music, and then he goes digging online. YouTube helps him discover rap music that's less mainstream than what's on the radio. "The most recent one is a DMV [D.C., Maryland, and Virginia] rabbit hole that I went through on Worldstar and YouTube," he said. In his three-hour search session, he said he most enjoyed Baltimore's YBS Skola and Peso da Mafia, and DC-based Will da Rapper — all rappers with regional traction (as evidenced by views and comments on their videos) but less national exposure.
Sam Lefebvre, musician and Express music writer
Musician and Express music columnist Sam Lefebvre has an analog approach to listening and discovering new music. "I discover music through friends — largely friends who play music or have an industry role such as running a label," he said via email, adding that he also turns to music journalists and critics for recommendations. "Going to shows is important for finding new rock and rock-adjacent music, whereas blogs are more helpful for new hip-hop and electronic music," he added, saying the live shows are also good for discovering experimental and "new music" artists. As for when he's not at shows, Lefebvre says he listens to music via Bandcamp, SoundCloud, and YouTube, and on vinyl and tapes.
Apryl Fuentes, co-founder, Shade Zine
Like many people, Apryl Fuentes discovers most of the new music she enjoys online. But her sources are unlike anyone else's. "I listen to a lot of mixes on livestream radio networks like NTS and Boiler Room," she said. Both of those online streaming sites were founded in London and have increased their listenership and artists over the past few years. Just last month, Boiler Room hosted a live showcase with local label and event production crew Club Chai at the Starline Social Club, which Fuentes attended. DJs that NTS Radio has brought to her attention include Los Angeles-based Mia Carucci and DJ Alima. "I usually pick based on the visuals of the covers, or I pick based on genre," she said, adding that she prefers jazz, disco, cumbia, and bachata. When she wants to seek out a specific artist, she prefers using Apple Music, which is more mobile-friendly than NTS Radio and Boiler Room.
Kathleen Richards, editor-in-chief, East Bay Express
The Express' Kathleen Richards said she often finds out about new music through press releases and live shows. But another unusual source for new artists is Instagram. "I have discovered new music on Instagram, as bands or friends I'm following will post photos or videos of bands they like." Though Richards mostly uses Spotify to listen to music, she finds that their discovery playlists aren't that great. "I think because the artists I listen to are all over the place, they're not quite sure how to pigeonhole me," she said.