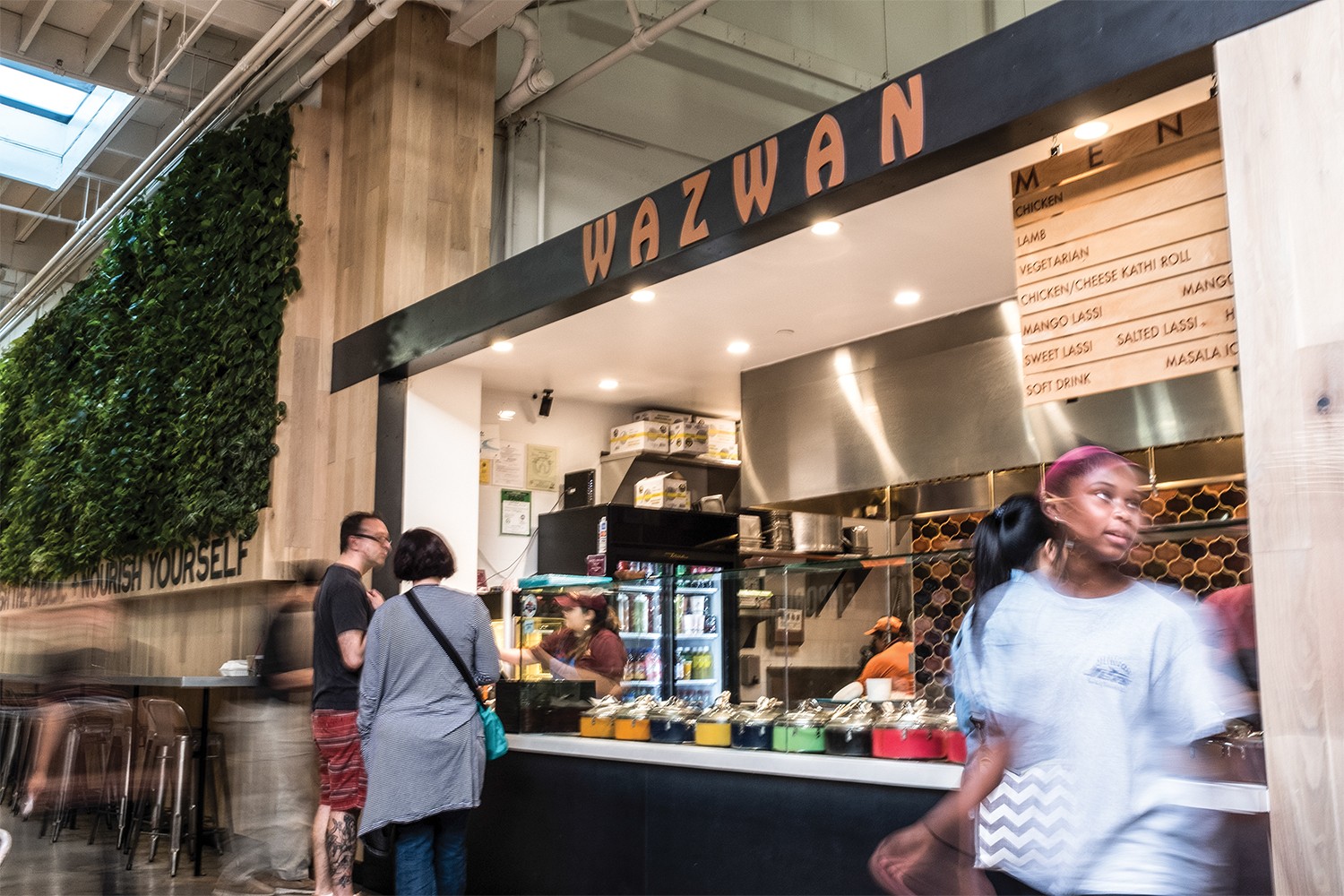 Compared to just five years ago, Public Market Emeryville looks nearly unrecognizable. Back then, it was busy, crowded, and industrial in the least hip of ways. Neon signs lit the pathways between a seemingly endless variety of cuisines: Chinese, Italian, Afghan, Jamaican, Thai.
Now, it's industrial in the hip way, with sleek lines, refreshed fonts, and a minimalist aesthetic. Instead of vats of chow mein and kebabs, there are trendy offerings like Korean fusion, vegan ice cream, and poke bowls. One stall has weathered all the changes: Wazwan Indian Cuisine.
"We are the only lucky survivors," said manager Sachin Rana, sitting down at one of the market tables surrounded by shiny new businesses.
Wazwan first opened along with the rest of the original market in 1987, and now, it's the final remaining food stall from those days. In 2013, market managers City Center Realty Partners (CCRP) announced renovations and offered new leases — but only to two businesses. Wazwan made the cut along with Sorabol, a Korean stand that ultimately decided not to continue. In the words of CCRP president Mark Stefan, Wazwan and Sorabol were the only purveyors who "met the needs and desires of the community for the 2020s, not for the 1980s."
For Rana, the decision to renew wasn't difficult. He had just moved to the United States from India a few years earlier, and he needed the job to stay. He wanted to keep working with his mom, who kept Wazwan running for 14 years before dying in 2016. Now, Rana is in charge while Wazwan's owner, his aunt Meenakshi Singh, focuses on another business.
Wazwan started as a family affair: Singh with her husband and two kids, and eventually, her sister and nephew, Rana. When Rana first moved to California, he lived with his family in San Jose, commuting 90 miles every day. He recently moved to Castro Valley, where he lives with his wife and 3-year-old son. He also got a kennel to breed show dogs for fun — the previously missing piece for his ideal American lifestyle. Before, he dedicated himself entirely to Wazwan.
That visceral need to survive is the main thing that differentiates Wazwan from all the other food stalls that have fallen away. And that means Rana had to adapt. With the market's remodel, Wazwan needed a new logo, a new website, and a new look. Its employees now wear orange uniforms, which match an on-trend tile backsplash. Rana said he could no longer sell fountain soda. He needed to buy compostable containers. Most dramatically, he had to discontinue Wazwan's old steam table setup. Instead, more than a dozen individual, multi-colored pots with glass lids and ladles perch atop a large hotplate, all clearly labeled with the day's selections.
"It definitely looks better, but it's expensive and more time-consuming," Rana said. "We need more labor because the other stuff was easier to clean and this is more fragile."  
The extra costs add up. So about four years ago, Rana bumped up items by a dollar or two — but, particularly compared to the neighboring stalls, Wazwan's huge chicken curry plates ($8.25) and thick mango lassis ($2.25) remain a bargain.
Still, business dropped once construction on the market began and hasn't returned to normal. Rana estimates a 15 to 20 percent loss, mostly blaming the partially closed and confusing parking lot situation. He's able to sustain it thanks to Wazwan's regulars, many of whom have been loyal for as long as 25 years. They return for Wazwan's many vegetarian and vegan options as well as its lamb, tikka masala, and milder, admittedly more Americanized flavor profile. Rana proudly said he can count about 50 people who eat at Wazwan every day or every other day.
Singh's family came up with Wazwan's recipes back in the '80s, and they've remained unchanged all these years later. Consistency is a huge deal in restaurants, and Wazwan has managed to maintain it in part because its cooks have stayed on for so long — some for decades. Longtime customers often tell Rana that their favorite dishes taste exactly as they did from when the market was covered in neon and long before that.
"'Everything is the same,'" Rana relayed with a smile. "That's a big compliment."