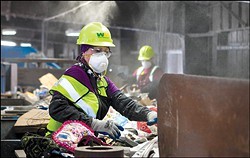 Waste Management, the corporation that currently picks up Oakland's trash, is not giving up the city's
lucrative garbage contract
without a fight. As we reported last month, the Oakland City Council, in a surprising move, awarded the entire $1 billion franchise to
California Waste Solutions
 (CWS), an Oakland-based company that currently does some of the city's recycling, but has never had a residential garbage contract before. Skeptics have questioned whether CWS is prepared to do the job, given that it currently lacks a facility to sort trash. Waste Management responded with a
lawsuit against the City of Oakland
, alleging that CWS was not only a risky choice, but that the competitor also won the garbage bid only after the city violated multiple provisions of its request-for-proposals (RFP) process. 
Now, Waste Management is taking another route to fight CWS' award — collecting signatures from voters in the hopes of passing a referendum to overturn the council's decision.
[jump] Waste Management, a Texas-based corporation, has hired local political strategist 
Larry Tramutola
 to help lead the referendum effort, according to David Tucker, director of community and public relations for Waste Management. Tucker told me that the company began collecting signatures over the weekend and has to turn in petitions within thirty days of the city finalizing its decision to award the garbage contract to CWS. That means that by September 26, Waste Management has to collect roughly 21,000 eligible signatures, representing 10 percent of the city's voters. If successful, the award of the contract to CWS would be put on hold until Oakland voters have an opportunity to directly weigh in on a referendum overturning the city's ordinances authorizing CWS to take over the franchise. 
"We're exercising all of the options that are afforded to any company that believes an act of council was not made with the best interest of the City of Oakland in mind," Tucker said. "We are just asking that the city rethink their ordinance that they passed." 
According to Tucker, paid signature gatherers are telling voters that there's "no guarantee that the garbage is going to be picked up" with CWS handling the contract. Waste Management officials have repeatedly warned the city that CWS may be ill-prepared to pick up trash on Day One of the new contract next July because of the company's inexperience.
One of the main reasons the council favored CWS was that its proposed rates were lower than Waste Management's, but
critics of CWS have argued
that the company may end up requesting higher rates down the road. In its recent lawsuit against the city, Waste Management also alleged that the city, in one of several violations of the rules of its competitive bidding process, improperly shared the company's confidential information with CWS while the bidding was ongoing, allowing CWS to utilize this information in its own proposals. 
Waste Management is now hoping voters across the city will support the company's effort to win back the contract. Because the garbage franchise is technically broken up into three different contracts — residential recycling, compost and green waste, and trash disposal — Waste Management is asking voters to sign three different petitions to revoke each ordinance authorizing CWS's contracts, Tucker explained. 
Waste Management representatives are currently "out in East Oakland, West Oakland, downtown," Tucker continued. "The initial report back from the team out collecting signatures is that people are stopping and listening. And they are signing."