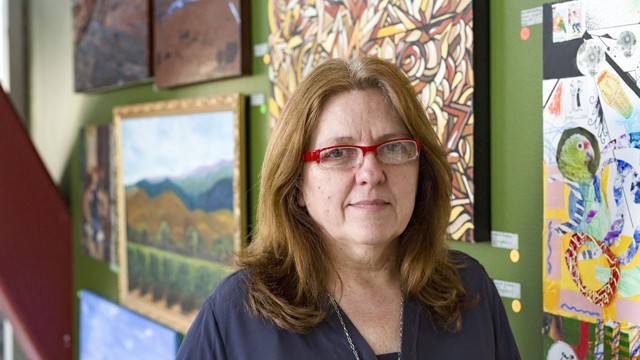 Musically Minded Academy
, a school that has taught around 3,500 Bay Area children to wail on guitar, piano, violin, and other instruments since 1992, was evicted from its Rockridge location in August, leaving it without a home.
And the academy is not alone. Skyrocketing rents have displaced many other arts organizations, including the
Oakland Public Conservatory of Music
, and others are threatened, including
MOCHA, the Museum of Children's Arts
. Together, they represent some of the very organizations that give Oakland its unique character—its special sauce.
In some good news, the conservatory has found a new home in downtown Oakland, and the city is working on a variety of ways to prevent displacements. In the interim, however, Musically Minded and many of its counterparts are struggling.
"We were heartbroken when we got the eviction notice," said Anna Orias, who founded the school in her living room in 1992. After moving to her parents' garage in 2004, in a grand flourish, the school opened at the 6,000-square-foot building at 5776 Broadway in October 2010.
The spacious facility was perfect for Musically Minded, which puts on several recitals and performances annually. But the academy was evicted on a technicality in August, Orias said.
"We had to turn in a letter to say we wanted to renew our lease. We turned it in 17 days late because we were confused about the date," Orias said.
"Any reasonable landlord would have accepted it," but Orias' landlord did not do so, Orias said. Attempts to reach Velma Magnani, who owns 5776 Broadway, were unsuccessful.
Now, Orias, who teaches piano, and her 20 instructors, are scrambling to find spaces in which to teach. The academy has put together an arrangement with the College Avenue Presbyterian Church to use space there afternoons and evenings. However, it's not enough space, and Orias is paying more than $2,000 a month to store instruments while looking for a new facility.
During her search, Orias said, she has encountered facilities offered for around $3 a square foot per month, which is beyond her means.
While MOCHA, the 28-year-old children's arts nonprofit, is still in its 1625 Clay St. location downtown, the sheer size of the space is making it unaffordable.
"It's not because it's not a fair price," but the 6,500-square-foot facility, which over the years has averaged $2 a square foot, adds up to too much rent, said Roxanne Padgett, MOCHA's executive director. Thinking creatively, MOCHA is looking for another arts organization to share its space and split the rent.
"We use it mostly during the day," Padgett said. "We hope to find a nonprofit that can use the evening space so we both can afford to stay in downtown Oakland."
The city is working closely with MOCHA, Musically Minded, and other arts organizations to help prevent displacement, or, in the case of Musically Minded, find a new facility.
Unfortunately, "it's still hard to find a site for Musically Minded" because of factors including cost and location, said Kelley Kahn, the city's policy director of arts spaces. Kahn is hopeful about what she called "a permanent solution" the city is exploring.
"We are trying to draft and pilot new zoning regulations," she said. The hope is to create zoning rules "that require or incentivize arts uses on the ground floor in which the developers allocate a part of the ground floor for arts uses," she said.
Also, the city is working with the
Community Arts Stabilization Trust
, or CAST, a San Francisco nonprofit that purchases and leases space to nonprofit arts organizations so they won't be driven out of San Francisco and Oakland.
The Kenneth Rainin Foundation and the William and Flora Hewlett Foundation last year donated a total of $600,000 to fund arts organizations facing displacement. The money is funding Keeping Space Oakland, which helps Oakland arts organizations seeking long-term workspaces. The program offered classes in May, teaching such things as how to negotiate a commercial lease and how to negotiate with landlords. Arts organizations including Project Bandaloop, Pro Arts, and Ubuntu Theater Project took the courses.
Keeping Space is administered by CAST. Additionally, CAST is "on the ground seeking long-term space to develop for artists in Oakland," said Tyese Wortham, CAST's program manager.
Owen Jung, 13, of Oakland, said he hopes a new space can be found for Musically Minded, where he has been studying piano since he was 5 years old. He especially liked the recitals that were held at the former location. "It pushes you to get better. I was really sad when we had to move. I hope we find a new place that's as good or better."
This report was originally published by our sister publication,
Oakland Magazine.