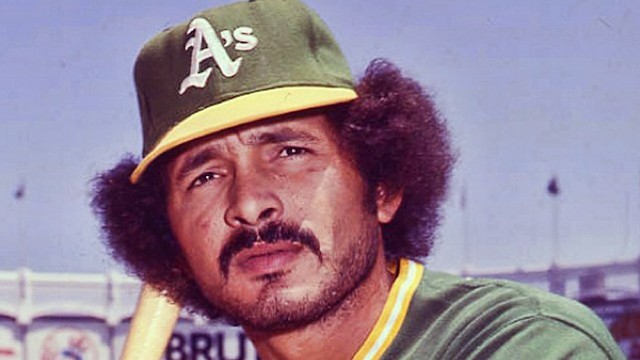 Earlier this month, the A's released their list of Top 50 players from the team's half-century in Oakland, finding a smart, simple way to honor their past and make offseason headlines. It's one of several recent examples that reveal the team's improved marketing strategy in the year-old Dave Kaval era. Even the well-made video the A's posted to announce the list was clever, as it embraced nostalgia by using an old-school graphic font last seen in a 1980s TV broadcast.
Fans care about this stuff, and, apparently, so do the players. Check out this Tweet from former A's outfielder Eric Byrnes, who made the list:
Got a text from a buddy yesterday & ignored it because I thought he was F*ing w/ me… I don't deserve to be on the list but for what little I was able to bring I gave my heart & soul to that team. APPRECIATION & LOVE to all who voted #RootedInOakland

All together now: Awwwwwww.
That's what great sports promotions do: They bring a franchise's players and community closer together. And it was cool to see the A's Top 50 list do just that.
However, some past players clearly got snubbed. That, unfortunately, will happen with a list based entirely on fan voting for a franchise that failed to celebrate its history for more than 20 years — 1995-2016.
The good news? The Kaval-led A's over the past year have made strides in rekindling memories of Oakland baseball's rich folklore. The bad news? It's a problem that will take considerable time to fully solve. As a result, some old-school A's fell through the cracks on the recent list.
Let's fix that.
Without further ado, here are my "Deserving Dozen" — the names of forgotten Oakland A's players who should have made the Top 50.
Mitchell Page
: Nicknamed "The Rage," he was a ray of light during one of the darkest periods in A's history. Page took the American League by storm in his rookie campaign in '77, when he hit 21 homers, 75 RBIs, and a .307 average. He even notched an on-base percentage (.405) that would make Billy Beane drool. In true Oakland fashion, however, Page was not afraid to speak his mind, and he butted heads with then-owner Charlie Finley and manager Billy Martin. Those battles, along with injuries, robbed him of playing time in his prime. But for a few years, Page was all the rage in Oakland, giving A's fans hope while enduring consecutive losing seasons.
Tony Armas
: If there was a Hall of Good, Armas would be a shoo-in for induction. The Venezuelan slugger spent six productive seasons in Oakland, where he joined Rickey Henderson and Dwayne Murphy in one of the franchise's greatest outfield trios. Armas' 1980 season alone — 35 homers, 105 RBIs and Gold Glove-quality defense — is enough to rank him on this list.
Huston Street
: He excelled from the second he first toed the slab in Oakland, winning American League Rookie of the Year in 2005. Street spent four strong years with the A's, leading a 2006 team that captured the only playoff series victory in the Billy Beane era, before losing to Detroit in the ALCS. Smart, athletic, and cagey, Street has forged a very good career despite lacking overpowering stuff.
Matt Stairs
: He was a fan favorite, and not just because he looked like he'd been plucked out of your company's softball league. The shaggy, roly-poly Canadian could truly hit, and he scared baserunners with a strong arm while patrolling right field. He played five seasons in Oakland, peaking with 38 homers and 102 RBIs in 1999. Even more important, his easy-going leadership and good humor set the fun-loving clubhouse tone for which the Moneyball A's would later be known.
Mike Heath
: This BillyBall-era player was a baseball rarity: an athletic catcher. Manager Billy Martin would use his speed by occasionally asking him to steal bases and play outfield. Heath also could hit for power, swatting 13 home runs in each of his last two years with the A's. He never put up monster numbers, but his consistent quality of play and length of service (1979-85) make Heath a no-brainer for this list.
Rick Honeycutt
: Somebody had to hold late-game leads so Dennis Eckersley could enter in the 9th inning and rack up all those saves. During the Bash Brothers era — from 1987-1993 — Honeycutt was that guy. He was never better than during the World Series-winning 1989 season, when Honeycutt posted a stellar 2.35 ERA in nearly 77 innings.
Rick Langford
: In 1981, Langford joined fellow A's hurlers on a
Sports Illustrated
cover with the caption: "The Amazing A's and Their Five Aces." For a time, Langford truly was amazing. Some say Billy Martin burned out his arm. That's not true — everybody says Billy Martin burned out his arm. In 1980, Langford led MLB with 28 complete games. The following season, he had 18 complete games in the strike-shortened year. Despite the wear and tear, he lasted 10 seasons in Oakland, serving as a tireless workhouse for BillyBall's "Amazing Aces."
Angel Mangual
: The Mustache Gang's most unheralded player, Mangual was a scrawny backup outfielder from Puerto Rico. He only played five full seasons in Oakland — from 1971-1975 — but the A's won their division in each of those years. He also earned three World Series rings, contributing to the '72 World Series victory. In Game Four, he knocked in the winning run with a walk-off pinch-hit single. And in Game Seven, he scored the first run on a Gene Tenace single, drawing first blood in a tense 3-2 title clincher. In some of that postseason's most pivotal moments, the skinny kid from Juana Diaz came up big.
Mike Bordick
: The emergence of this slick-fielding shortstop allowed the A's to trade Walt Weiss in the early 1990s. And the durable Bordick spent six full years in Oakland, posting better hitting stats than Weiss while making less trips to the disabled list. Also, Bordick's stellar 1992 season helped the A's make the postseason for the fifth and last time in the Tony LaRussa years.
Steve McCatty
: A very good, underrated pitcher who led MLB in ERA and shutouts in 1981, in which he likely would have won 20 games had a strike not shortened the season. His seven full seasons in Oakland peaked during Billy Martin's tenure, featuring a postseason trip to the ALCS. McCatty's Hall-of-Fame wit also made him one of the franchise's most likable players.
Mike Moore
: On a team stacked with Rickey, Hendu, Canseco, McGwire, Eckersley, and Stew, it's easy to see how mild-mannered Moore could be overlooked. But he shouldn't be. Moore won 66 games from 1989-1992, helping the A's win the AL West in three out of those four seasons. He shined especially bright in '89, earning 19 wins and an All-Star nod.
Tie –
Paul Lindblad/Darold Knowles
: Middle relievers are like bass players in a rock group. They're easily overlooked, but the band falls apart without them. Lindblad and Knowles each played such a role as Rollie Fingers' reliable setup men for the brawling Mustache Gang, which gave the Bay Area its first World Series title. Lindblad played for Washington in '72, but won championships with the A's in 1973-74, as part of his seven seasons in Oakland. Meanwhile, Knowles wore the green and gold from 1971-74, winning three rings and setting a MLB record (since tied) by pitching in all seven World Series games in '73.
Honorable Mention
Herb Washington
: This former speedster gets an honorable mention because he best symbolizes the brash creativity of ex-A's owner Charlie Finley. Let's put big quotes around "player" when describing Washington because he did not hit or field. Yet, he won a 1974 World Series championship. The former track star was a "designated runner," a Finley innovation not tried before or since. By mid-1975, Washington was out of baseball. But Finley was never out of ideas, as Washington's short-lived tenure proved. The designated runner? Only in Oakland.
Other honorable mentions include catcher
Ramon Hernandez
, who had four good years behind the plate from 2000-03; as well as outfielder
Rick Monday
and pitcher
Chuck Dobson
, a pair of solid contributors in the early Oakland period from 1968-1971. If not for free agency, Berkeley High's
Claudell Washington
would have memorably roamed the Coliseum outfield for at least a decade; instead, we'll have to settle for three very good A's seasons before being traded when he was only 22.
Dave Kingman
, enigmatic and controversial, rapped 100 homers and 303 RBIs as an A's designated hitter from 1984-86, the final years of his long career. And catcher
Jeff Newman
, first baseman
Dave Revering
, and pitcher
Matt Keough
round out the list of solid BillyBall-era players whose presence on the Top 50 list would have raised nary an eyebrow
Chris De Benedetti, a co-founding member of Baseball Oakland, writes a regular sports column for the
Express.