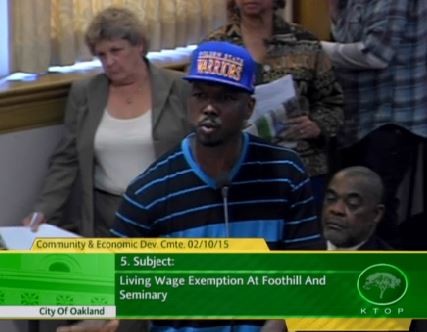 Yesterday, the Oakland City Council's Community and Economic Development Committee voted unanimously to waive the Living Wage Ordinance for the anchor tenant of a real estate project being built at the corner of Seminary Avenue and Bancroft Avenue. The decision, if approved by the full council, is designed to allow Walgreens, or potentially another large retail company, to pay employees the city's $12.25 minimum wage instead of the $14.10 living wage. The higher living wage is required for employers with more than 20 employees who receive city subsidies. The Seminary Point development, where Walgreens has expressed interest in opening a store, has received millions in public subsidies since 2008, and
staff reported to the committee
that "since Walgreens anticipates hiring 20 employees within the five year period, they have requested an exemption from the living wage requirement."
Oakland City Councilmembers on the Community and Economic Development Committee justified their vote to carve out Walgreens' Seminary Point store as a necessary compromise with the company that will bring much-needed retail services to an economically depressed neighborhood.
"It's not worth the risk to see Walgreens walk away," said committee member Annie Campbell Washington.
[jump] "A bunch of Walgreens jobs at $14.10 an hour would be better than at $12.25 an hour, but jobs paying $12.25 is better than zero," reasoned committee member Rebecca Kaplan.
Speaking to the committee during public comment, Councilmember Desley Brooks said it was "disheartening" and "shameful" to see nonprofits like the East Bay Allicance for a Sustainable Economy and Causa Justa/Just Cause speak against the waiver because they were threatening the project's completion.
But now Walgreens is saying that the company hasn't requested a waiver from the city, and that its decision over whether or not to sign a lease with the developer won't be based on the living wage issue.
"Walgreens is today informing the Oakland city council that it is not requesting an exemption from the city's living wage ordinance," Walgreens representative Phil Caruso explained to the
Express
in an e-mail. "To clarify recent comments by others, it is not our company's policy to seek such exemptions from living wage ordinances. We have not yet determined whether we will sign a lease for a new store in Oakland, but that decision will not be based on the exemption application submitted by the real estate developer."
Afshar Siavash of Sunfield Development, the developer of the Seminary Point project,
told the Express on Monday
that Walgreens was refusing to sign a lease with his company unless the council approved the Living Wage Ordinance waiver.