Stories you shouldn't miss: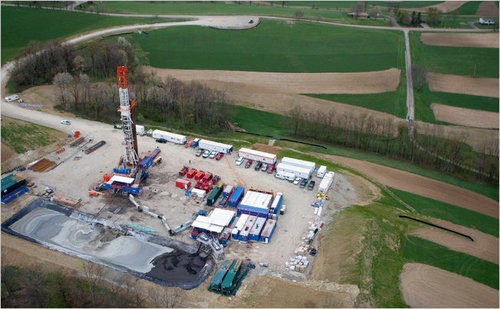 1. Wastewater from fracking in California is far more toxic than suspected —
it contains on average about 700 times the level of benzene, a carcinogen, that federal standards allow
, the
LA Times
$ reports. The Brown administration has been letting oil companies inject fracking wastewater into underground aquifers used for drinking water and farming. In some cases, the fracking water contained benzene levels that were thousands of times higher than federal law permits.
2. The BART board of directors is scheduled to decide to today whether to press forward with a request that fourteen Black Lives Matter protesters who shut down BART on Black Friday
should be fined $70,000
, the
CoCo Times
$ reports. BART board member Rebecca Saltzman, who represents portions of Oakland and Berkeley, is proposing to drop the fine and she wants all criminal charges dismissed against the nonviolent demonstrators.
[jump] 3. Shipping companies
have decided to lock out maritime workers today and this weekend
at West Coast ports, including at the Port of Oakland, thereby shutting down the ports for four out of the next five days, the
Chron
reports. The shipping companies say they're upset about worker slowdowns during a protracted labor dispute.
4. The state Supreme Court ordered Oakland trucking company AB Trucking
to pay more than $1 million in back wages
to drivers, the
Chron
reports. AB Trucking, which is owned by Bill Aboudi, had appealed lower court rulings that ordered the company to pay the back wages. The high court unanimously refused to hear AB Trucking's appeal.
5. Oakland Children's Hospital has agreed to pay $300,000 to an employee that the hospital
fired after she underwent a double-mastectomy for breast cancer
, the
Chron
reports.
6. It turns out that 40 percent of the Kensington Police Department's small force was in Reno last year
on a getaway trip in which one of the Kensington cops had his gun and badge stolen during an encounter with a prostitute
, the Bay Area News Group$ reports.
7. State Attorney General Kamala Harris, who has resisted proposals that her office prosecute cops who kill people, has
won the endorsement of the Los Angeles police union
for her US Senate campaign.
8. And BART issued a warning yesterday about measles after the agency discovered that an
infected LinkedIn employee had been riding trains
, the
Chron
reports.