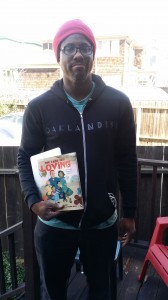 In January, fans of local activist comedian W. Kamau Bell were outraged after Bell, who is African-American, was reportedly "shooed" from an outdoor table at
Elmwood Cafe
while speaking to his wife and her friends, who are all white. After Bell recounted the experience in a
blog post on his website
, Elmwood owner Michael Pearce
publicly apologized
on behalf of the cafe, and agreed to take part in a public forum discussing the incident, and the East Bay's culture of implicit racism and harmful micro-aggressions that it exemplifies.

See Also:
Berkeley Cafe Serves Up Scones with a Side of Racism, Says Comedian W. Kamau Bell
The forum will take place this Friday, March 13, at 7 p.m. at Willard Middle School (2425 Stuart St., Berkeley). Alongside Bell and Pearce, the panel will also include Bell's partner Dr. Melissa Hudson Bell, Pamela Harrison-Small (former Executive Director of the Berkeley Alliance), Kadijah Means (Berkeley High School Senior and President of the Berkeley High Black Student Union), and Novella Coleman (ACLU-Northern California Staff Attorney), among others. The event is intended to be a dialogue that includes the entire community, and uses Bell's experience —and the nationwide aggravation it elicited— as a point of departure for discussing methods of change. As the
press release for the event
reads: "The hope is that we will all leave with a broader understanding of the complex racial issues facing our community and have greater practice addressing them through conversation."
According to Bell, on the day of the incident, his wife was sitting outside with their child, and her friends, who also both had young children with them. He had just bought a children's book (coincidentally about the couple that successfully fought for the legalization of bi-racial marriage in 17 states), and was showing it to the women at an outdoor table. An employee of the restaurant saw Bell, came outside, and effectively told him to "scram." After seeing the horror on Bell's face, the employee apologized and said, "Oh, we thought you were selling something." Read Bell's comprehensive account of the incident in his blogpost entitled,
"Happy Birthday! Have some Racism from Elmwood Cafe!"
Bell's comedy surrounds topics of social justice, so he is no rookie at discussing issues of prejudice. The meeting will surely produce a lively and stimulating discussion that clearly needs to be had. 
[embed-1]