Earlier this month, a security guard fired his gun at a burglary suspect in the Upper Dimond-Oakmore area, reigniting the controversy around the use of private patrols in Oakland. This incident has caused a fair amount of alarm across neighborhoods, in part because the patrol officer from the company called Security Code 3 was not supposed to be armed in the first place. While reporting on this latest debate, I also learned of another noteworthy development in the East Bay patrol industry: VMA Security Group, one of several companies that stepped up last year to provide this security service for residents, has decided to pull out of the patrol business altogether.
Vince Mackey, president and CEO of the Oakland-based company, said that VMA will not be renewing contracts in the two neighborhoods it had entered last year for trial patrols. Mackey, who served as the director of security and was a bodyguard for former Oakland Mayor Ron Dellums, said that the setup didn't make financial sense for his company, which specializes in non-patrol services (like security at nightclubs or other private businesses).
[jump]
So while the critics of the neighborhood patrols continue to question the ethics and effectiveness of this model, it appears that at least one established security company also has doubts about the system.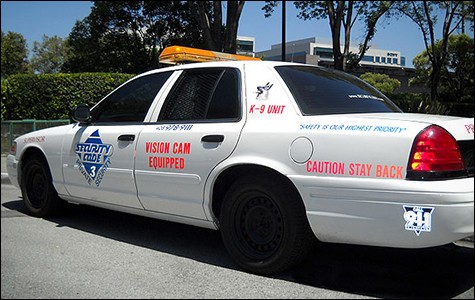 "We want to help our community be more safe," Mackey said. "I wanted to give back to my city and see if we could help. We believe we helped."
But, he said, "It's very expensive. … I'm not in the position to continue to do it for the long term."
VMA had launched these short-term pilot patrols with the intention of evaluating the effectiveness of the service for the residents and for his company. And with the contracts coming to a close this month, he ultimately decided not to renew them.
One of the challenges, he said, was that residents would sometimes make requests that were beyond the scope of what his officers were comfortable doing. It was also difficult when situations arose nearby but outside of the geographic area where they were contracted to patrol, he said.
The question of how far a security company's purview extends is noteworthy considering that the Security Code 3 incident appeared to involve some sort of pursuit by the guard of the burglary suspect — who he ended up shooting, allegedly in self defense. The guard, who was licensed to carry a firearm but working an unarmed patrol, has not been charged with a crime; the company declined to disclose his employment status.
There are a handful of other companies that have ongoing patrol contracts in neighborhoods throughout Oakland and Mackey noted that some of them specialize in this kind of service and are perhaps better equipped.
While Mackey made the decision prior to the Security Code 3 shooting, he said that the incident "was affirmation … that this is not what I want to be involved in." In his company's typical services like venue security, "the lines are a little more clearly defined. It's a little more cut and dry." Mackey said he couldn't comment on the specifics of that shooting incident, but he noted that his own armed officers would only discharge their weapons as an absolute last resort in a life-threatening situation. He also pointed out that if his guards brought guns to an unarmed patrol, they would immediately be fired.
In Rockridge, one of VMA's pilot neighborhoods, it appears that this is not the end of private patrol. According to a neighborhood email, residents have secured a replacement company.
For more on private patrols, check out this week's news story "When Private Patrols Pull The Trigger."