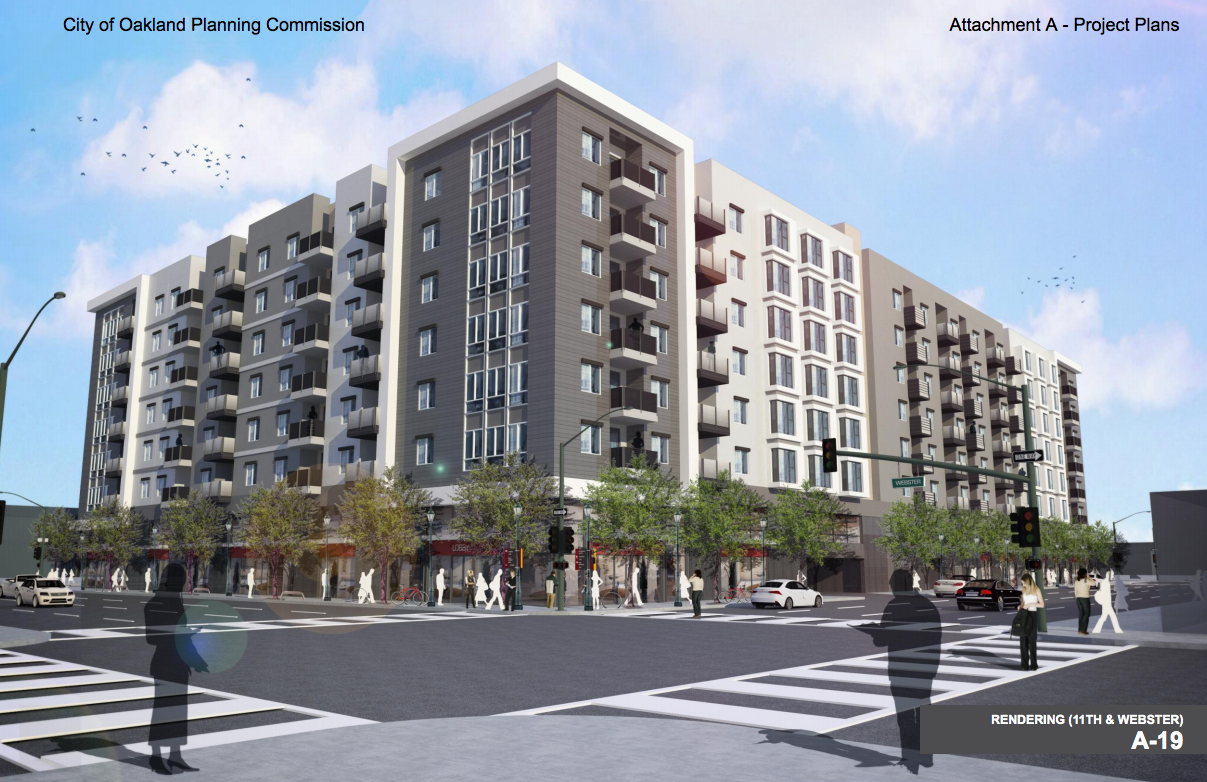 Oakland is booming, and Chinatown real estate holds premium value due to its proximity to BART, Lake Merritt, and the hot downtown-office market.
But many Chinatown residents are worried about gentrification and displacement. Will the boom drive up rents? Will Chinese, Vietnamese, and other Asian residents — and their small businesses — get pushed out to make room for more affluent newcomers? Or can new development be leveraged to prevent displacement?
[jump]
See also:
Saving Chinatown
Tomorrow, the planning commission will consider
a pair of apartment buildings with 416 units,
both ringed with ground-floor retail. Called the W12 project, the seven-story edifices will rise on the edge of Chinatown along 12th Street, where Harrison and Webster cross. The bigger building will cover the entire city block currently used by the Amethod Downtown Charter Academy school.
"I understand that we need more housing," said Lailan Huen, an Oakland resident who has been working with Chinatown residents to shape the neighborhood's future. "I get we need more density. But it has to happen with equity, without displacement."
Huen currently works with Block by Block Organizing Network, a group founded by her mother, former Mayor Jean Quan. Along with Chinatown groups like AYPAL, APEN, Family Bridges, and the Chinese Community United Methodist Church, Huen has approached the W12 developer with a list of community concerns — and some demands. They include a demand that affordable housing be included in the project so that Chinatown's traditional working-class character isn't eclipsed by a deluge of expensive apartments and shops.
According to Huen, the developer behind the W12 project, San Francisco-based Martin Development Group, has been in talks with the nonprofit developer EBALDC to sell the smaller development site it owns on 12th Street so this can be dedicated entirely for affordable housing.
"[T]he guaranteed inclusion of the 285 12th Street site for affordable housing is critical to prevent major and prolonged opposition to this project," the Chinatown groups wrote in a letter to Christina Ferracane, the city planner overseeing the project.
But it's not clear if EBALDC and Martin Development Group will strike this sort of deal.
Justin Osler
, a principal with the Martin Development Group, told the
Express
via email his company does not comment on private transactions.
He also pushed back on the notion that his company should alter its plans to address community fears that the neighborhood will become unaffordable and lose its identity.
"We reached out to a broader group of stakeholders in Chinatown," Osler said. He listed Asian Health Services, Bike East Bay, the Oakland Chinatown Chamber of Commerce, and Oakland Asian Cultural Center as groups that support the project without additional community benefits.
"The group that Lailan represents has called themselves a coalition, but they represent themselves mostly," Osler said.
Huen disagreed. "We represent thousands of residents and include over a dozen member organizations, including the most active service providers and community churches in Chinatown who work directly with the low-income residents who would be most impacted by development," Huen said.
Some of the organizations the developer listed as supporters said they haven't yet agreed to back the project. "I have not ever said I support the project without any community benefits and neither has my board," Tamiko Wong, the executive director of the Oakland Asian Cultural Center wrote in an email.
The main benefits the project will bring to Chinatown, according to Osler, are safety and economic support.
"The full block, which is located kitty corner to Lincoln Recreation, lacks light at night and any street side activity," Osler wrote. "In meetings with neighborhood stakeholders, we have learned that there is significant petty crime along the Webster street corridor."
"New housing and retail will activate this and other blocks in Northern Chinatown, acting as a strong deterrent to petty crime," Osler wrote.
He added this his company plans to pay Oakland's new affordable housing impact fee rather than incorporate affordable housing in the project. The fee would be about $2.3 million.
"Outside of our fees, our new residents will eat, drink and shop in Chinatown and the surrounding businesses, an important source of new patrons for the neighborhood," Osler wrote.
Huen said it's not enough to assume the new residents will benefit the neighborhood by shopping there. She said the developer should consider setting aside some of the 23,000 new square feet of retail space they create for commercial and nonprofit tenants who are feeling pressured by rapidly rising rents. Huen said a nearby project serves as a good example. The developer Wood Partners agreed to make 25 percent of the retail space in its 262-unit apartment building on an empty lot on 13th Street between Alice and Jackson more affordable.
Osler wouldn't comment on the possibility of setting aside some of the retail space.
Beyond the W12 project, Huen said Oakland needs to do more on a policy and planning level to protect Chinatown and ensure that the residents can determine their own future.
"I've seen other Chinatowns disappear," Huen said. "Washington D.C.'s was basically destroyed. It was seven blocks, but now it's two. That's something that could happen here. The city has to implement real zoning protections and policies that preserve."
Editor's note: this story has been updated with a quote from Tamiko Wong of the Oakland Asian Cultural Center.