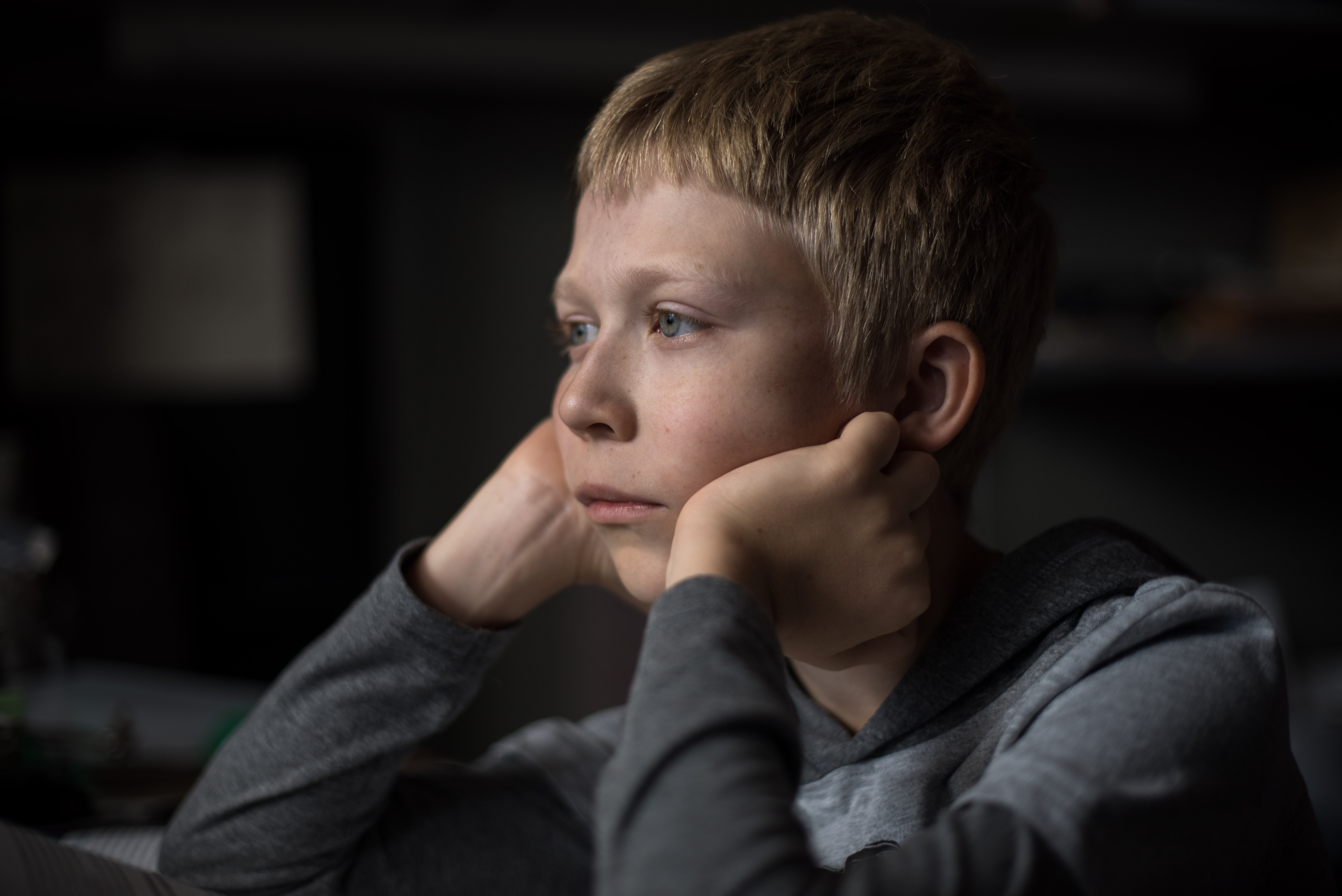 The action opens with an establishing shot sequence that runs on for so long we begin to take notice, then it keeps on going — a series of beautifully composed but chilly shots of snow-covered, leafless trees at odd angles, some in the act of falling over into a creek, a wintry forest scene overlaid with an apprehensive music track. That subdued tone-poetic opening, working hand-in-hand with the film's title, Loveless, seems to warn us that all is not well in Moscow.
Indeed, as the action focuses on a preteen boy named Alyosha (Matvey Novikov) getting out of school, things are bad and getting worse. In the condo where he lives, Alyosha cowers in his room, playing on his computer, while his parents fight non-stop. It's clear that they're well into the breakup process, already showing their apartment to prospective buyers, and that their son fits into their separate future plans so little that they scarcely talk to him at all. Doors slam, shouts reverberate, and Alyosha breaks down in tears, not making a sound, ignored and apparently unwanted, an afterthought in the wreckage.
His mother, Zhenya (Maryana Spivak), manager of a beauty salon, has the petulant manner of a spoiled child who rarely gets her way. In the quiet moments she spends at the home of her older boyfriend, a reserved and slightly dismayed man named Anton (Andris Keyshs), Zhenya's self-pity turns to bitter blame — it was her mother, her son, or her husband who ruined her life. On the flip side of this domestic hit parade, Alyosha's father, Boris (Aleksey Rozin), a weak and cowardly office worker, is more afraid of his boss than worried about the future of his son. His outside girlfriend, Masha (Marina Vasileva), is pregnant with his newest offspring. Of course, Alyosha is a mess — his mother is a bird of prey, his father is a human dartboard, and neither of them needs him around. Little wonder, then, that after the parents return to their condo one morning after sleeping over with their respective lovers, their 12-year-old son is nowhere to be found.

[embed-1]

The director, Andrey Zvyagintsev, is something of a master at portraying the soul-wearying struggles of his fellow Russians. His 2014 drama Leviathan shows what happens when the power-drunk mayor of a tiny community in the frozen North covets the house of a small-time businessman. In The Return (2003), the reappearance of a long-lost father adds to the rivalry between his adolescent sons in the Lake Ladoga outback. It's a cherished cinematic cliché that Russian films tend to dwell on the gloomy side, but filmmaker Zvyagintsev — here working from a screenplay he wrote with frequent collaborator Oleg Negin — gladly picks up that handy stereotype and bends it to his own purposes. Zvyagintsev protagonists dwell in a sphere in which the typical notions of good and bad luck do not apply.
For Zhenya, Boris, and the pathetic Alyosha the past, present, and future have been paved over and smothered under a ton of fatalistic asphalt. In that sense, Loveless — the title is Zhenya's description of herself, recalling her unhoped-for pregnancy with Alyosha years before — is the ideal sour entertainment for a cold February evening. The performances, especially Spivak's Zhenya and Nataliya Potapova as her malicious mother, are lamentably vivid. Mikhail Krichman's cinematography paints the settings in gray winter tones reminiscent of 17th-century Dutch artist Hendrick Avercamp, with appropriately nervous musical cues by composers Evgueni and Sacha Galperine. Yet in spite of these undeniably oppressive production elements, Zvyagintsev's sad family portrait speaks an emotional language that lingers in the air. Their restlessness knows no borders.

Loveless
Directed by Andrey Zvyagintsev. With Maryana Spivak and Aleksey Rozin. Opens Friday.