If you were jogging on the Bay Trail or cruising down Frontage Road yesterday at around noon, you might have thought you'd woken up in 2015 — or been blasted back to 1985. A DeLorean that looked like it came straight out of Doc Brown's workshop was cutting up the bay waters between the Emeryville and Berkeley marinas, making spins and flapping its gull-wing tail feathers. A couple hundred feet north of the Emeryville harbor, where I-80 hugs the bay, a ten-foot cardboard sign declared, to the tune of Katy Perry(jk) Carly Rae Jepsen's "Call Me Maybe", "Hey I just built this / And this is crazy / But watch me hover / And hire me maybe?"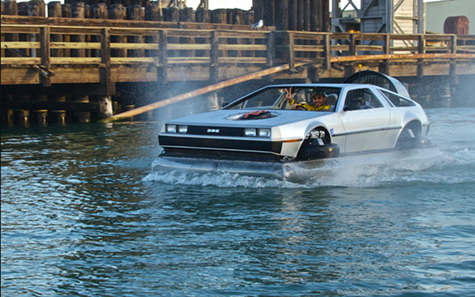 Delorean Hovercraft Facebook page
The Delorean hovercraft in action.