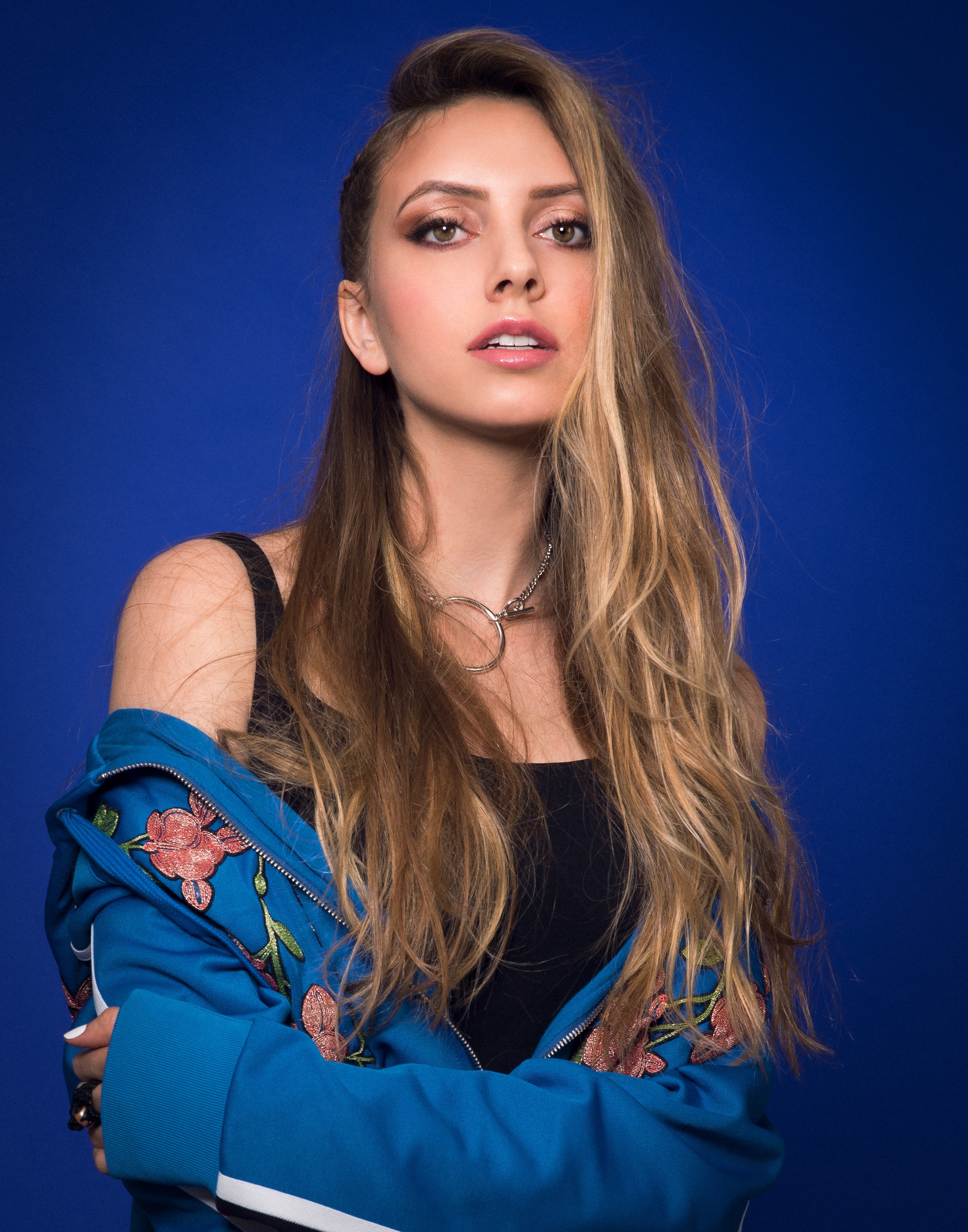 LIVVIA splits her time between two worlds: the life of a UC Berkeley economics student and the life of a budding pop star. When I talked to her on the phone, she was racing back to the studio in Los Angeles after taking a midterm.
"The thing that makes it really hard is being in two cities, and also the travel that I do for music," said LIVVIA. "I do a lot of work on the plane or in the car. In-flight wifi is the best thing ever."
She's coming up on graduation just as her music career is taking off. LIVVIA dropped her first single back in January, a collaboration with Quavo from Migos called "Catch a Body." Her breathy vocals flit over gritty bass with steamy lyrics about looks that can kill. The club-ready single even got a slick James Bond-esque music video to match a few weeks ago. Dressed head-to-toe in black leather, her special agent character receives a call from Quavo, assigning her a target to annihilate. LIVVIA did all her own stunts and racked up her fair share of bruises learning combat training and stage fighting.
[embed-1]
Not only did she get to bring to life the action movie video she'd always seen in her head, but she also was able to turn "Catch a Body"'s sexy lyrics into a message of female empowerment. On behind-the-scenes videos she posted on Instagram, people kept commenting on how she was "such a Bond girl."
"I was like, 'no, I'm just Bond.' But I'm all about girl power. You could totally pull it off, too," she said, reassuring me of the ease of looking like a badass doing stunts on camera.
Part of LIVVIA's appeal is her infectious positivity. She mused that if music doesn't work out, she could pursue a career as a matchmaker or a therapist, or even a motivational speaker. Jokes aside, an economics degree is a pretty solid backup plan. It's helpful to her right now in her music career as well.
"Econ is good for every business. The music industry is just another business, and I'm not just the artist — I really take part in all aspects of it," she said. LIVVIA is not just a singer — she's been writing her own songs since she was a teenager. After a few years of developing her style and travelling to LA to work with co-writers, she toured internationally with popular artists such as Jessie J., Meghan Trainor, and The Jonas Brothers. Now, she's put touring on hold to concentrate on spending more time in the studio.
More new music releases are on the horizon for LIVVIA soon, but in the meantime, her catchy single with Quavo is a total bop. You can also check out her Spotify, where she posts personal playlists with tongue-in-cheek titles such as "When you start to catch feels but want to toss them back" and "When you accidentally text the wrong person."