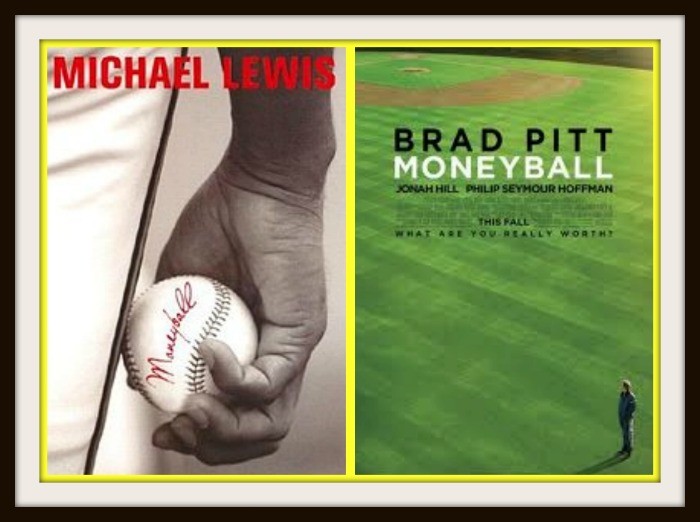 When
Moneyball
took the baseball world by storm in 2003, the book was billed as a blueprint for helping low-revenue teams take on the big boys by using unorthodox player-evaluation methods favored by Billy Beane and his frugal but successful Oakland A's. But the bestseller might have had the opposite effect on MLB franchises in the end, as the growing celebration of rosters with reduced payrolls has given cover to cheap team owners who laugh all the way to the bank while spending less on salaries and winning fewer games. This has angered fans who pay ticket prices that are decidedly not reduced.
Sure,
Moneyball
became an international sensation that spawned an Oscar-nominated movie with big stars. Then again, so did disco.
I'm not knocking advanced metrics in baseball. They're here to stay, of course, as they should be. And
Moneyball
author Michael Lewis offered an inspiring view on baseball that was entertaining and unabashedly romantic.
My point is that every movement, no matter how worthy, eventually faces a backlash. And blowback indeed arrived last month for four low-spending teams, as the MLB Players Association filed a grievance against the Pittsburgh Pirates, Florida Marlins, Tampa Bay Rays and, yes, those same Oakland A's celebrated in
Moneyball
. The union accuses those franchises of not properly spending revenue-sharing checks they receive from other clubs. Baseball's union is especially testy after an offseason that featured very few free agent contracts, leaving several high-quality players unsigned less than a month from Opening Day.
That development also raised a few eyebrows among baseball reporters.
The last time MLB saw such offseason inactivity was the late 1980s, when MLB owners were busted for colluding with each other to artificially lower player salaries. Independent arbitrators ordered the owners to pay a $280 million penalty to players in 1990. That legal action started with MLBPA leaders filing a grievance.
Is history repeating?
Commissioner Rob Manfred, owners, and team executives contend they have merely gotten smarter about free agent signings, saying they want to avoid the spate of recent big contracts for players past their prime. Some around baseball say the A's' well-chronicled success at being competitive while reining in player costs has influenced other teams.
For their part, the A's have told local reporters they're spending less again because this is the second consecutive year their revenue-sharing checks have decreased by 25 percent. They'll continue to do so until a new Oakland ballpark boosts their revenue, Beane has said.
Baseball's situation roughly mirrors the business trends and tax policies of nations around the globe that have adopted economic austerity programs. Workers are asked to work longer and receive lower benefits and less lucrative pension plans, while the corporations and their well-heeled executives pocket more profits.
In today's baseball, likewise, fans and local politicians increasingly are asked to "do more with less," spending top dollar at or for expensive new stadiums – some of which are publicly financed with taxpayer money. Billionaire team owners, meanwhile, pocket all the rising profits.
Call it "Baseball Austerity." And unlike Michael Lewis' well-written tales in
Moneyball
, there's nothing romantic about it. …
Speaking of baseball owners, a Lew Wolff sighting occurred last week at Hohokam Park in Mesa, Ariz. Wolff now owns just 1 percent of the team, according to a
San Francisco Chronicle
Q&A with the "owner emeritus." If I were a current A's front office exec, however, the media report would have left me pulling my hair out. Why? Because the A's' biggest current challenge is re-branding the franchise, and the best solution for that lies in distancing the team as far as possible from Wolff and other unpopular A's owners. Imagine how much more difficult Joe Lacob's job in reviving the Warriors would have been if Chris Cohan and Robert Rowell reappeared every 15 months or so. …
I'm always perplexed when some don't understand why A's fans get irritable when relatively well-paid players are released. For nearly 20 years, Beane and other A's owners have whined about their low payroll. So, when Brandon Moss was released last week, I completely understand why some fans were mad – especially because the $5 million the A's still owe him represents more than 8 percent of the team's player salaries. Moss' somewhat pricey exit comes a year after the A's paid Billy Butler $11.6 million – well more than 10 percent of their 2017 payroll – to stay at home. In short, if you're going to be cheap, shouldn't Beane & Co. be smarter about it? …
As maddening as the A's can be off the field, there's great news brewing in their farm system. In fact, they could contend for the playoffs as early as next year. The 2019 season might feature an infield of young studs like Matt Chapman, Jorge Mateo, Franklin Barreto, and Matt Olson; an outfield of Dexter Fowler, Chad Pinder, Renato Nunez, and Boog Powell; and budding slugger Sheldon Neuse at DH. Add young hurlers A.J. Puk and Jesus Luzardo to a rotation featuring Sean Manaea, Kendall Graveman, and Jharel Cotton, and you're talking about a team that's young, deep, inexpensive, and built to stick together for at least a five-year playoff window. We can dream anyway …
While we're talking positively about the A's, lots of credit should be given to team President Dave Kaval, A's executive Taj Tashombe, and other front office employees for improving the franchise's community outreach in little more than a year. Last month, the A's hosted a private screening of the Marvel blockbuster, Black Panther, which, of course, is partly set in Oakland. A panel discussion followed the movie. The gathering featured Oakland students, Councilmember Lynette Gibson McElhaney, African-American community leaders and entrepreneurs, Port of Oakland officials, and Jack London district business owners. Even A's superstars Rickey Henderson and Vida Blue were in attendance. …
Kaval & Co. continue to better celebrate the A's' rich history. On Wednesday, they announced that Hall-of-Fame reliever Rollie Fingers has joined the A's as a special assistant. The three-time World Series winner with the famous handlebar mustache joins Rickey Henderson and Dennis Eckersley as alumni ambassadors for the Green and Gold. Welcome back to Oakland, Rollie! …
The A's slammed another public-relations home run last week with their announcement of a "Treehouse" area in the upper left-field seating section. The space above the bleacher seats will feature an outside redwood patio deck with a bar, lounge, and TVs; and an interior space with ping pong, pool, and foosball tables, as well as a terraced deck with drink rails and standing-room views of the field. With a little TLC, that proud old yard called the Oakland Coliseum can still be a special place to watch a game. Starting with their #RootedInOakland slogan announced last year, the A's moves can add up to big shifts in positive public approval. Kudos to the new stable of A's executives for getting that. …
The community pride arising from these positive efforts is contagious around The Town, too. Want proof? The Oakland Symphony's next slate of performances, partly featuring Oakland performer Kev Choice and other East Bay musical artists, is scheduled at 8 p.m. Friday, March 23, at the historic Paramount Theatre. The program title?
"Rooted in Oakland."
Chris De Benedetti, a co-founding member of Baseball Oakland, writes a regular sports column for the
Express.