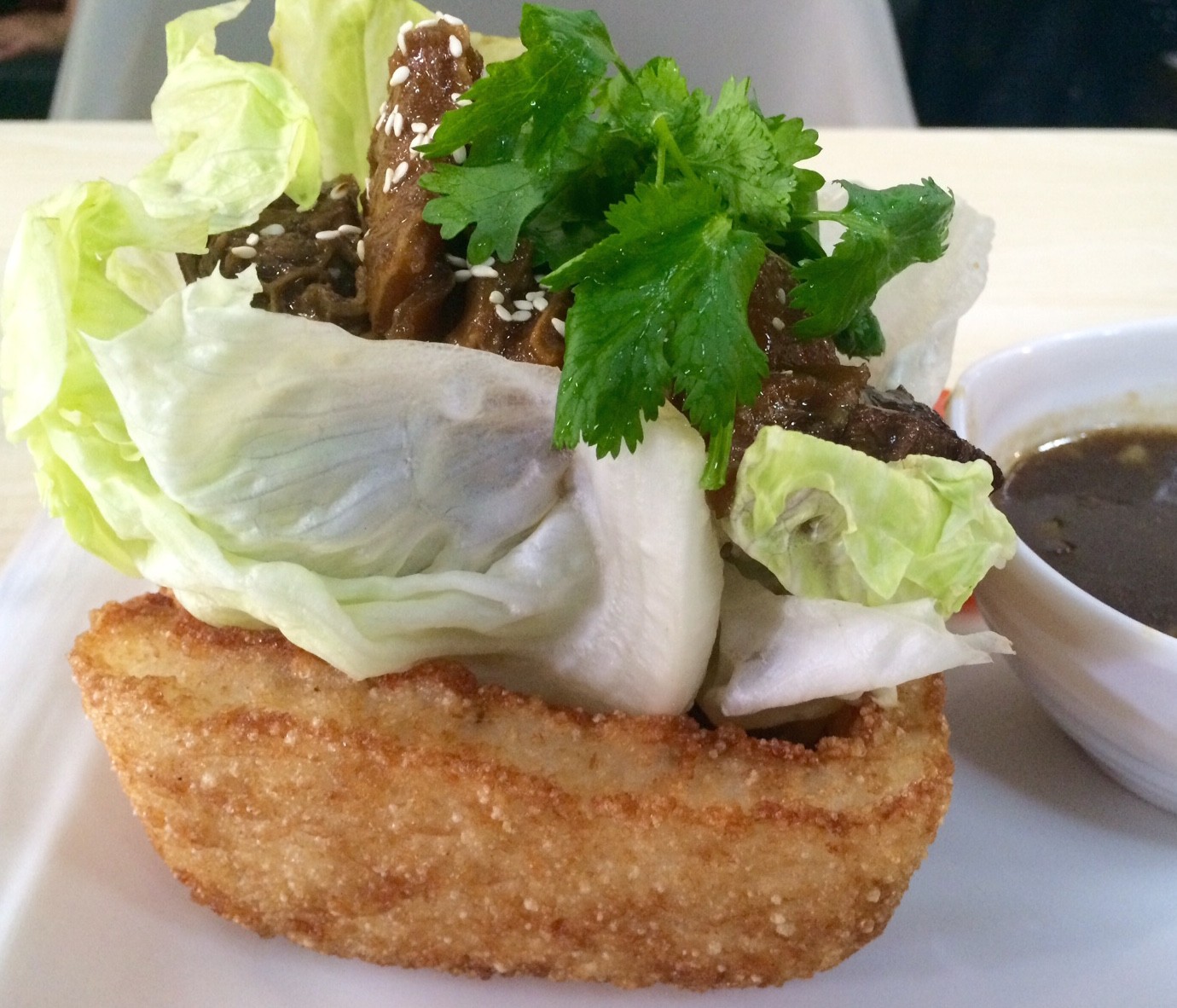 Slowly but surely, Oakland Chinatown's empty storefronts have started to fill up — but almost exclusively with a new wave of bubble tea shops with confusingly similar names: i-Tea, Shiny Tea, T4, 50 Tea, and so on. While this might be a boon to the boba connoisseur, it doesn't do much for the neighborhood's diversity of offerings, to say nothing of the need to appeal to folks who don't want to eat their lunch through a straw.
[jump] It is fortunate, then, that Chinatown does have a handful of notable new food options, the best of which might be
Baby Cafe
(358 11th St.), the cutely-named Hong Kong-style cafe whose bargain-priced afternoon "tea time" I gave a shout-out to in the October 26
Express
happy hour guide
. As great as those tea-time specials are (with a boatload of surprisingly hearty dishes in the $2–$3 range), you'll have to stick to the regular menu if you want to try the restaurant's most popular items.
Chief among these is the cafe's signature "rice cube" — a bowl's worth of rice molded into the shape of a hollow box, scorched until all of the exposed surfaces have turned crispy and golden-brown, and then topped with chicken curry ($12.95) or beef stew ($13.95). The thing was somewhat awkward to eat, especially with the addition of a lettuce leaf that helped the structure maintain its sog-free integrity but felt superfluous unless you are a person who likes to mix salad into your beef stew. But the crispy rice alone was worth the price of admission — like the gloriously toasty crust that forms on the bottom of a stone-bowl
bibimbap
.
With apologies to the cardiologists of the world, I was also stoked to find one of my favorite Hong Kong snack foods on Baby Cafe's menu: a Cantonese "pineapple" bun served with a thick pat of butter stuffed inside. They heat the bun up until it's very warm, and the butter is served very cold —
two
thick pats of it brought to the table, with some ceremony, in a bowl of ice for you to add to the bun yourself. The overall effect is the rare experience of eating cold butter as though straight from the stick, so that each bite of the soft, sweet bread contains the viscous
chew
of the butter in addition to its salty richness. Trust me, though, when I tell you: It is heaven.
My other recent Chinatown discovery is that one of the aforementioned bubble tea shops,
T4
(1068 Webster St.), is actually a full-fledged Taiwanese restaurant in disguise. "Full-fledged" is perhaps putting it a bit strongly, as this is still your standard order-at-the-counter boba spot in almost every respect, down to the large gaggles of teenagers who are usually sprawled out at most of the tables, flirting or playing
League of Legends
. (This can be a plus or minus, depending on where you fall on the "Proud-Millennial" to "Get-the-Damn-Kids-Off-My-Lawn" spectrum.)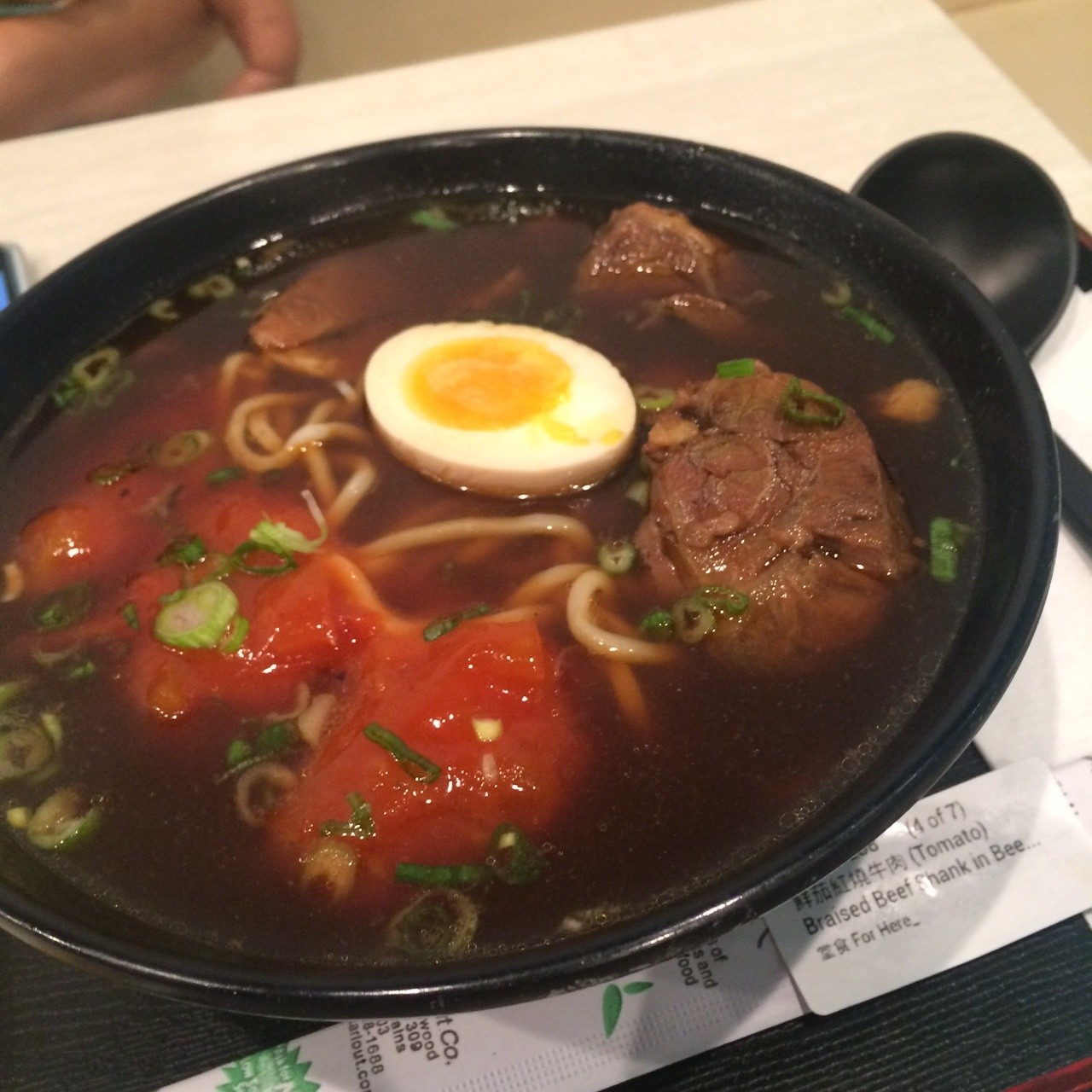 But the food menu goes well beyond a boba shop's usual array of fried snacks — though the
Taiwanese-style popcorn chicken
is well above average. I was more surprised, however, to find a passable version of
lu rou fan
, or braised ground pork rice, that would have been perfect if it were a little bit fattier and less salty. Better still was the tomato-based beef shank noodle soup, which had just enough beefy depth of flavor to balance out the sweetness of the tomato.
This isn't destination food that you'd want to travel far out of your way to eat. It's akin to the kind of run-of-the-mill fast-food noodle joint that you can find on every street corner in Taipei. Here in Oakland, that's still enough of a rarity to be worth celebrating.