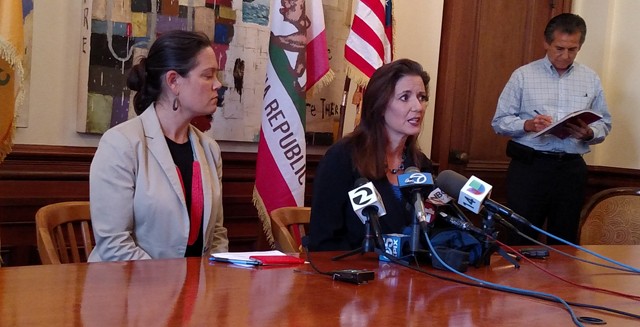 Stories you shouldn't miss for Feb. 27, 2018:
1. Oakland Mayor Libby Schaaf
has received death threats from members of the far right
because of her decision to issue a public warning over the weekend about pending immigration sweeps by the U.S. Immigration and Enforcement Agency (ICE), reports David DeBolt of the
East Bay Times
$. Schaaf is sticking by her decision to warn people about the possible ICE raids. But some of Schaaf's left-wing political opponents, including Councilmember Rebecca Kaplan, are also criticizing her, saying she should have kept her knowledge of the raids secret from the public and only informed pro-immigration groups so as to not to scare people.
2. Two candidates
have launched bids to unseat embattled Oakland Councilmember Desley Brooks
, who has come under heavy criticism for costing the city $3.75 million in a legal judgment stemming from Brooks' assault on ex-Black Panther Elaine Brown, reports Steven Tavares of the
East Bay Times
$. The two candidates running against Brooks this year so far are Loren Taylor, an Oakland entrepreneur and 100 Black Men of the Bay Area board member, and Natasha Middleton, a management analyst for the Alameda County Probation Department.
3. The California Supreme Court
has struck down 50-year prison sentences handed out to youths who are tried as adults for violent sex crimes
, saying the lengthy punishments amount to life without parole, reports Bob Egelko of the
San Francisco Chronicle
. "A lawful sentence must offer hope of restoration … a chance for fulfillment outside prison walls, and a chance for reconciliation with society," wrote Justice Goodwin Liu in the 4-3 ruling.
4. California
has given the greenlight to driverless cars and they could hit the road for test runs as early as April 2
, reports Carolyn Said of the
San Francisco Chronicle
. Under the state's program, companies will be able to begin testing autonomous vehicles – with no backup drivers. "Companies must self-certify that their cars can handle themselves without a human in the driver's seat, and they must comply with all federal safety regulations."
5. And Oakland's iconic Mormon Temple
has closed for a year's worth of renovations
, reports Janis Mara for the
East Bay Times
$. The temple in the Oakland hills shuttered on Feb. 19.
$ = news stories that may require payment to read.