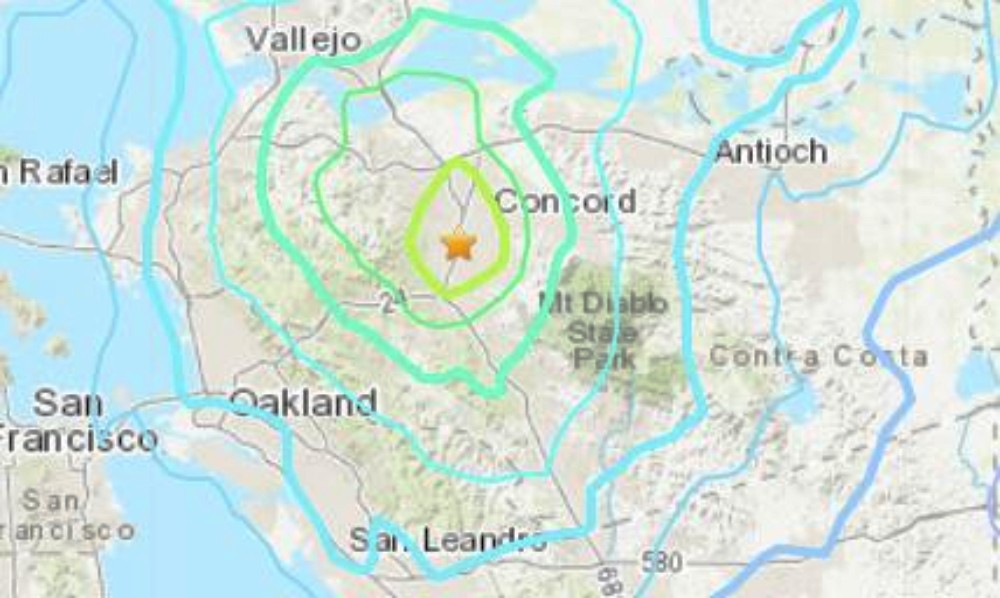 News you don't want to miss for Oct. 15:
1.
A magnitude 4.5 earthquake centered in Pleasant Hill provided a late evening jolt for East Bay residents
,
SFGate
reports.
2. Just as power is nearly fully restored, PG&E continues to face the heat for its planned power outages last week.
Gov. Gavin Newsom said the utility should pay rebates to customers who lost power, while state regulators want to reprimand PG&E
, the
East Bay Times
reports. $$
3. Can't blame PG&E for this wildfire:
Police believe the wildfire last Wednesday near St. Mary's College in Moraga was caused accidentally
, the
East Bay Times
reports. The fire started amid PG&E's planned power shut off in the area. $$
4.
Newsom vetoed a bill sponsored by state Sen. Nancy Skinner that would have required local jails release inmates only during daytime hours in order to ensure their safety
, the
Los Angeles Times
reports. Newsom said the provision would be a costly expenditures for local governments. $$
5.
Alameda County officials said they would sell their half of the Coliseum complex to Oakland for $78 million, but only if they paid up front
, the
San Francisco Chronicle
reports. The county later offered the A's a deal worth $85 million, spread out over several years. $$
6. In a blow to Sen. Kamala Harris's insistence that she was a progressive prosecutor during her time as state district attorney,
Bloomberg
reports
she resisted efforts by the wrongly-convicted to receive compensation for their imprisonment
.
7.
Restaurant makeover show "Bar Rescue" is coming to Rob Ben's, to give Marshawn Lynch's restaurant in Emeryville a makeover
, the
San Francisco Chronicle
reports.
$$ = Stories you may have to pay to read.