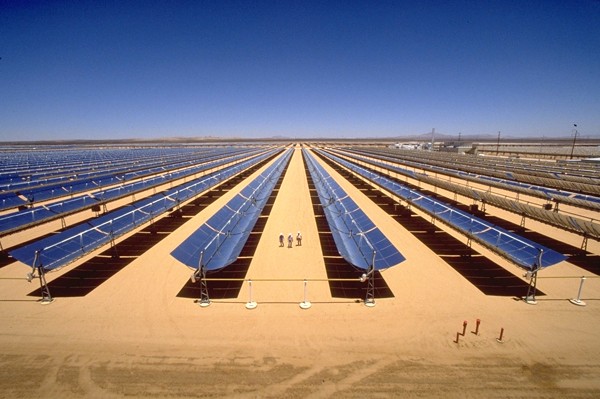 Stories you shouldn't miss for Jan. 16, 2018:
1. The California Public Utilities Commission has ordered PG&E and other utilities
to transition away from natural gas-fired power plants and to use battery-storage facilities fueled by renewable energy
, reports Mark Chediak of the
LA Times
$. The move, which is designed to help the state meet its climate change goals, comes at a time when the technology of battery storage has improved. Large battery farms can store energy produced by solar and wind power for use during times of peak electricity demand. PG&E and other utilities have depended on natural gas-powered plants to produce additional energy during peak times.
2. Lawmakers from Marin and Contra Costa counties are pushing to
limit the use of a planned new bike lane on the Richmond-San Rafael Bridge so that it can be used for vehicle traffic
, reports Mark Prado of the
Marin Independent Journal
$. Transportation officials are planning to create a bike lane on the top deck of the bridge, but Marin County Supervisor Damon Connolly and Contra Costa County representative Amy Worth want the new lane to be used for cars and trucks on weekdays or during commute hours.
3. The federal government could
shut down later this week amid controversy over President Trump's racist remarks
, the
Washington Post
$ reports. Democrats want a deal on DACA to be included in any resolution that keeps the government open, but immigration talks unraveled after Trump referred to African nations and Haiti as "shithole countries."
4. President Trump
has the lowest average approval rating — 39 percent — during his first year in office of any president in the history of polling
, the Associated Press reports (via the
San Francisco Chronicle
$). The previous record average low was President Clinton's 49 percent. According to Gallup, Trump's approval rating is currently 38 percent, with 57 percent of Americans saying they disapprove of how he handles his job.
5. ICYMI: Gov. Jerry Brown's administration
is moving forward with a plan to reduce the size of his water tunnels project — from two tunnels to one
. The original twin tunnels plan, which was estimated to cost $17 billion, failed to gain support from San Joaquin Valley agribusinesses that were expected to help finance the plan and would've received water from it. Some environmental groups have been pushing Brown for years to scale back his proposal from two tunnels to one, arguing that the large proposal would harm the fragile Sacramento-San Joaquin River Delta.
6. And Digital First Media, which owns the
East Bay Times
and the
Mercury News
,
announced plans for another round of buyouts and layoffs of journalists at those newspapers
, the
LA Times
$ reports. "At its peak size in the 1990s, the
Mercury News
had a newsroom staff of 440, according to the Pacific Media Workers Guild. The
Mercury
's newsroom currently has a staff of 39, according to the Guild."
$ = news stories that may require payment to read.