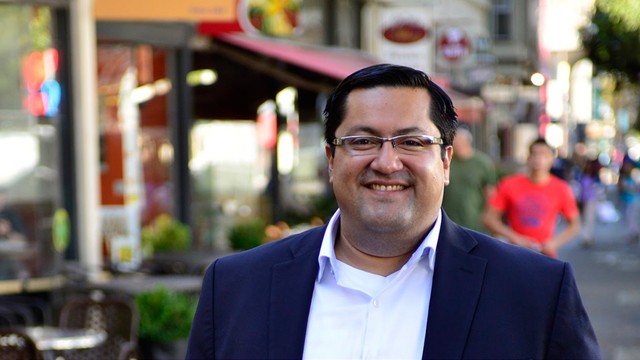 Stories you shouldn't miss for Aug. 29, 2017:
1. Berkeley Mayor Jesse Arreguin is calling on UC Berkeley
to cancel planned speeches next month by far-right provocateurs Milo Yiannopoulos and Anne Coulter
, saying he's concerned the events will induce radical black bloc antifascists to trash his city, the
San Francisco Chronicle
$ reports. "It's just a target for black bloc to come out and commit mayhem on the Berkeley campus and have that potentially spill out on the street," Arreguin said. Cal officials responded that they will not cancel the events, because of UC Berkeley's commitment to free speech.
2. Gov. Jerry Brown
reached a deal with legislative leaders to put a $4 billion affordable housing bond on the November 2018 ballot
, reports Liam Dillon of the
LA Times
$. The bond package also includes $1 billion in proposed housing subsidies for military veterans.
3. The California Supreme Court
made it easier to pass citizen-initiative tax hikes
, reports Liam Dillon of the
LA Times
$. The court said citizen-initiative tax proposals should be treated differently from those floated by public agencies. However, "no consensus has emerged over how far-reaching the ruling might be, but some said the decision could make passage easier for local tax increases to finance school, road, transit, or other specific repairs or expansions."
4. A state judge
struck down a new California law that would have allowed public funding of political campaigns
, saying the measure violates a 30-year-old ban on the use of taxpayer dollars, reports Patrick McGreevy of the
LA Times
$. "Judge Timothy M. Frawley in Sacramento ruled that the financing law, which was signed last September, 'directly contradicts' Proposition 73, an initiative approved by voters in 1988 that bans use of public money for campaigns."
5. UC Berkeley's chief legal counsel,
Christopher Patti, was killed while riding a bicycle near Guerneville
by a hit-and-run driver, reports Rick Hurd of the
East Bay Times
$. Authorities said Patti was well off the road and that the motorist appears to have been driving recklessly.
6. And the death toll from Hurricane Harvey in Texas
has reached 10 and is expected to continue to rise
as rescue crews search for survivors,
The New York Times
$ reports. Flooding in Houston and other cities has smashed records, with some areas receiving more than 40 inches of rain.
$ = news stories that may require payment to read.