Stories you shouldn't miss:
1. A dry February in California likely means that the state's
drought rules will remain in effect this year,
the
Mercury News
$ reports. So far, El Nino has failed to deliver a wet winter — the Sierra snowpack on Monday was at just 94 percent of normal. State water officials said it will have to rain nearly every day in March and April for the state to lift its drought regulations.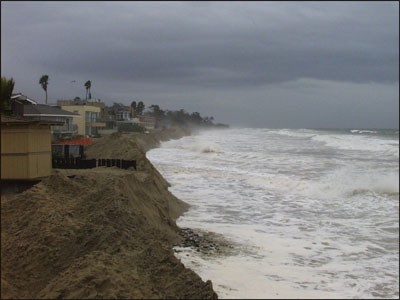 2. Human-caused climate change
is prompting the world's oceans to rise at their fastest pace in at least 28 centuries
, and the problem will get worse in the coming decades,
The New York Times
$ reports, citing two new comprehensive scientific studies. Experts warn that sea levels could rise by three to four feet by 2100, and that "the situation would then grow far worse in the 22nd century and beyond, likely requiring the abandonment of many coastal cities."
3. In the wake of the Yosemite renaming controversy, state Assemblymember Ken Cooley, D-Rancho Cordova, introduced legislation that
would prohibit California from doing business with park concessionaires that attempt to trademark names associated with state parks
, the
SacBee
$ reports. On March 1, Yosemite National Park is changing the names of several iconic places, including the Ahwahnee Hotel, because the park's former private concessionaire claims it obtained the official trademarks to those place names.
[jump] 4. The freighter ship
S.S. Jacob Luckenbach
, which sank off the Northern California coast sixty years ago,
is still leaking large amounts of bunker fuel
, the
Chron
reports. Nearly a dozen seabirds have washed up on the coast in the past year, covered in oil linked to the ship, which sank in 1953.
5. The Golden Gate National Recreation Area, which includes Crissy Field and Ocean Beach,
is proposing new rules to restrict off-leash dogs
to certain areas and ban them from others, the
Chron
reports.
6. A
three-alarm fire gutted the Oakland Cambodian Buddhist Temple
at 5212 East 10th Street and spread to nearby buildings early this morning, the
Chron
reports. Firefighters were able to control the blaze by 3:25 a.m.
7. And the Republican Party
continues to shrink in California, with party voter registration declining 3 percentage points since 2012
, as the number of independent voters rose, the
LA Times
$ reports. Democratic Party registration has remained flat.