Oakland singer and multi-instrumentalist Adee Roberson named her music project Tropic Green after a passage by the queer Jamaican author Michelle Cliff describing the vibrant flora of her native country. Roberson — whose family is Jamaican as well — recalled the strikingly vivid landscape that surrounded her when she last visited her ancestral homeland.
"The green wasn't like here," she recalled in a recent interview, fumbling to find the words to describe the precise shade of equatorial plant life.
Colors and nature factor prominently into Roberson's new EP, Golden Light, which the independent label Crime on the Moon put out as a seven-inch record earlier this month. Each of the three songs on the Tropic Green project is dedicated to a different elemental force. "Golden Light" is a celebratory, sparse, dance track that celebrates the sun and people's auras; "Ocean" is a hypnotic meditation on the vastness of unconditional love; and "In Tune with the Moon" reflects on the ways planetary movements affect human life.
Golden Light from Wizard Apprentice on Vimeo.
"I'm a Cancer with a Pisces moon, so I'm basically just a beam that transmits energy from the moon — that's all I got," laughed Roberson as she explained the connections she sees between phases of the moon and aspects of her life, including her personal relationships and creativity.
"You know how people be like, 'Aw man, the full moon is coming up. Damn, I feel stressed out — that's the Gemini moon,'" she went on. "Or, 'Oh shit, I feel comfortable in that Pisces moon. I got a lot of artwork done.' It's all about that shit."
Though Roberson has been making music since the early Aughts, she has spent the past several years honing her visual art and massage therapy practices. Tropic Green is her first serious music project since the breakup of her previous group, New Bloods, which she started in Portland.
For the past fifteen years or so, Roberson — who is originally from South Florida — has moved around the country to different cities with strong punk enclaves: Pensacola, Florida; New Orleans; Portland; and Oakland. She has played in bands, made zines, painted, and collaged. Tropic Green represents a culmination of her visual art and music practices. She debuted the project through a music video for "Golden Light" that features her as a dancer, edited via green screen, on the Nineties, Soul Train-esque cable series The New Dance Show; she personally screenprinted each record sleeve; and her upcoming record release show on December 19 at Real Time & Space in Oakland will feature a dance performance and visual projections by members of her art collective, Black Salt Collective.
Putting out Golden Light on vinyl, she said, was a deliberate choice, as many of her previous creative endeavors have centered on tangible, DIY media. "I don't feel good about only having something in the digital realm. I want something I can hold and look at," she said, inviting me to look through her crate of Golden Light records. I admired the iridescent shades of purple, teal, and cobalt blue on the different sleeves, which were emblazoned with an image of the planet Saturn. "The covers are all screenprinted, double screen," she said. "It's energy you put into something. And I'm a visual artist, so I can't have it be looking busted."
While Roberson's primary musical experience prior to Tropic Green was as a drummer, for Golden Light, she experimented with singing and electronic production. Its three tracks feature sparse, pulsating beats. Her deep, droning voice constitutes the primary melodic element, though low, distorted synth notes, laser-beam sound effects, and trembling, frenetic violin phrases mingle throughout.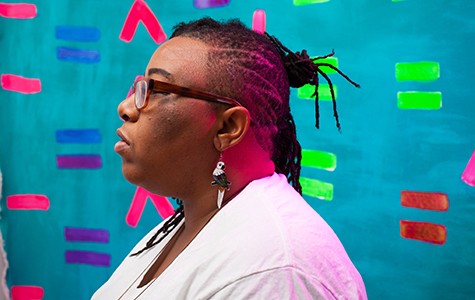 As Roberson initially produced the tracks using a keyboard and drum machine, she recruited veteran Bay Area violinist India Cooke — who has played in several prestigious orchestras and once toured with Sun Ra — to feature on the record. Cooke's sporadic, improvisatory playing adds unexpected tension to Roberson's steady, undulating beats, lending Golden Light a brooding quality.
Cooke is "the kind of person who you watch play and you don't even register what's happening, but the next day you're crying and bawling because it's such an energetic release," said Roberson.
Roberson also collaborated with New York musician and sound engineer Christina Files on the record's production. While they initially began working together long distance, Roberson eventually joined Files in New York City to finish the record. Hannah Lew of the local pop punk band Cold Beat, who is also the owner of Crime on the Moon, was also intimately involved in the recording process.
Files is "the kind of person who has the drum machine that was used on Blondie's Heart of Glass," said Roberson. "If you say to her, 'I want something to sound like Black Sabbath's album,' she'll be like, 'Yeah, this synthesizer was used on it. So was this type of guitar and this type of drum set.' That's the kind of brain Christina has."
Fluorescent mixed-media paintings lined the walls of Roberson's art studio, where we spoke. Many of them are celebratory portraits of Black individuals adorned with vibrant, abstract patterns. Examining these joyous visuals, Roberson pointed out that Afrofuturist thinking informs her approach to her various creative projects and has been a fertile source of inspiration for Tropic Green. Though Roberson has spent years orbiting punk scenes in difference cities, she recalled feeling alienated as one of the only people of color in various countercultural milieus. In Oakland, she found a community of fellow Black artists with left-field aesthetic sensibilities, and the city has proven to be a welcoming place for the kind of work she is interested in making.
"It feels really important to be a musician or someone who makes art and is Black and is all about creating a vision for the future because the present is really fucking dooming and depressing," she said. "Afrofuturism is really powerful in that sense: It's imagining a future without violence and oppression and hoping that imagination lends itself towards that really happening."