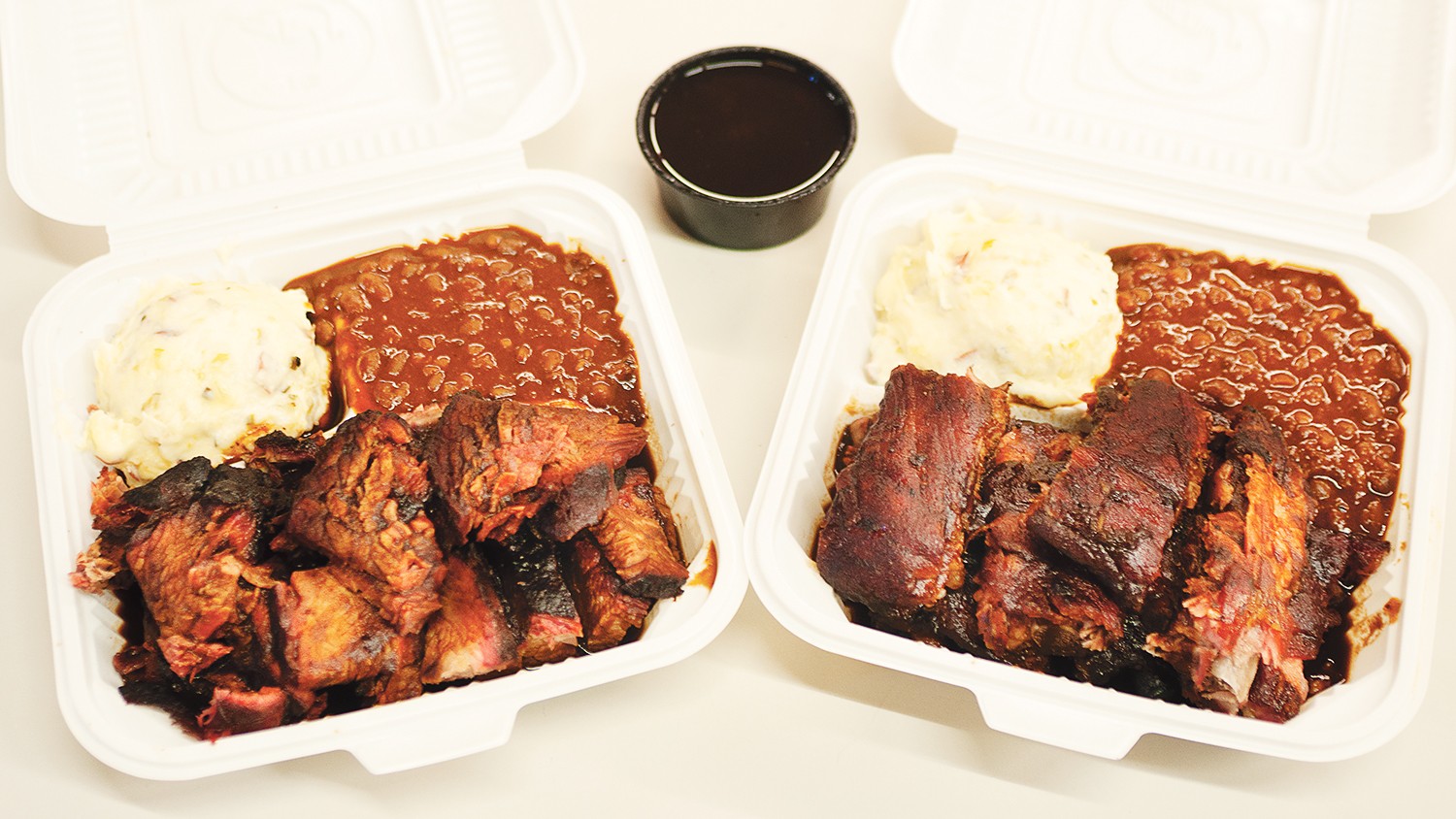 When you drive past World Champion Smokehouse on 98th Avenue, it looks like any other convenience store — bright green, with neon signs — until you roll down your windows and get a whiff of the unmistakable aroma of smoked meat. Once every couple of hours, batches of tender tri-tip, homemade beef links, slabs of ribs, and whole chickens emerge from the smoker and onto the chopping block for customers to enjoy.
World Champion Smokehouse, which was called Saleh's Smokehouse until last January, has been serving barbecue since 2003. It's a family-run convenience store with a barbecue counter inside, owned by Mahdi Aldabashi and run by his brother Sameer, the chef, and sisters Yulanda and Natalie. All the recipes come from their father, Kassim Aldabashi.
Kassim immigrated to the United States from Yemen in 1987 after he and 76 of his friends were forced to leave their village to fight in the civil war. "By the end of that time in the war, only eight of them survived, and my dad was one of them," Sameer said.
Sameer said the relationship between Yemeni food and barbecue isn't as distant as one might think. His father grew up cooking exclusively with wood fire. "In the area we're from, at that time, there was no propane or natural gas. They cooked everything with wood."
When Kassim arrived in the United States, he learned to make American-style barbecue from his friends. "They would always have these little barbecue cookouts," Yulanda recalled. Kassim even developed his own sauce recipe. "He would take away things he didn't like, and add something else."
World Champion Smokehouse hasn't actually won any world championships, but the Aldabashis put their all into their food. Making barbecue sauce is time-consuming. "We try to keep it natural ingredients," Yulanda said. "We cook it for a while — a day or two." A large double boiler, which allows the flavor of the sauce to deepen without burning, sits steaming on the counter. The tomato-based, hickory-flavored mild sauce has just the right amount of sweetness, balanced by a hint of acidity. The hot sauce uses the same base as the mild sauce, but is flecked with a generous amount of red pepper flakes. It's a manageable level of heat, so don't be afraid to ask for the hot sauce if you like spice.
Cooking the meat requires patience, too. It's dry-rubbed with Kassim's secret blend of spices, then smoked. Tri-tip takes up to four hours, and ribs up to three. They have two smokers in the back, which the Aldabashis built by hand to accommodate the large volume of meat they barbecue every day. Like in Yemen, everything here is smoked with wood: cherry, almond, apple, walnut, you name it — but never any charcoal or lighter fluid, Sameer said.
Ordering is quick and easy: grab a menu at the register, order, and pay. Fair warning: The meat can range from unpleasantly dry to perfectly juicy, depending on how recently each batch came out of the smoker, so call ahead or ask the cashier what's fresh. An employee at the counter will chop up the meat of your choice with mild or hot sauce, and place it on a tray with tangy potato salad, sugary baked beans with bits of tri-tip, and a couple slices of white bread to soak up the homemade sauce. There are a couple of tables inside the shop, but most customers take their orders to-go.
If you're looking to feed a crowd, go for the four-way combo, which includes a sampling of all their meat offerings: ribs, tri-tip, chicken, and links. On one visit, the ribs were too dry. But on another, the ribs easily fell off the bone and had just the right amount of fat on them, which melded with the caramelized, spicy sauce. The tri-tip was addictively tender, juicy, and lean, without any bits of gristle or chewiness.
The chicken was particularly surprising. Barbecued chicken is often dry and flavorless, but here even the white meat can be juicy if you manage to get it when it's fresh out of the smoker. The meat successfully carries the flavor of the smoke, while the skin crisps and caramelizes until it's dark brown and nearly translucent.
The links are also noteworthy. Sameer makes them from scratch once every couple of days. They're made from 80 percent lean beef and 20 percent fat and stuffed into beef casings. The beef is finely ground, which gives the links an unusually soft texture, and the casing has a satisfying snap when you bite into it. Because the links are so lean, it's important to get them when they're hot off the barbecue — otherwise they can be dry. Yulanda said that upon tasting the links, customers often ask whether they're related to the long-shuttered, beloved Bay Area barbecue joint, Flint's BBQ. They aren't related, though — the links just taste uncannily similar.
The turkey tails, however, are not to be missed. These are seasoned with just enough salt to crisp the skin, while the smoky meat inside is marbled with bits of melted fat. Chef Thomas Keller of French Laundry says he always takes the roasted chicken butt for himself — "the cook's rewards," he calls it. Turkey tails are like that, but bigger and better. You'll have to pick it up with your hands and gnaw at it, but it's well worth the effort. World Champion Smokehouse is one of the few places in the Bay Area that serves them.
In fact, World Champion Smokehouse is the only barbecue place in their neighborhood, Brookfield Village. In many ways, how the Aldabashi family ended up serving barbecue here is an unlikely combination of fates. It's a story with a sad beginning — escaping a violent war in Yemen — with plenty of twists and turns on the way, but ultimately with a successful and delicious result.
World Champion Smokehouse
679 98th Ave., Oakland
510-553-9191
Hours: Mon.-Sat. 10:30 a.m.-9:00 p.m. Sun. 10:30 a.m.-7:00 p.m.
Cash, all major credit cards

Sample Menu
Beef tri-tip lunch … $11.99
Ribs/beef links dinner … $22.79
Whole BBQ chicken … $11.99
Four-way dinner … $49.45
Turkey tail … $1.60