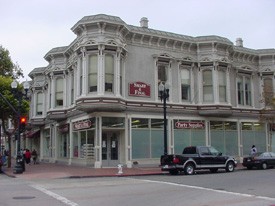 Smart & Final's Old Oakland location at 901-933 Broadway closed on Sunday, Sept. 23 after over 24 years in business. The store opened in April 1994 and was the only supermarket in Old Oakland.
The shuttering of Smart & Final is one of a number of closures of longtime Old Oakland businesses, following the purchase of much of the district by 11 West Partners three years ago.
Smart & Final district manager Mike La Placa said he was notified about a month ago that the store's lease would not be renewed. When he learned of the closure, La Placa held a meeting with the store's employees and worked to ensure that each employee would be relocated to another nearby Smart & Final store. "Everyone is happy; they got the store of their choice," La Placa said.
La Placa said the store served a variety of clientele: restaurant owners, nearby residents, and downtown office workers who picked up groceries during their lunch breaks or on their way home from work. He said that business at the Old Oakland location was good, as well as at the other Smart & Final stores throughout the Bay Area. A new Smart & Final location in San Jose opened earlier this month.
La Placa said Smart & Final hopes to open another store nearby. "We believe in the community, we love being downtown. We want to have a bigger presence here." Smart & Final's East Oakland location remains open at 1243 42nd Avenue.
La Placa said he's unsure what the landlords plan to do with the ground floor retail space. The second floor is currently home to Kaiser Permanente offices. The building's property managers could not be reached for comment.
The building is named Delger Block after its original owner, Frederick Delger, a prominent Oakland real estate speculator. According to Old Oakland's website, the building was completed in 1881 and measures nearly 36,000 square feet. The building originally housed an apothecary firm on the ground floor called Bowman Drug Co., and the second floor was home to law offices, giving the block the moniker "Lawyer's Block." The basement of the building housed a saloon called The Montana, where several years ago renovators found remnants of what they believed was a boxing ring in the basement. Delger Block was designated as a landmark by the City of Oakland on April 12, 1983.
Smart & Final's closure follows recent shut down of several other long-term Old Oakland businesses. Italian restaurant Desco, which opened in 2013, closed on December 31, 2017. In an interview with Oakland Magazine, owner Donato Scotti cited the reason for the closure as an "inability to come to a long-term agreement that would allow us to make updates to the restaurant space and concept."
Pacific Coast Brewing, which had been in business for 29 years, closed in November 2017 after learning that the two-year lease extension they were offered could be terminated with only two months' notice. All three properties, along with the rest of Old Oakland, are owned by 11 West Partners, which purchased the complex in October 2015.