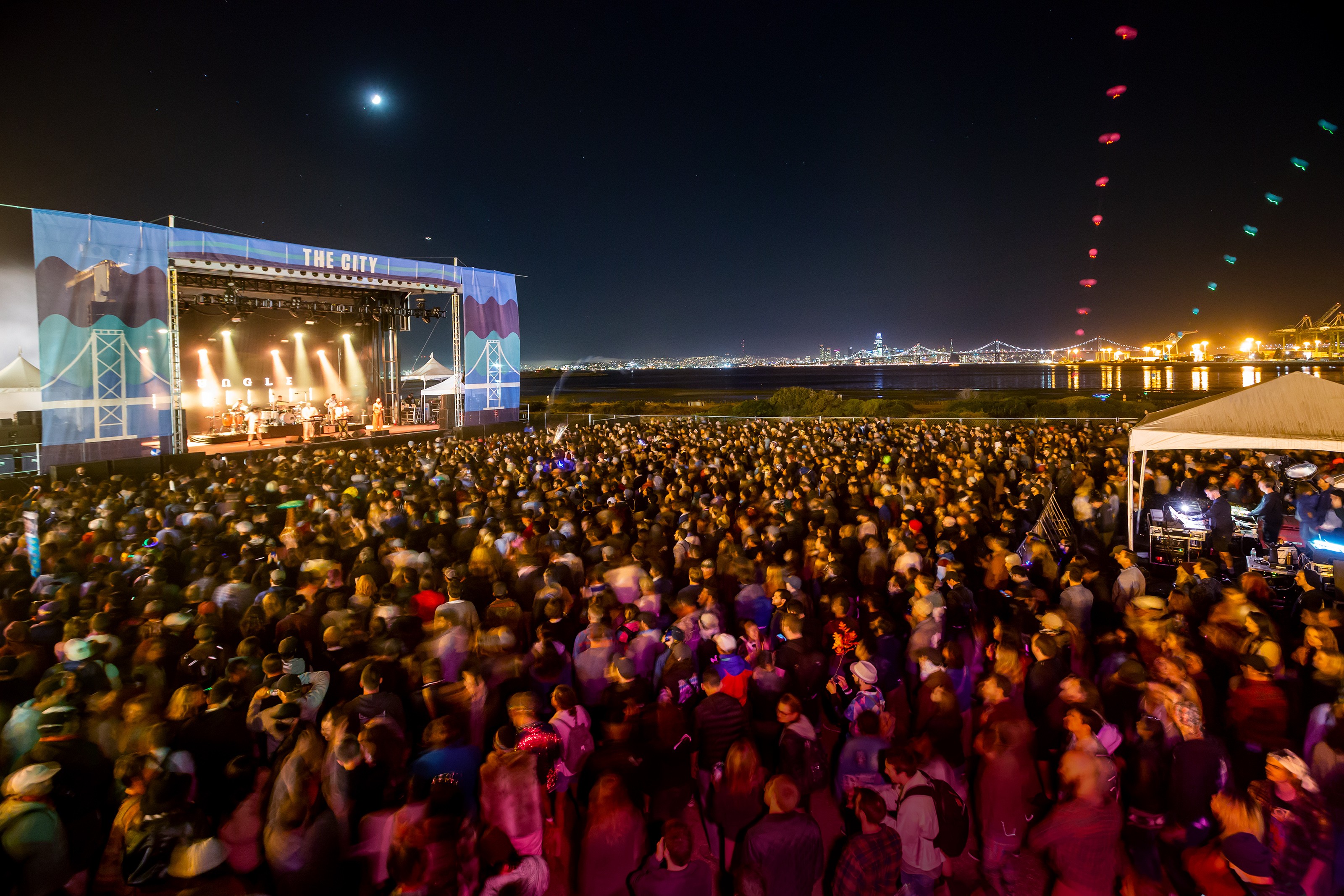 After a one-year hiatus, Treasure Island Music Festival returned to a new location this past weekend with its same winning formula: A day of energetic electronica and hip-hop followed by a day of indie rock. Not to mention no overlapping sets, in a setting that's way more intimate and relaxed than Outside Lands. It landed in West Oakland's Middle Harbor Shoreline Park for the first time following a disastrous 10th edition on Treasure Island, marked by torrential downpour, canceled sets, and furious festival-goers. Thankfully for presenters Noise Pop and Another Planet Entertainment, this year's festival was far less eventful with idyllic, sunny skies.


Generally, sets started right on time with excellent sound and joyful vibes. Small qualms: Middle Harbor Shoreline Park is all dust, dirt, sand, and concrete, making it significantly less comfortable than the fest's former digs. (But the view of San Francisco's skyline — especially around sunset — definitely lived up to the island days.) It also lacked a Ferris Wheel, which has become synonymous with the festival over the years. Assuming the fest returns to Middle Harbor Shoreline Park next year, pretend it's Burning Man and bring a dust mask.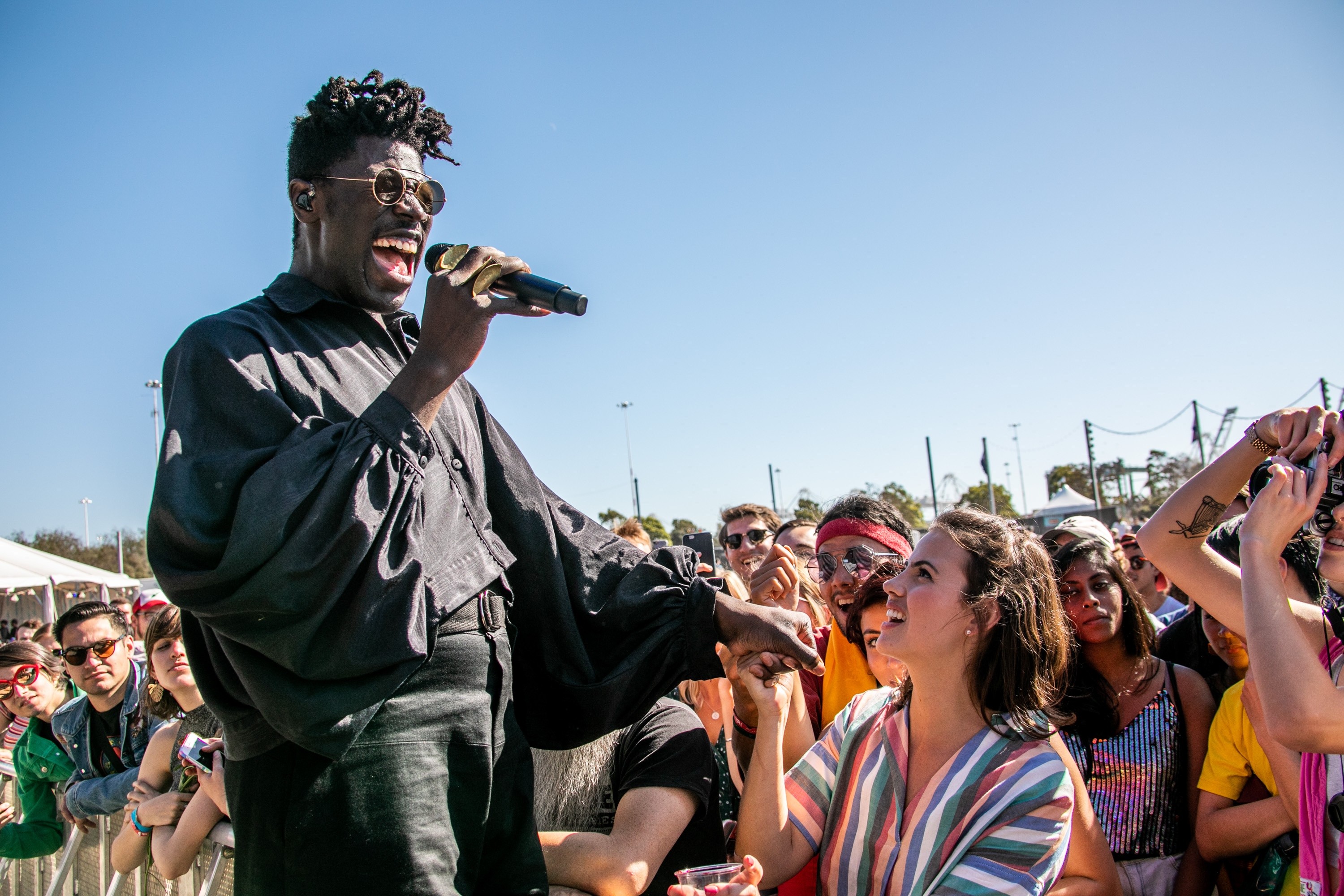 Entering the stage with a casual peace sign, yet looking mysterious in all black and tiny Matrix sunglasses, Moses Sumney proceeded to play one of the first — and best — sets of the weekend. Throughout his set, he shifted from a low humming vibrato to piercing, operatic cries several octaves higher with stunning ease. With such a mesmerizing voice, it would have been easy for Sumney to rely solely on vocal acrobatics to keep the attention of the crowd, but the soundscapes he weaved with his three-piece backing band were complex and transfixing on their own. A clarinet and a violin made appearances, although the most interesting instrument of all was Sumney's loop pedal experimentations with his voice. A haunting cover of Bjork's "Come to Me" suited him perfectly. Despite the often melodramatic quality of his music, Sumney kept his banter playful. He introduced Sufjan Stevens cover "Make Out in My Car" by saying, "This next song is about making out. I've never done it, but I've heard it's great." He added, "Let's call it making out on the BART — localize it."


Santigold's set looked like a colorful peek inside a Dr. Seuss book, underscored with a hint of social commentary. Wearing a red cape decorated with plastic water bottles and dollar bills and sporting green hair, she performed in front of a screen flashing playful cartoons, depicting everything from an overgrown ape covered in syringes to a woman so mesmerized by the mirror in her passenger's seat that she forgets to look at where she's driving. She played buoyant bops spanning her career, from 2009's "L.E.S. Artistes" to 2012's "Disparate Youth" to 2018's "Run the Road." Santigold almost constantly had a huge grin plastered across her face, but the most joyful moment of all was during M.I.A.-esque anthem "Creator," when she invited a few dozen audience members on stage to dance with her.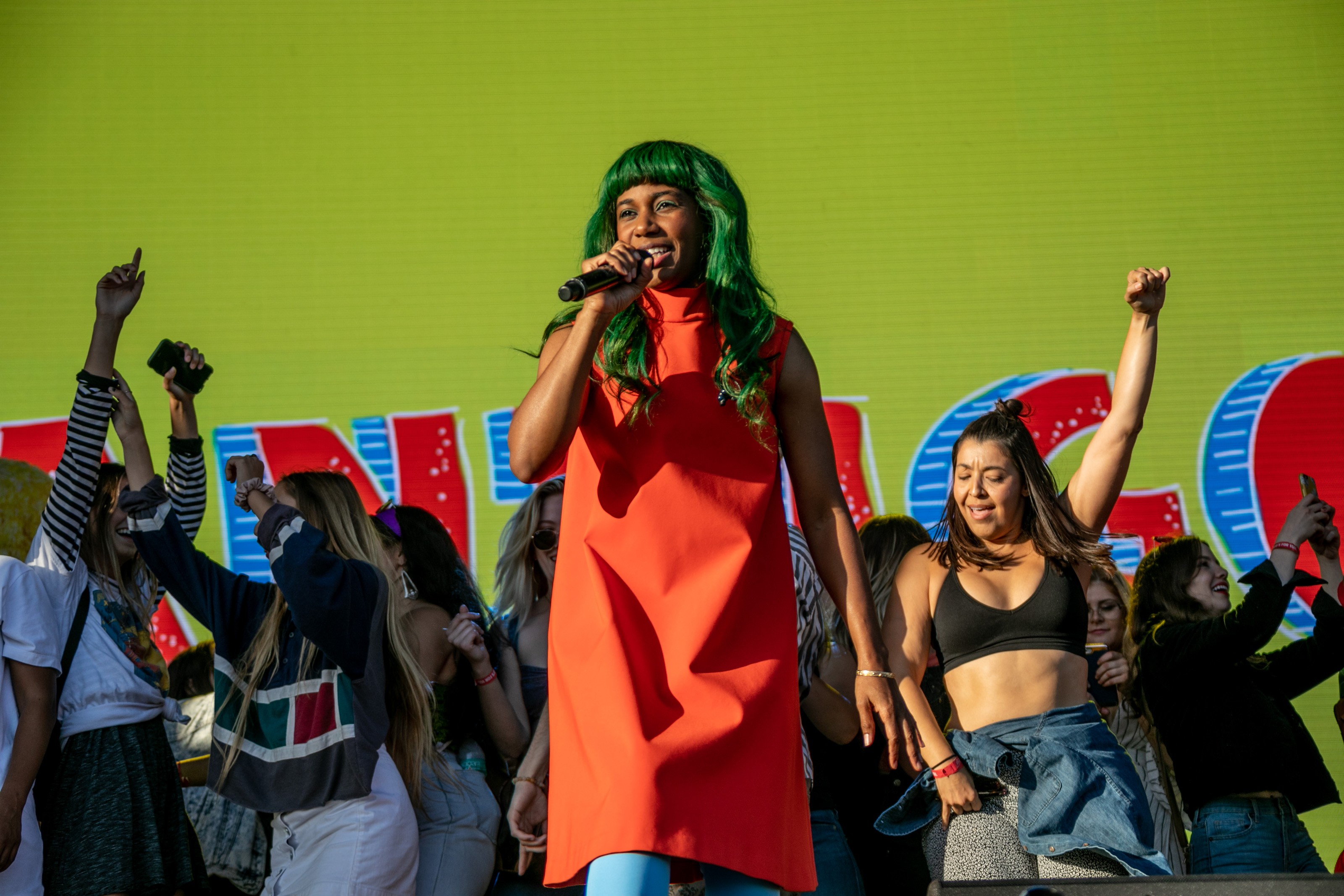 Pusha T doesn't need anything but a DJ and his own self to deliver a show that's straight-up legendary, and he knows it. He's earned his place in the rap world and doesn't need the frills that younger acts do — like headliner A$AP Rocky, who would later take the stage with a large helping of pyro. Opening with "If You Know You Know," King Push blazed through hit after hit, and the crowd was there for it, often rapping along to every word. Throughout the night, he kept hyping his 2018 album Daytona, repeatedly referring to it as "album of the motherfucking year." But he also shared the love, including Kanye West collabs "Runaway" and "Feel the Love" in his high-energy set.


A$AP Rocky kept fans waiting for about half an hour after his designated start time, causing anticipation to reach a fever pitch. But he made it worth the wait, opening hot with "A$AP Forever" and "Buck Shots" amongst blazing fire cannons and a giant test dummy head behind him — a visual motif from his latest album, TESTING. Later, he would climb to the top of that dummy head for added hype during songs like trippy, rainbow-hued "L$D." But apparently not pleased with the level of energy in the crowd, A$AP repeatedly stopped songs to urge fans to "open up the pit." Most notably, he shut down "Kids Turned Out Fine" partway through, declaring, "I don't like the way my voice is sounding on that one. I didn't come all the way to SF to short-change people." A$AP's set was a lot more style than substance — some comments about there being "a lot of good titties in the audience" were particularly off-putting — but closing out to A$AP Mob track "Yamborghini High" with actual fireworks undeniably had the wow-factor he seemed to be seeking.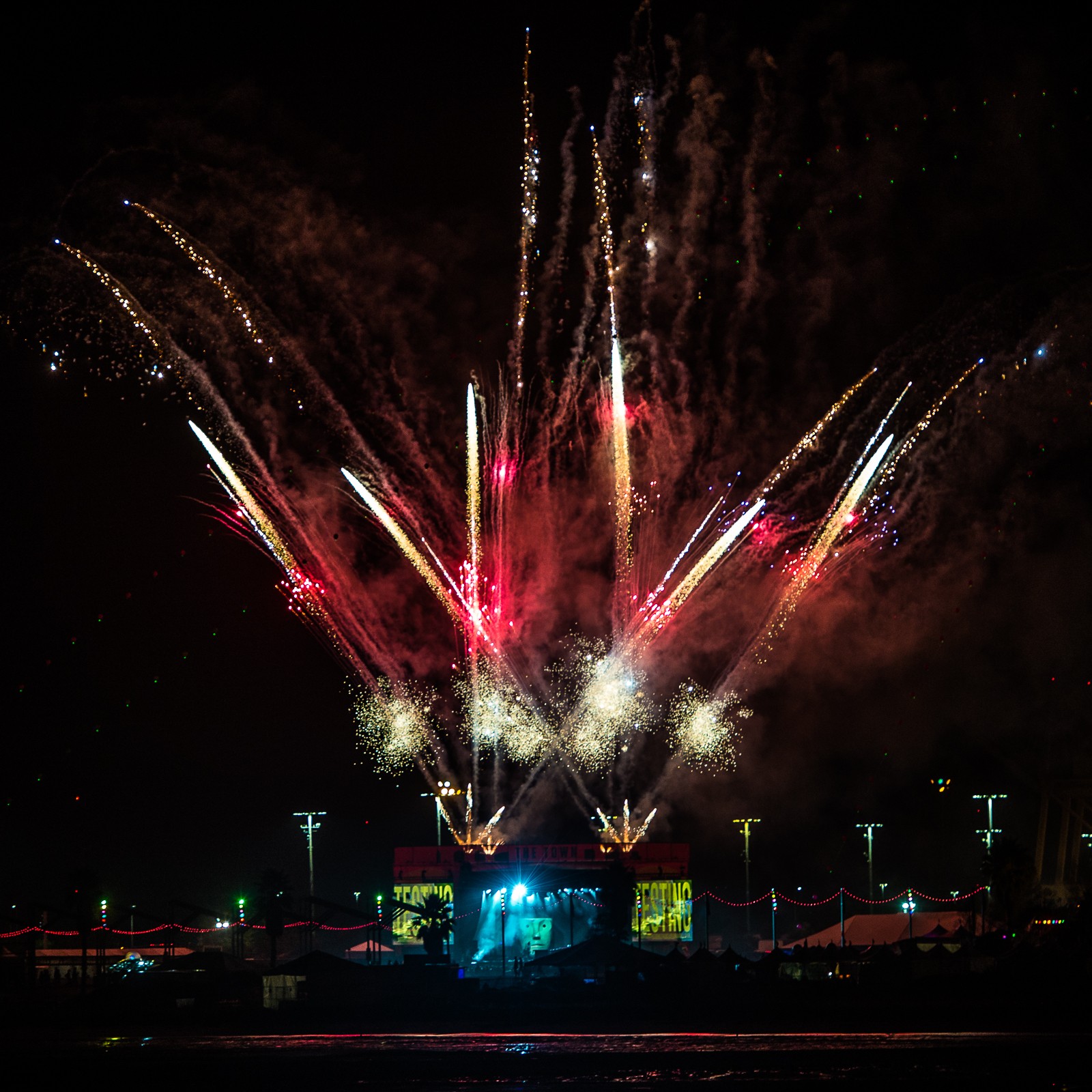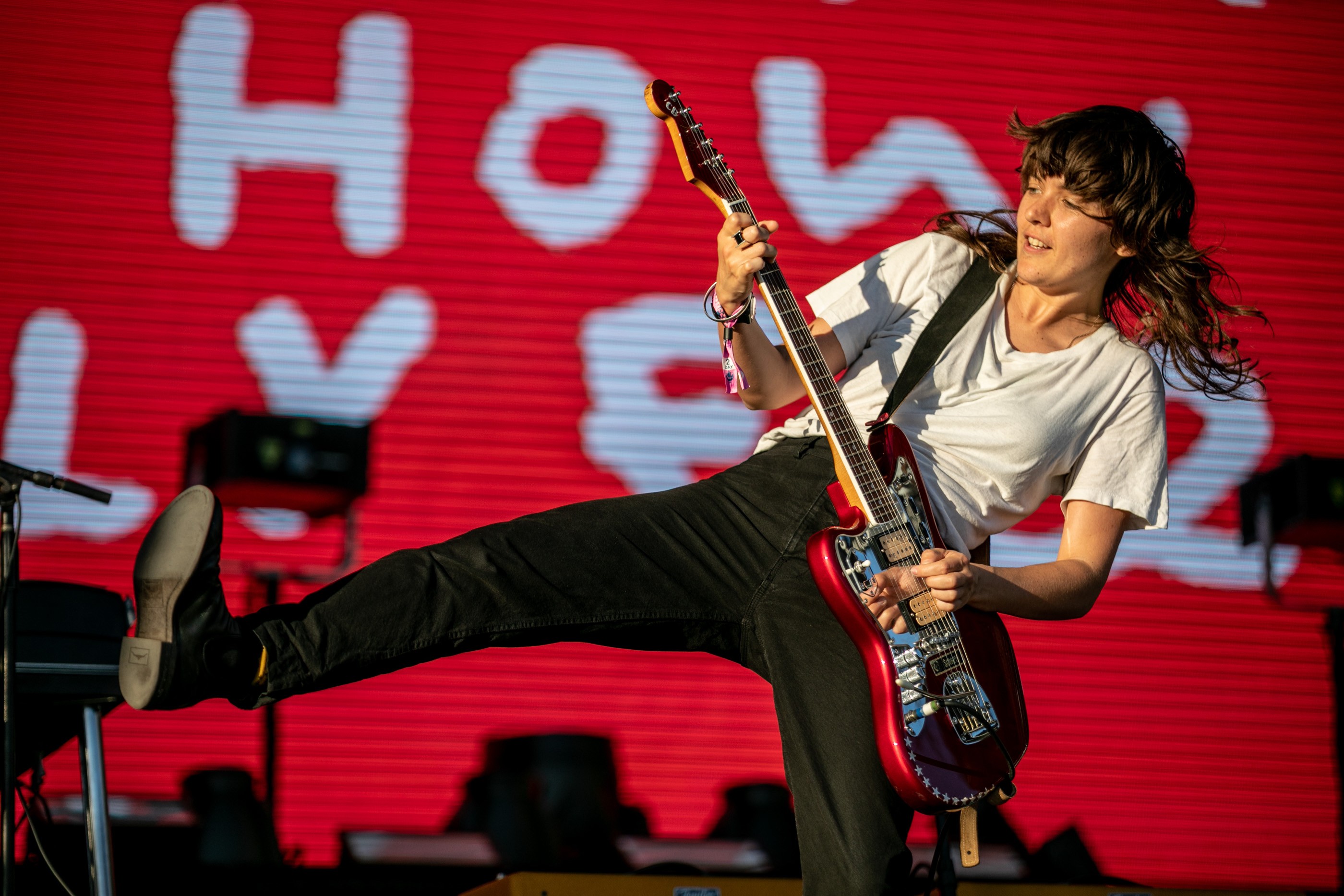 Despite billing Sunday as a laid-back day for indie rock, the lineup offered an impressively diverse array of sounds, from Lord Huron's country-leaning twang to U.S. Girls' art pop to Cigarettes After Sex's ambient soundscapes. Highlights included a relatively early set from Sharon Van Etten, who basically disappeared from music for three years after releasing her 2014 masterpiece Are We There. Treasure Island marked one of her first appearances with a full band since then, and her voice sounded as strong as ever. Her old and new moody, lush, and romantic songs swirled with reverb and maturity. She recently went back to college ("I got a B on my first exam, I can do better than that," she told the crowd) and had a baby, but she's also back in music now in a real way: Her new album Remind Me Tomorrow comes out in January.


Courtney Barnett delivered a set high in stage stalking, heavy shredding, deadpan singing, and distortion, plus a little screaming and loads of badassery. The Australian singer-songwriter has grown into a powerhouse performer since the release of her hit 2015 debut, Sometimes I Sit and Think, and Sometimes I Just Sit. Her new record, Tell Me How You Really Feel, delivers more of the same wit, energy, driving guitar, and empathetic humanity, and it played on stage well with Barnett's full-body trashing.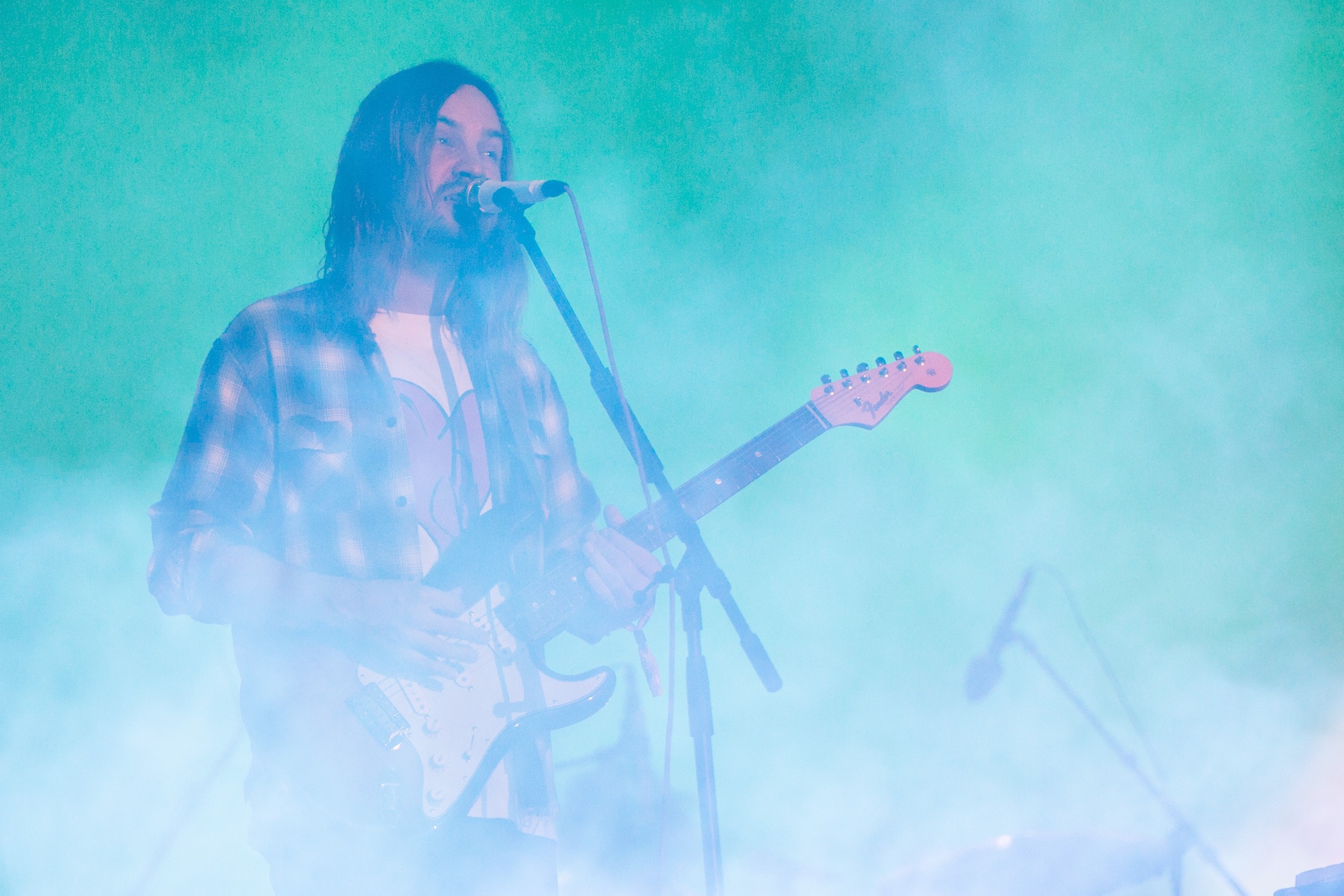 Jungle spawned one of the biggest dance parties of the day thanks to the seven-piece band's unique blend of funk, disco, soul, and electronica, led by smooth four-part harmonies. After a relatively relaxed day, tracks like "Busy Earnin'" and "Heavy, California" provided the perfect lead-up to Tame Impala. As Josh Lloyd-Watson asked the grooving crowd, "Who's on mushrooms?"
Still, judging by the amount of people that had crushed toward the Town stage — skipping Jungle's performance entirely — Tame Impala was the clear highlight of the day. And as the pulsating synths and chill beat of opener "Nangs" washed over the crowd, it was as if a giant spaceship touched down at Middle Harbor Shoreline Park, emitting, over the course of an hour and a half, multi-colored lasers, lights, confetti, and copious amounts of fog. The Aussie band — the project of Kevin Parker — played songs from throughout its career, showing how its sound morphed from '60s guitar-driven psychedelia — even playing the groove-driven instrumental "Jeremy's Storm," which, apparently, the band hasn't played live since 2012 — to more electronic pop made for the dance floor ("The Moment," "Eventually"). Never mind that Parker didn't appear to know where he was (he repeatedly shouted out "San Francisco!") or that his band was closing out the weekend (he encouraged everyone to enjoy the rest of the festival), the band's crisp visual and sonic spectacle nonetheless kept heads and bodies moving, some with sunglasses still on. With a tinge of melancholy running throughout these songs — even the crowd-pleasing singalong "Feels Like We Only Go Backwards" is a total downer — Tame Impala provided an appropriate comedown for the two-day music (and dust-huffing) fest.