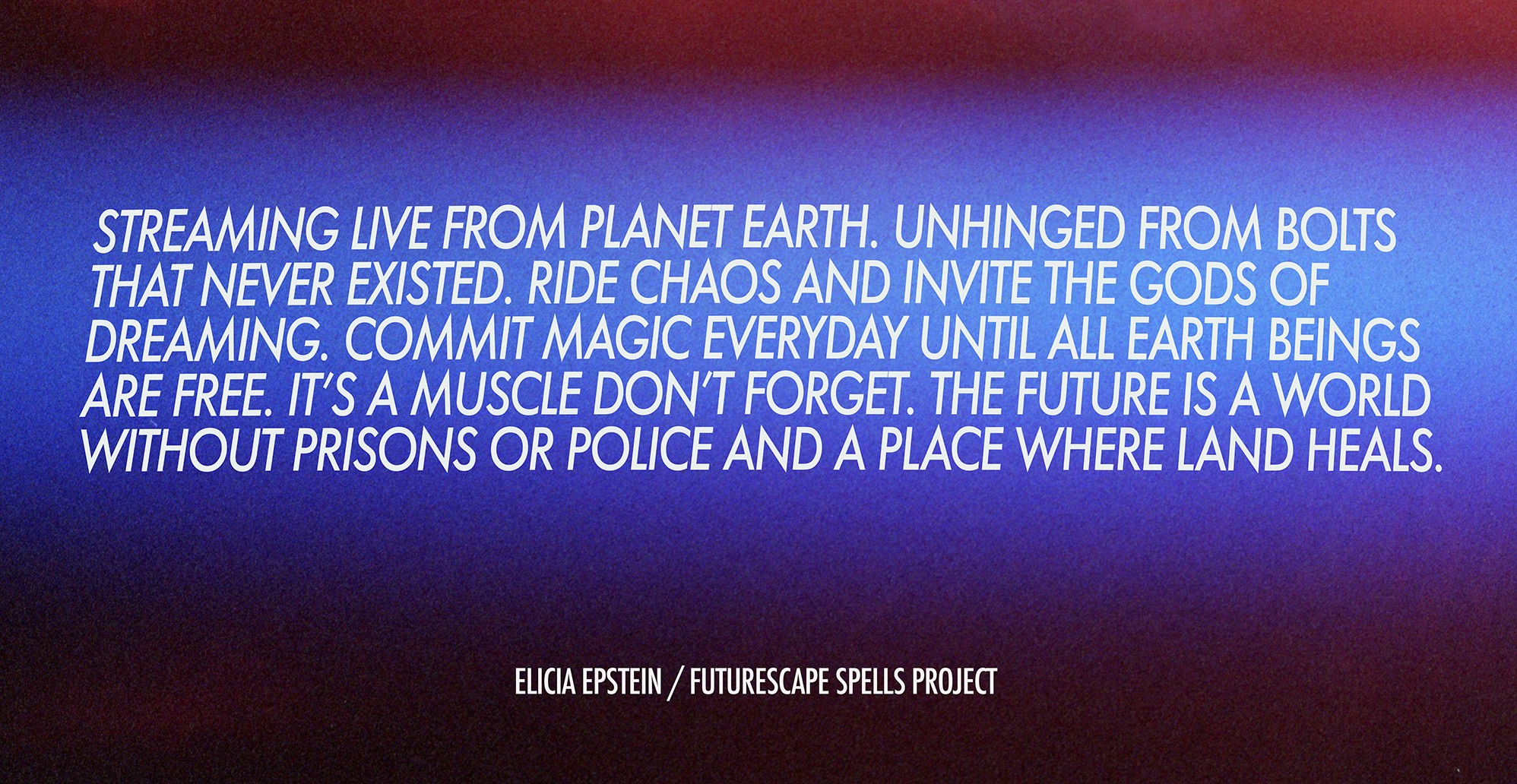 If you're walking around Oakland in the next few weeks, you'll probably come across some billboards featuring pretty cryptic images. But these are not your garden variety cryptic images. They're actually spells for alternate futures put together by the Futurescape Spells project.
The Futurescape Spells project started with Elicia Epstein, an artist and documentarian based in Oakland. Inspired by the work that Guerrilla Girls and others have done to shift billboards from strictly commercial platforms to public art installations, Epstein reached out to Oakland artists Leila Weefur, Dionne Lee, and Olivia Krause to put together their own public art installation. The result is a fantastically diverse group of artists both in terms of artistic style — Epstein's billboard primarily features text while Weefur's features a photograph, for example — and in terms of identity. "Each of us, we represent a cultural or ethnic corner of the Bay Area in some way," Weefur said.
Working with magic isn't new for Epstein. In fact, it was the potential to take spells that she'd already been working with to a grander scale — both physically larger and with the ability to reach a greater audience — that drew her to the project in the first place. For Epstein, spells are a way to offer people possibilities for futures that don't exist and which they may not even have begun to consider. "It's trying to envision alternate systems that cause less harm in general," she said. Her billboard, which sits above a building that houses an organization that offers services to families of incarcerated people, envisions a future where police and prison systems are no longer part of society.
Weefur, meanwhile, approaches spells as recipes. Her billboard is a more abstract meditation on the relationship between Black beauty and Black decay. "With all my work I try to see the images I put out into the world as a series of questions being posed," she said. "How is a metaphysical musing on beauty and horror projecting a spell for how people consider and think about Blackness?" The billboard sits next to MacArthur BART, where Weefur hopes that casual commuting passersby will stop to consider it, but she believes that it could be anywhere in Oakland and still carry the same meaning.
Of course, there's no better way to learn about these spells for alternate futures than to hear about them from the artists who cast them. On Saturday, Oct. 27, Epstein, Weefur, Lee, and Krause will be hosting a roaming tour starting at West Oakland BART at 1 p.m. It's the perfect chance to meet the artists and even dream up spells of your own for alternate futures. Otherwise, the billboards will remain up through Nov. 15.
Correction: An earlier version of this story quoted Weefur referring to "metaphysical music," when in fact she said "metaphysical musing."