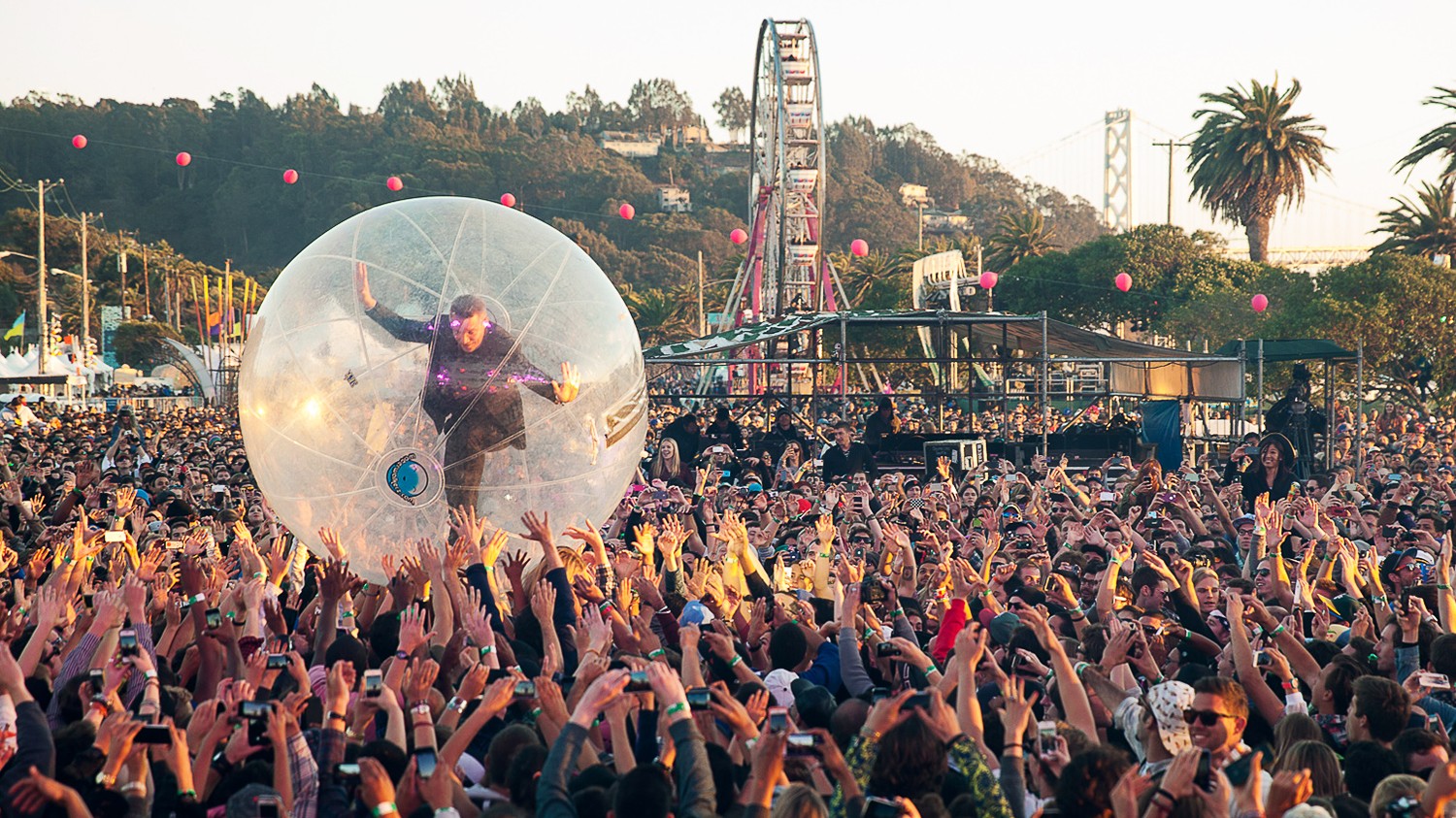 The last Treasure Island Music Festival went out with less of a bang than it did a flood. Two years ago, on its 10th anniversary and last year on the actual Treasure Island, attendees muddled through an unfortunately timed, full weekend-long torrential downpour. Act after act delayed for hours or cancelled, including James Blake, one of Sunday's biggest names (although he did appear for a free makeup show at the Fox Theater the following day). Morale was low as the brave huddled in the rain under ponchos and the fed-up filtered out early in soggy droves.
After an altogether too eventful festival, the organizers needed to step back for a moment to get their bearings — and find a new venue.
With a new housing development project underway on the property, Treasure Island Music Festival (TIMF) was voted off the island. During a year-long hiatus, organizers settled on a new venue that they hope keeps the spirit of the original: Oakland's Middle Harbor Shoreline Park. It returns Saturday, Oct. 13, and Sunday, Oct. 14, with headliners A$AP Rocky and Tame Impala.
"What was special about the [Treasure Island] site was obviously the location but also the view — it had a postcard view right on the water," said Allen Scott, TIMF co-founder and executive vice president at Another Planet Entertainment. "We took our time in looking for a new site because we wanted it to have as much in common as it could with the original Treasure Island."
Middle Harbor Shoreline Park boasts the often fog-drenched San Francisco skyline view of the festival's previous location, juxtaposed with the industrial setting of cargo boxes and giant cranes that distinguishes West Oakland. Its picturesqueness has made the park a hot commodity for music festivals as of late — Goldenvoice's Blurry Vision Fest chose Middle Harbor Shoreline for its inaugural year this past May. Other musical events have happened there over the years, too, including The Bay Area Vibez Festival, which debuted in 2015 with headliners Bassnectar and Nas and never returned.
Plus, the new location is less windy than the island, and just a short shuttle ride away from the West Oakland BART station. Although, Scott insists, getting in and out of Treasure Island with their quick shuttle service was always fairly seamless.
"But I do think the fact that it was an island put up a psychological barrier," he conceded. Whether holding the festival in Oakland this year actually draws more Oaklanders or not, Scott and Jordan Kurland, fellow TIMF co-founder and Noise Pop co-founder, agreed that moving to Oakland was important to them beyond just the logistics.
"The arts community and creative community are going in such an exciting way in Oakland," said Kurland. Plus, Another Planet Entertainment, which runs the festival alongside Noise Pop, has strong ties to Oakland with its successful venue the Fox Theater. Scott also recently purchased a majority ownership of a smaller venue in Oakland, the New Parish.
TIMF organizers are paying tribute to the new location by naming the festival's main stage "The Town" (the second stage will be called "The City"). They're also highlighting Oakland vendors and restaurants, including popular Japanese fried chicken restaurant Aburaya, Uptown favorite Itani Ramen, and Swan Market's Colosso Coffee.
Aside from the music, expect a return of the Workshop's Camp DIY, where festivalgoers can dye bandanas, sew beer koozies, and assemble flower crowns. Or, go crate-digging at TIMF's official on-site pop-up music shop Booty Records, powered by Amoeba Records. Art installations will also decorate the festival grounds, including a huge stainless steel sea turtle from San Francisco-based art collective Chromaforms that offers horoscope readings.
Despite big changes location-wise, the essential fabric of the festival will remain the same. What makes TIMF unique from other festivals is, primarily, its intimate size. With only two stages and 24 acts throughout the weekend that don't overlap sets, it's possible to see every band on the lineup, unlike bigger festivals such as Outside Lands, which Another Planet Entertainment also organizes.
"If you look at the big festivals, they really do mirror playlist culture. You can go see 20 bands in a day, or rather see two songs each from 20 bands in a day," said Kurland. "We want anyone to come, but we are geared toward a little bit more of an invested musical audience."
They call it a music festival for people who don't like music festivals because of its more manageable size. The anti-music festival, if you will. But despite having fewer acts, the lineup is still stacked, from up-and-coming artists such as serpentwithfeet and JPEGMAFIA to bigger names such as Pusha T and Courtney Barnett.
"We try to book what we term as a sophisticated festival for music lovers, not necessarily what has the biggest streaming numbers," said Scott.
Come for the high-energy EDM and hip-hop dance party on Saturday; stay for the laid-back indie rock vibes on Sunday. Here's hoping for clear skies this weekend.

[embed-1]