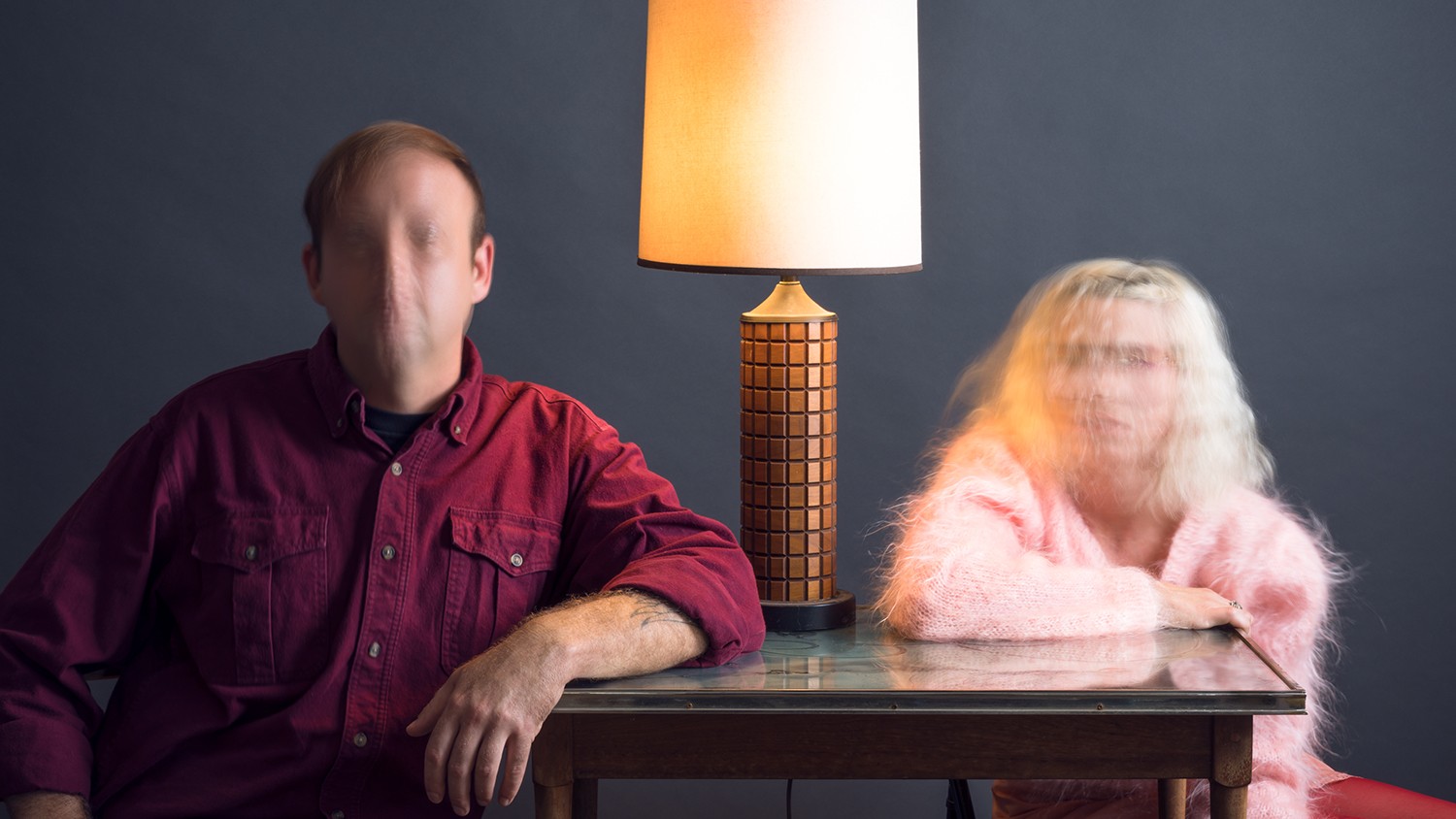 When Shaun Wagner and Mila Puccini perform together as The Acharis, they sound bigger than the sum of their parts. It's partially due to the sheer mass of loop pedal-driven feedback flowing from Wagner's guitar, along with Puccini's pre-programmed beats filling in for a drummer and providing a reliable foundation. "But it's always better with three people or more," Puccini said. "I don't think that's going to happen anytime soon."
Though they've enlisted the help of some of their many musically talented friends in the East Bay, The Acharis was created as a vehicle for their own songwriting. Lost in the Vortex, The Acharis' sole album, is the result of their blossoming artistic vision as songwriters with no one to answer to — a project they can finally call entirely their own.
"At the end of the day, you just want to have a place where it's just your work, right? Where you can just be exactly the way you want, and play exactly what you want, and feel at home in what you do," Puccini said. "We have control over this band. I really like that."
"I want a drummer who plays the exact same thing as the [sampler]," Wagner said, semi-seriously.
"But you can't ask that of someone," Mila responded. "Only a masochist would do that."
Either way, the sampler is a welcome break from playing pre-recorded drums off of their laptop, which was what they did at their early shows before they earned money for a sampler. Thankfully, they landed enough funds after their computer broke before a Berlin gig, the first show of their first European tour in 2015. The beats are made by Puccini, who writes them on Reason or Ableton before exporting as a whole back-track into the sampler.
Their bright, at times saccharine sound is kind of like grunge run through a kaleidoscopic filter with a bit of noise peppered in. A clear Sonic Youth influence underscores their work without defining it, as does a warm, self-deprecating sense of humor that led them to name themselves after "a race of worm-like creatures so ashamed by their own ugliness that they hide underground and constantly cry," according to their Bandcamp bio.
Their songs often center around "darker themes," as Wagner said, choosing poetic reflections on death over the "fucked up in between" and making an exception for love and teenage emotions. Many of the songs on Lost in the Vortex were written by Puccini after one of her friends committed suicide. "They were sort of like therapy songs, because they dealt with disaster," Puccini said. "Internal disaster, because of my friend's death. A lot of anger, but also love, and it's all these mixed feelings. All the extreme emotions came out in those lyrics."
Wagner recalls, semi-seriously, "definitely feeding into that. I was just like, 'Ah yeah, this is good quality content. Keep it coming.'"
They both played in a lot of bands previously, with Wagner usually behind the kit and Puccini on bass and background vocals, often amplifying and supporting the ideas of their bandmates in favor of writing their own material. Puccini still plays in a post-punk project called Healers, which started about the same time as The Acharis.
"I was just really shy," Puccini explained. "My other band probably would have liked it if I would have wrote, but… it's hard to share an experimental development, in many ways, with somebody that you don't feel like you have nothing to lose with."
Wagner described his musical career as "schizophrenic," most recently playing for electronic industrial group DIESEL DUDES, grindcore band undo, garage-pop group Starskate, and a marijuana-themed metal band called Connoisseur.
"I was all over the place," he recalled. "Whatever I thought was cool that someone was doing, I'd be down to play drums for it." Wagner played with most of those bands simultaneously, which entailed "a lot of practicing every day" and two or three shows per week. The Acharis' live schedule is more sporadic, as they don't make a point of playing weekly shows.
As a result, many of their fans discover them through Bandcamp or UC Berkeley's KALX, where they've earned popularity among DJs and listeners through on-air performances and inclusion in the station's music library. Right after Wagner gave the station a copy of Lost in the Vortex, the record cracked KALX's top 10 most played albums of the week.
The Acharis are based out of Oakland but released Vortex with a Paris label, Exhibition Records, after playing a Swiss festival on the strength of an unmastered two-song demo. EXBTN invited them back to Europe, this time for a full tour. With Puccini eager to return home to Switzerland and visit family and friends, and seeking work to justify the travel, they jumped on the opportunity.
"Our first European tour we did as kind of an experiment to see what would happen. We got so much interest there that we kept going back," Wagner said. "Then, we kept getting more shows in France, so it was like, I guess we're going to keep playing in France a bunch, because people really like us there. So, we kept going back."
Their next album is in the works with a different Paris label, Cranes Records, though they are looking for a U.S. label to handle American distribution. Cranes specializes in "crazy packaging, all limited-edition stuff," according to Wagner, including records etched into used X-rays that recall a technique employed to smuggle Western music into East Germany.
The duo will also work with a top-notch producer famous for working with some of the '90s alternative bands expressed in their musical DNA. A long-awaited U.S. tour might be in store as well. In the meantime, The Acharis will continue journeying inward in their West Oakland practice space, writing music their way and on their own terms.
[embed-1]
Correction 10/19: A previous version of this story stated Cranes Records would be setting the Acharis up with a new producer, but that is not accurate. It also stated Wagner used to play in the band Starscape. The band is, in fact, Starskate.