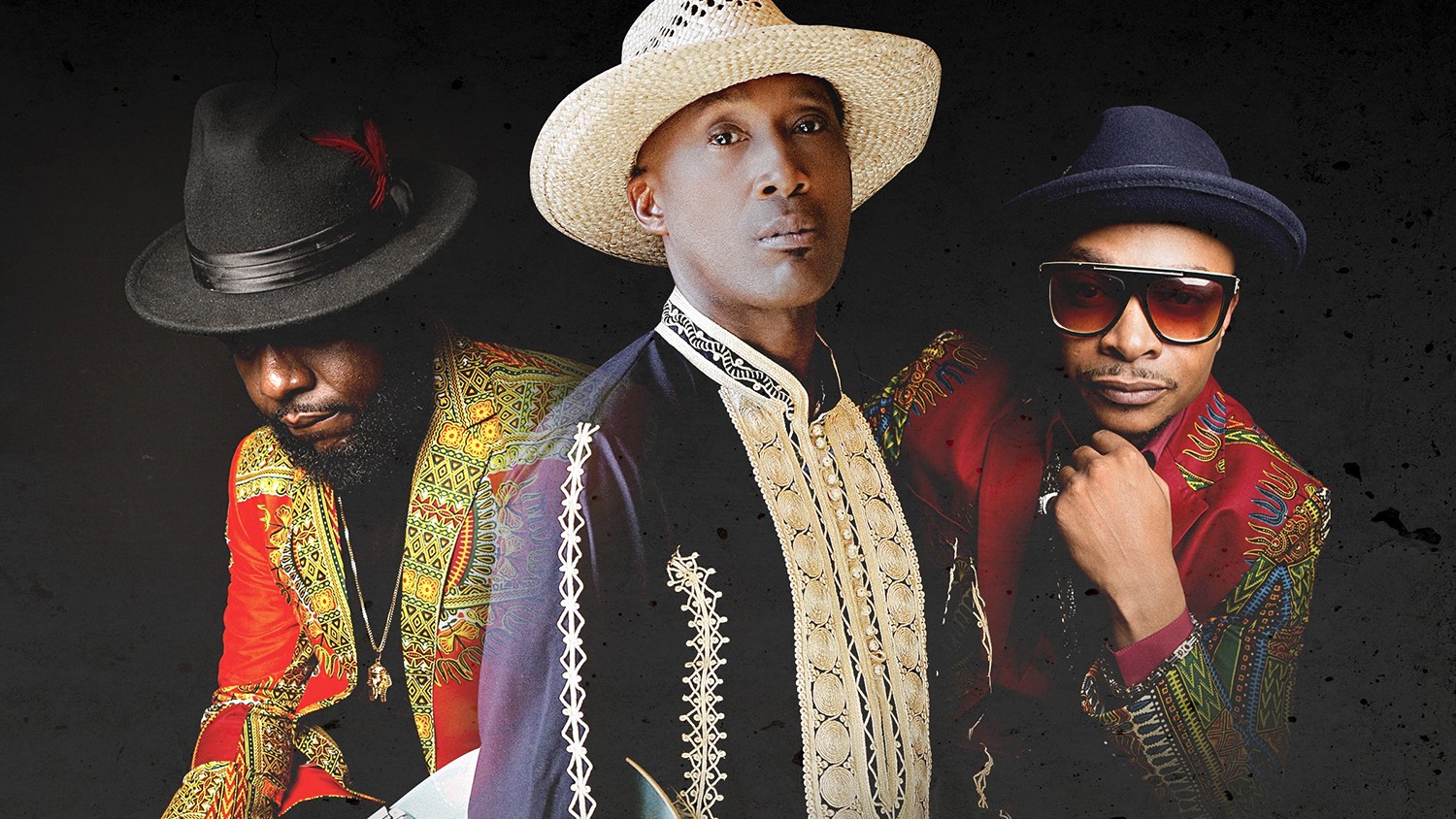 For the Oakland-bred soul group Tony! Toni! Toné!, 2018 is a momentous year. It's the 30th anniversary of the group's first album, Who?, and the 25th anniversary of its most successful album, Sons of Soul. Tony! Toni! Toné! is widely considered to be one of the forefathers of neo-soul, a genre that emerged in the mid-1990s with the brilliant debut albums of D'Angelo, Erykah Badu, and Maxwell, among others. Along with other musicians of the early 1990s (MC Hammer, En Vogue, Digital Underground, Too Short), the group ensured that Oakland continued to be an important source of Black urban culture.
Born and raised in West Oakland, D'Wayne Wiggins and fellow founding members of Tony! Toni! Toné! Raphael Saadiq, his brother, and Timothy Christian Riley, his cousin, graduated from East Oakland's Castlemont High; the group even recorded a tribute on Sons of Soul to the school's famed chorus (of which they were a part), the Castleers. Wiggins characterized Castlemont as Oakland's unofficial school of the arts decades before the actual Oakland School for the Arts (OSA) was founded in 2002.
In fact, Wiggins had a significant role in founding OSA. "I remember the original concept of Mr. Jerry Brown sitting down and explaining it to me in [Wiggins'] House of Music studio in West Oakland," he said. "And I thought he was just this crazy-ass white dude."
This involvement is just one of the many ways Wiggins has contributed to the music industry beyond Tony! Toni! Toné!'s four studio albums. He's extremely committed to mentoring aspiring young musicians, emphasizing the importance not only of musicianship but of understanding the business side of the industry.
Wiggins spoke at length about the artists he had mentored and produced, beginning with Destiny's Child, who he brought to Oakland for several months before they signed their breakthrough deal with Columbia Records in 1997. Other future stars included Alicia Keys, India Arie, Keyshia Cole, and, more recently, Oakland natives Kehlani and Zendaya and rising star H.E.R., who is from Vallejo. His two sons, Dylan and Jaden, along with Kehlani (all of whom attended OSA) were members of a teen group Wiggins founded, PopLyfe, who competed on America's Got Talent in 2011. As Wiggins emphasized several times, "I love [their] energy and it's all about giving a platform to the next generation."
Wiggins is looking forward to the Taste of Oakland, an event taking place on July 7 in Jack London Square that brings together local musicians, culinary talent, and the city's burgeoning tech industry to raise money for Youth Aid, the nonprofit organization he founded in 2013. The organization's mission is to teach underserved Bay Area youth about both the creative and business side of the music industry.
"It's really important that [kids] understand what education really means and how to apply it," Wiggins said. "But I'm excited because the tech part of it is what's fly… I've been doing these hackathons with Hidden Genius, some of these gaming events with Gameheads. So now I'm like, 'Listen artists, musicians, it's time to start putting music to some of these games and some of these apps that are being created.'"
The main goal of Taste of Oakland, Wiggins boldly asserted, is to become an entertainment and tech festival "that mirrors or blows away South by Southwest." Pointing to the Bay Area's history of innovation in many arenas, he expressed a desire to "unite the world."
"No better place to make that happen than Oakland, California," he said. The event, which is free to the public but is also requesting donations to support Youth Aid, will feature performances by various local artists, including Martin Luther, and joining Tony! Toni! Toné! onstage will be a number of new artists Wiggins is excited to feature.
Oakland's national profile in terms of art and culture has been rising, with Daveed Diggs, Boots Riley, Ryan Coogler, Zendaya, and Kehlani all hailing from the Town and making waves nationally. That's no surprise to Wiggins. "Ghettos really produce champions … forward thinkers, the outliers, so to speak," he said.
However, as Oakland has shed the label of "inner-city ghetto" and is now recognized as a thriving, diverse city, gentrification and displacement have become one of the city's most urgent issues, as natives are pushed out due to the skyrocketing cost of living.
Wiggins, however, didn't see the changing population of Oakland as a bad thing, particularly for the arts scene. He noted that Oakland musicians have always incorporated different styles into their music, which is a sign of progress and growth. "I think that there's so many things that are changing about life that some people have gotten comfortable with things being this way," he said. "The true Oaklander I am is about moving forward and putting your foot on the gas. Be a part of it, make it happen, pull it into our fold, and watch what we come up with. … That's the real Oakland way."
While many Oakland natives may not share Wiggins' optimism about the changing face of their city, there's less disagreement about the fact that Tony! Toni! Toné! made significant contributions to contemporary Black music. "They have coined us as being the architects or the authors of neo-soul. I have to say we did inspire some people like the D'Angelos and the Badus…but most of all, we inspired the next generation to mess with instruments and get back on those instruments," Wiggins said.
Indeed, the group's seamless fusion of 1970s soul music with hip-hop sensibilities and techniques, like scratching and sampling, inspired countless artists to make live instrumentation a major feature of their sound.
Wiggins attributed the group's ability to merge past and contemporary Black musical styles to being open to what younger musicians bring to the table. He stressed that mentoring has never been a one-way relationship, that he also learned from and listened to his students: "When I'm in the studio with a young artist, I may give them ideas … but I've been blown away by many young artists that'll take a harmony I give them or a rhythm I give them and come back and refreak it."
Ultimately, Wiggins' vision of Oakland is a city brimming with innovation and young talent. "Newcomers, you need to come and get a taste of this," he said.
Saturday, July 7, 7:30 a.m.-5:15 p.m., Jack London Square, Oakland, TasteofOakland.com