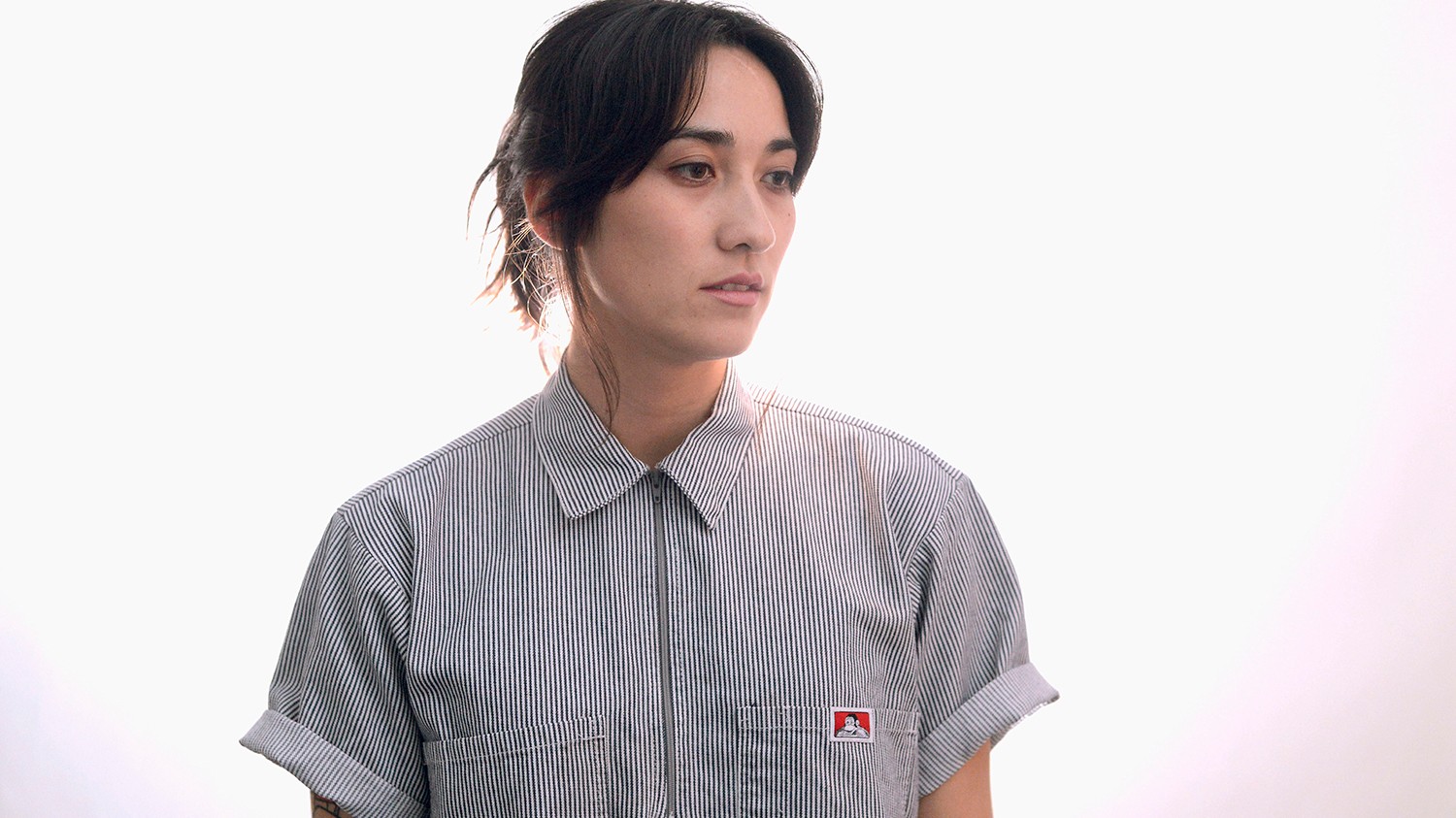 Things are going well for Hannah van Loon, the brains behind the Oakland noise-pop project Tanukichan. The 31-year-old musician's solo debut, Sundays, which she recorded with Chaz Bundick of Toro y Moi, is already getting a lot of national attention. Her new song "Natural" was recently a featured track on Pitchfork, and "Lazy Love" was included in Spotify's New Indie Mix back in May. Plus, the ex-Trails and Ways member is about to embark on her first solo-headlining tour, with shows in San Francisco, Brooklyn, and Washington, D.C.
During a recent phone interview, the sounds of her North Oakland home echoed in the background, sometimes with the beep of a kitchen fire alarm and other times with the bark of her "short but buff" dog Germaine.
"I live with like five other people, so I guess that's kind of what happens," said van Loon.
Tanukichan's 2016 Radiolove EP sounds like the kind of record that would've been written in a well-lived-in Oakland house. It's often loud, filled with guitar fuzz, yet when mixed with van Loon's soothing falsetto, the results are intimate, like the comfort one might get from hearing their roommate's band practicing in the garage. The songs on that EP, as well as her much anticipated upcoming debut, Sundays, were written in her attic bedroom, which also serves as a makeshift practice space.
"I've got my own little setup," she said. "I've got the attic room in my house, so it's kind of nice. It's a little bit removed, and I've got my instruments and my speakers and everything."
Sundays, out Friday, July 13 on Company Records, is a slight pivot from the minimal indie-punk of Tanukichan's Radiolove. At its core, it's still gritty, dreamy pop, but subtle embellishments — like the twinkling reverberated guitars on "Bitter Medicine" or the Pixies-influenced distortion on "Hunned Bandz" — make its melodies richer and bigger than those on its predecessor. Considering Toro Y Moi's penchant for silky synths and clean drums, one might wonder if Bundick was the right producer to capture van Loon's brittle pop. But on Sundays, Bundick's production wizardry is used subtly, highlighting the surreal qualities of van Loon's music without sacrificing its emotional and lackadaisical core.
Of course, such forays into ambience — as well as her association with Toro Y Moi — has caused the music blogosphere to dub her the new face of shoegaze. But van Loon doesn't quite see it that way. While Sundays' reverberated guitars and heavy use of drum machines are reminiscent of groups like the Jesus and the Mary Chain, the San Francisco-born songwriter said she never meant to start a shoegaze band. Her musical foundation is varied, drawing inspiration from the English indie electronic group Broadcast, the classic rock of Tom Petty, and — perhaps most noticeably — the complex chord structures of Japanese rock acts like Cornelius.
When van Loon was a child, her entry into music wasn't Sonic Youth or My Bloody Valentine; it was classical composers like Johannes Brahms. Her parents placed a violin in her hands at a young age. Though she was sheltered from other forms of music — she grew up in a Christian family — classical was an important part of her pedigree, and she still draws from it today.
"I love classical music," said van Loon. "I think getting into it and studying it and appreciating it was a lot of my musical development. That sort of transferred itself to rock music."
Then, when she discovered the Beatles in high school, her entire musical direction began to change.
"It seems kind of cliché, but for me, it was super personal," said van Loon, who described her high school self as a Beatles "super fan." "They were the first band that I really connected with, and it opened my eyes to a new world of music."
Though guitar is a central component of Tanukichan's music, van Loon actually learned the instrument later in life. Her first musical gig was playing fiddle and singing in a bluegrass band, which she joined in college as a math major at UC Berkeley. "It was pretty low-key," van Loon said with a chuckle. "I think we played a battle of the bands once."
However, the experience was valuable, not just because she was learning guitar on the side. It also taught her how to improvise and play with other musicians, which led her to join Oakland indie band Trails and Ways.
Now, when she's not touring or recording music in her attic bedroom, she works as a carpenter, installing gates, decks, doors, and windows. She didn't go to school for carpentry. She learned the trade through experimentation, which was fueled by her lifelong love of building things. And the gender roles that often play out in the music world — "most of the people I know who are playing music are guys" — can come up in the lumber yard as well.
"Right now, it doesn't feel like a challenge, per se … but that's been a thing my whole life," said van Loon. "Even in school studying math. A lot of times it was like me and one other woman in class. I feel like I've been interested in subjects that tend to be very male-dominated."
But that's nothing she can't handle. After all, van Loon is used to existing between categories.