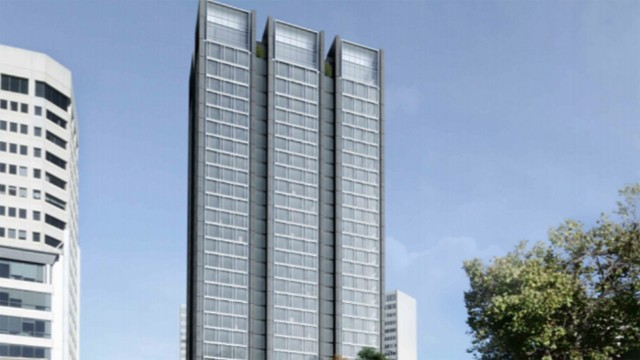 Stories you shouldn't miss for Jan. 11, 2018:
1. The Oakland Planning Commission
approved two more high-rises for Uptown
: a 450-foot office tower, which would be the city's tallest building, at 2 Kaiser Plaza, and a 29-story housing tower at 2044 Franklin St., reports Roland Li of the
San Francisco Business Times
$. CIM Group, which owns Jack London Square and is Oakland's largest office landlord, is building the officer tower, while developer RAD Urban is constructing the housing high-rise. RAD Urban uses modular construction.
2. Renters at a complex on Alameda's Bay Farm Island
are facing 133-percent rent hikes, with rents slated to increase from $1,500 a month to $3,500
, reports Peter Hegarty of the
East Bay Times
$. Tenants have appealed the proposed rent increases to the city council because they exceed Alameda's 5-percent cap. However, the council may not be able to block the huge rent hikes because the city's cap is not enforceable.
3. The city of Oakland
cleared out homeless encampments near Sixth and Brush streets underneath the I-880 freeway after opening the city's first Tuff Shed shelter nearby
, reports Ali Tadayon of the
East Bay Times
$. City officials said that before they cleared out the encampments, they counted 41 people living in them and that 34 agreed to move into the Tuff Shed shelter. The new shelter is designed to be a transition spot for homeless residents, with the city helping people find more permanent places to live. Oakland is planning to install more shelters in other parts of the city.
4. Gov. Jerry Brown
unveiled yet another conservative budget
, proposing to set aside $3.5 billion for the state's rainy day reserve, bringing its total to $13.5 billion, the
LA Times
$ reports. Brown's budget plan also calls for creating an online community college targeted for adults already in the workforce who need more training.
5. The
death toll from the massive mudslides near Santa Barbara rose to 17
, as emergency crews continued to rescue residents trapped inside their homes, the
LA Times
$ reports. Authorities say 8 people are still unaccounted for.
6. And UC researchers say that
rat poison from marijuana farms in Humboldt, Mendocino, and Del Norte counties is sickening and killing northern spotted owls and barred owls
, reports Peter Fimrite of the
San Francisco Chronicle
. Rat poison from pot grows also has sickened and killed Pacific Fishers.
$ = news stories that may require payment to read.