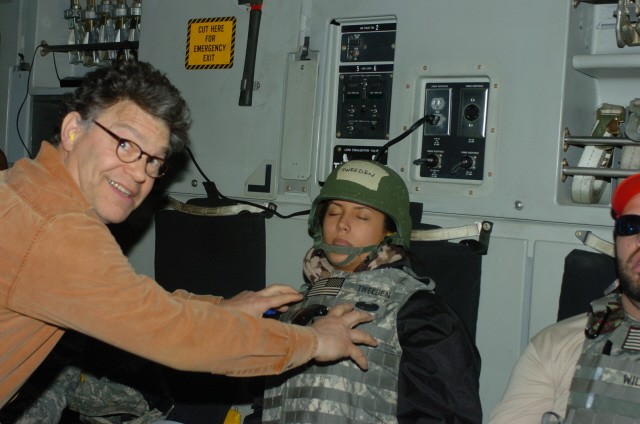 Stories you shouldn't miss for Nov. 16, 2017:
1. A Los Angeles radio broadcaster says U.S. Sen. Al Franken, D-Minn.,
sexually assaulted her in 2006, and she posted a photo of him grabbing her breasts while she was asleep
. Leann Tweeden, who wrote about the assault for KABC, also said that Franken forcibly kissed her. At the time, Franken was not yet a U.S. senator, and the two were on a USO Tour. Franken apologized this morning but claimed that he was joking. GOP Sen. Majority Leader Mitch McConnell called for an ethics investigation of Franken.
2. Student activists
called for the resignation of UC Regent Norman Pattiz, who was recorded asking actress Heather McDonald at his podcast company if he could hold her breasts
, reports Nanette Asimov of the
San Francisco Chronicle
. Pattiz, whose term on the board of regents last until 2026, has steadfastly refused to step down, claiming he was only joking.
3. The Oakland A's have selected
a design team to develop plans for a new ballpark next to Laney College
, the
San Francisco Chronicle
$ reports. The team includes nationally recognized sports architect HOK, as well as Snøhetta, which designed the addition to the San Francisco Museum of Modern Art. The A's are proposing to build a new stadium on Peralta Community College District land on East 8th Avenue.
4. The Bay Area Air Quality Management District
approved new air pollution rules that it called the strictest in the nation
, reports Denis Cuff of the
East Bay Times
$. The new rules require that a new refinery and other polluters must reduce toxic air pollution "if emissions from a plant increase its neighbors' cancer risk by 10 in a million or more."
5. The Trump administration warned Berkeley, Sam Francisco, and Contra Costa County that they
will lose federal Department of Justice grants because of their sanctuary policies that protect undocumented immigrants
, reports Bob Egelko of the
San Francisco Chronicle
.
6. And the Berkeley school board voted to rename LeConte Elementary School, because the school's namesake, Joseph LeConte,
was a slave owner who helped build munitions for the Confederacy
, the
San Francisco Chronicle
reports.
$ = news stories that may require payment to read.