At first, only a few dozen protesters stuck their necks out in front of oncoming cars, waving at drivers to stop. Some braver souls zigzagged through lanes, running and yelling in the face of honking commuters. This opened the floodgates, and soon
more than 1,000 Black Lives Matters activists overtook both directions of traffic on Interstate 880 in Oakland
on Thursday night. The freeway was shut down completely by 8:30 p.m. — and would remain closed for more than five hours.
As the sun fell in the sky, the protesters chanted while headlights extended into the distance. Some activists tagged graffiti on barriers and the lanes, others sat with their friends and family and chanted. A few activists set off fireworks. Others rode skateboards or played instruments.
"This is a great, great moment to be a part of history," said protester Charles Stewart while standing in the middle of the highway. He came to Oakland from Stockton to be "in solidarity" with the activists.
Video of the protesters:
Protesters sit on 880 freeway. I'd estimate 500 blocking both directions #oakland #PhilandoCastile #AltonSterling pic.twitter.com/SQTuIQBMH0

— Nick Miller (@NickMiller510) July 8, 2016
Their mission was to rally against the police killings of two Black men earlier in the week, Philando Castile and Alton Sterling, as part of dozens of major protests across the country. 
But many people who the
Express
spoke with on the freeway were at first unaware of what the rest of the nation was talking about: the killing of multiple law-enforcement officers in Dallas during a similar protest that night.
Earlier in the evening in Oakland, thousands rallied peacefully at Frank H. Ogawa Plaza out front of City Hall. A group of pastors and activist leaders fired up the crowd.
"No one wants to be here. We had other things to do. But it's time," Pastor B.K. Woodson told the audience. "It's time to take our rights. It's time to shut this city down."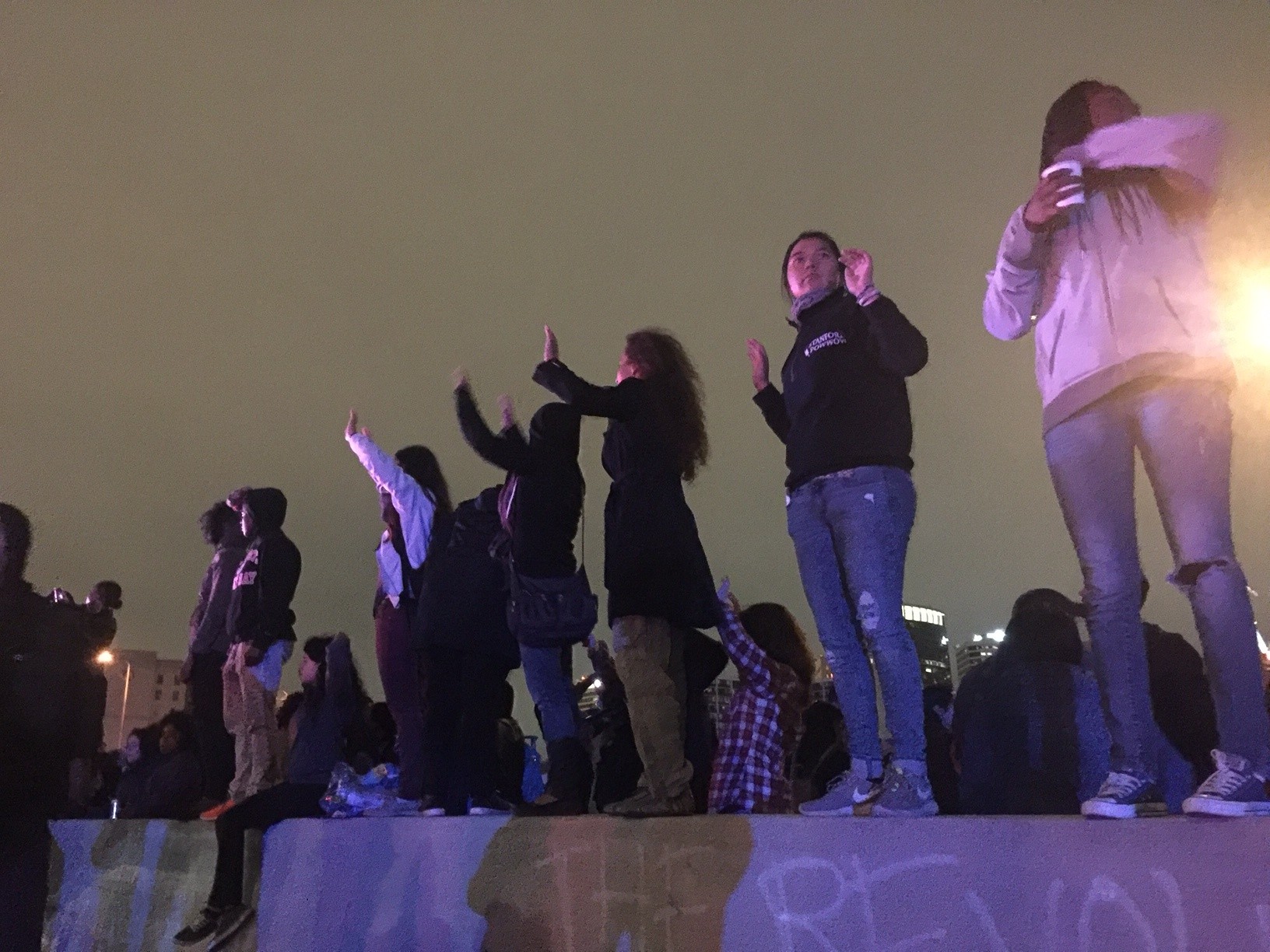 Oakland police estimate that
2,000 people marched through downtown
. "I have a father, and a brother and a daughter, and what's going through my mind is that I'm in fear for them every single day. I'm not afraid for him to be in Oakland, I'm afraid for his drive home. … I'm afraid for his life," said La Rae of Vacaville, while marching on Broadway.
Jeffie Freeman of Oakland said she felt sadness, fear and anxiety when she learned of Castile's death. "I feel like I'm going to be the next target, because of the color of my skin," she said. "And all my brothers and sisters, my cousins and my family, are going to be the next target. And this shit needs to stop. … Something needs to happen."
She says she refuses to watch the Castile video because it desensitizes the rest of America to the Black community.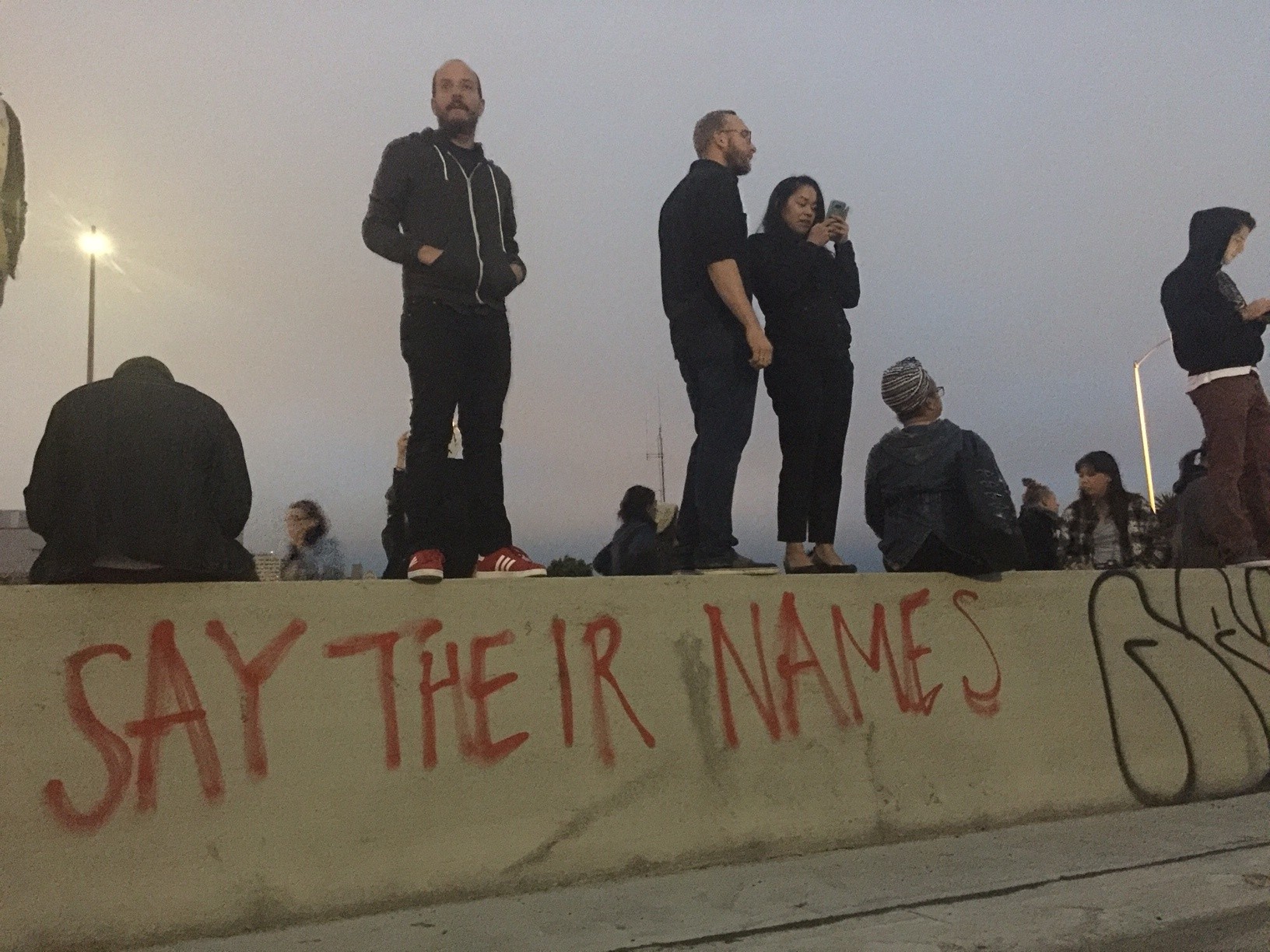 Some activists told the
Express
that California Highway Patrol often block freeway onramps during large protests, but last night activists freely walked onto Interstate 880.
As drivers sat in their cars, they soon learned about the shooting of law-enforcement officers in Dallas during a Black Lives Matter protest in that city. But most commuters told the
Express
that they weren't nervous about the protest on 880, which they referred to as calm.
"I'm not sure what the right answer to all of this is, but I agree that something has to be done. And if that means closing the highway — well, I'd appreciate if I was already home," said Kim Fellows-Peak of Alameda.
Franklin Green of Oakland remained stuck in his car for more than four hours. "I think the protest is all right, but killing somebody else, especially police, they didn't do nothing, they're just doing their job," he said.
Gabriel Pina of Pittsburg was stuck on the freeway with his sister, who was headed to the airport for a flight to Las Vega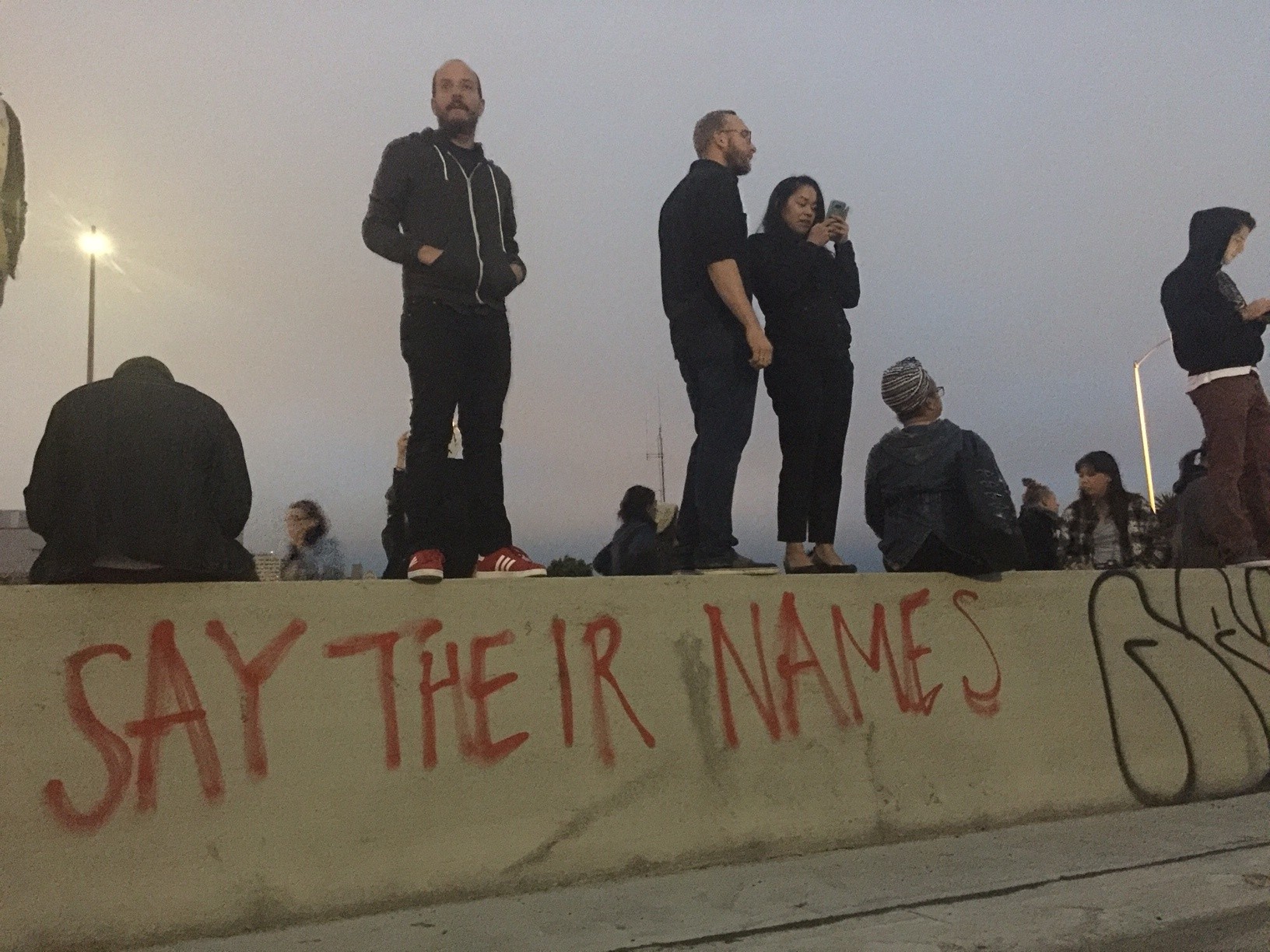 s. "It sucks that we missed the plane, but this is a bigger cause," he told the
Express
.
The
numbers thinned out
after a few hours, and CHP
finally began herding protesters off of the freeway just before midnight
. 
During the night's events, Oakland police headquarters was heavily vandalized with multiple anti-cop graffiti tags (including a long penis extending across the building's facade), a broken window, and buckets of red paint splashed on the entrance.
A police spokesperson confirmed at least one arrest but did not yet comment on additional arrests from the freeway incidents.
Protesters announced a plan on social media to shut down another East Bay freeway, Interstate 80, this weekend.
Look for additional coverage in next week's
Express.