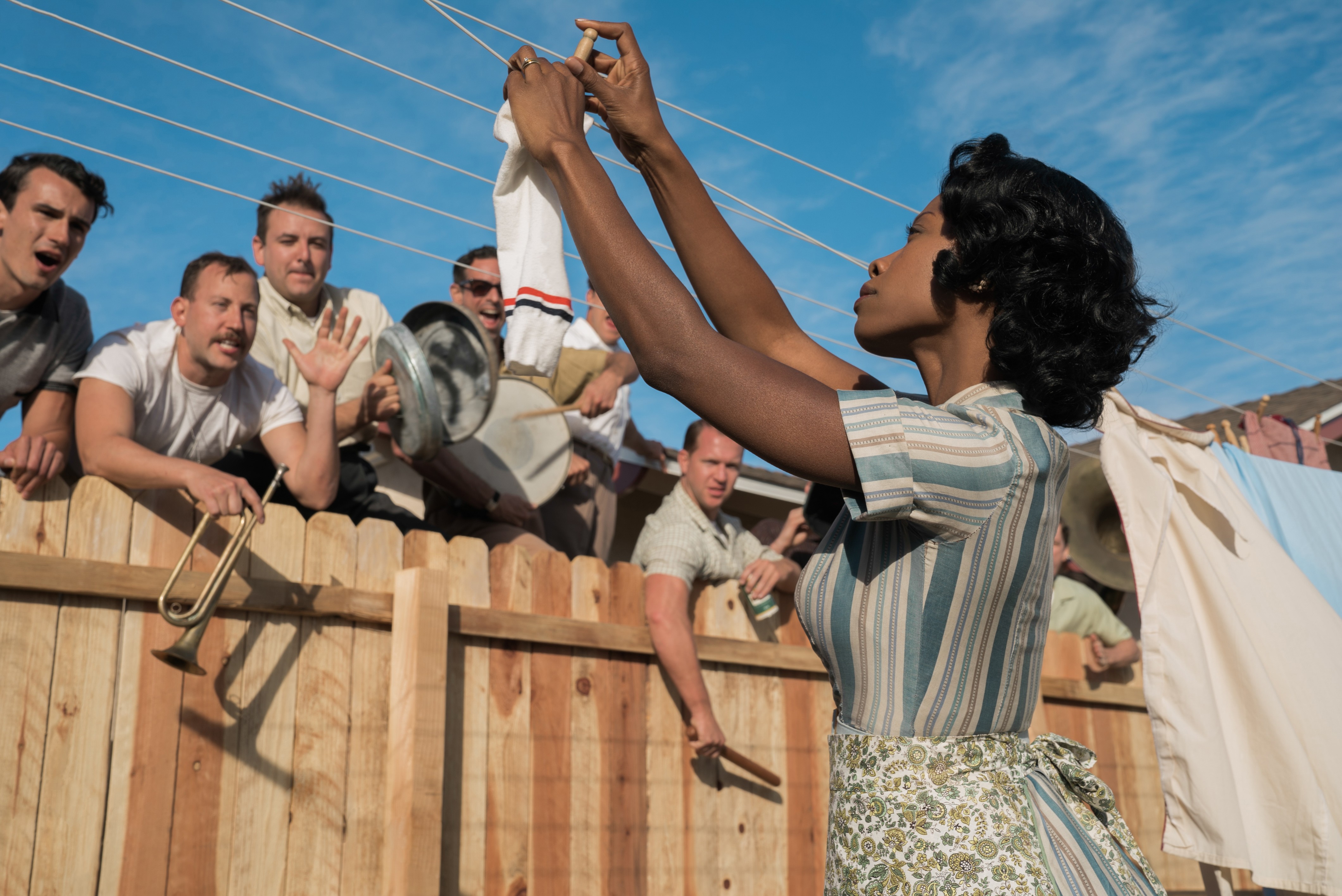 Maybe it's the surly public mood these days, but the prospect of family man Matt Damon, arriving home triumphantly with a lacerated face and bloody shirt, is actually attractive — in a shocking, action-movie sort of way. Of course, we only know that image from Suburbicon's TV commercial trailer. Exactly who Damon's character is and how he got that way is unspecified. But Suburbicon is directed by George Clooney from a screenplay he wrote with Grant Heslov and Joel and Ethan Coen, so we expect a bracing experience with a skeptical political tinge, if those creators' filmographies are any indication.
"Bracing" barely explains it. The setting is the newly built tract home community of Suburbicon in the 1950s, an aggressively "pleasant" place full of white people — only white people, the ugliest honkies you've ever seen — greeting each other at top volume, husbands driving off to work in the morning, housewives baking cakes and singing in the church choir, and kids like Nicky Lodge (played by Noah Jupe) quietly observing everything.
Numerous movies have made fun of squaresvilles like this. But something a little more sinister is taking place at Nicky's house, among his buttoned-down businessman dad, Gardner Lodge (Damon), Gardner's wife, Rose (Julianne Moore), and her sister, Nicky's Aunt Maggie (Moore, in a dual role) — beginning with a violent home invasion in the middle of the night.
While that domestic scene forges on into disaster, a Black family named Meyers moves into the neighborhood, and immediately the entire community closes ranks against them in an escalating series of hostile events — everyone, that is, except Nicky, who makes friends with young Andy Meyers (Tony Espinosa). Turns out the town is an open wound of social injustice and crime: race hatred, attempted lynching, arson, assault, murder, adultery, armed robbery, extortion, police corruption, bad manners, and using a ping-pong paddle as a sex toy. The moral center of the film is Nicky, a bewildered, sorrowful, frightened boy who will undoubtedly grow up to fight in Vietnam — or else run away to Canada.
Young actor Jupe's performance as Nicky is the most remarkable facet of this worrisome piece of Clooney-Coen absurdist social criticism. His nightmare childhood is presented in stark, harshly accented vignettes that most Fifties film noir or sci-fi fright flicks would be embarrassed to put on screen. The operative adjective is "blunt." And yet we willingly cower alongside Nicky as the hideousness rolls out and every single adult except the Meyerses — their story is based on the real-life ordeal of the Myers family in Levittown, Penn., in 1957 — is unmasked as a monster.
Damon's Gardner has a whiff of Michael Douglas' "D-Fens" (from Falling Down) about him. Compressed hostility escapes him like steam from a whistling tea kettle. It's the antithesis of subtle. As usual, Moore is more, especially when there are more Moores. One of the film's other standout perfs is Oscar Isaac as the predatory insurance claims adjustor, with his oily mustache and his threat of shakedown mayhem. Glenn Fleshler (of the fleshy face) and Alex Hassell make a fine pair of thugs. Bonus points as well for Jack Conley as the crooked police lieutenant and Gary Basaraba as Nicky's Uncle Mitch — although I've never heard of an Irish-American uncle named Mitch.
Early reviewers have been doing double back flips to express their disapproval of everything from Clooney's direction to the splintered screenplay to the film's supposed sanctimoniousness. They have a small point, but the point Clooney, Heslov, and the Coen brothers make is bigger and more important. No one in Suburbicon seems to notice the orgy of crime going on at the Lodges' — they're too busy trying to run the unwanted Black family out of town. Samuel Fuller, the "cinema fist" creator of Shock Corridor and White Dog, would understand, and so do we.
Suburbicon
Directed by George Clooney. With Matt Damon and Julianne Moore. Now playing.