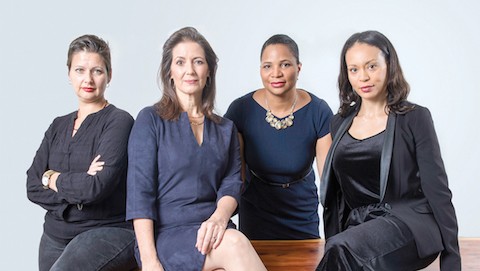 Finally, sexual harassment and assault against women are being taken seriously, and men are being held accountable. But, we still have a way to go.
For much of 2017, the news was dominated by a parade of depressing headlines: It began with Donald Trump being sworn into office and continued with his Muslim travel ban; his attacks on immigrants, transgender individuals, and the Affordable Care Act; his escalating tensions with North Korea; his withdrawal from the Paris climate agreement; and his alleged collusion with Russia. In Trump's America, racists became emboldened, and in August, a white nationalist rally in Charlottesville, Va. turned deadly. As if all that weren't bad enough, there were also horrific wildfires in Northern and Southern California, devastating hurricanes in Texas and Puerto Rico, and a mass shooting of historic proportions in Las Vegas. Plus, the FCC killed net neutrality.
But there were also moments of hope in 2017, and the biggest was the #MeToo movement.
It began in October, when the New Yorker and The New York Times released bombshell investigations revealing numerous allegations of sexual assault and harassment against Hollywood mega-producer Harvey Weinstein. The stories revealed the degree to which Weinstein appeared to exploit his power in Hollywood and then cover up his actions, offering women settlements or discrediting them using an Israeli intelligence firm.
The allegations, which led to Weinstein being fired by his own company, blew open the door for accountability — and for women to speak up. While powerful men have long used their status to control, harass, rape, and silence women, in 2017, their day of reckoning finally arrived.
After the Weinstein allegations were exposed, the actress Alyssa Milano, in attempting to highlight the prevalence of sexual harassment and assault, encouraged women to share their experiences on Twitter with the hashtag #MeToo, unleashing a tidal wave on social media — although activist Tarana Burke, who is Black, had launched a similar campaign a decade prior, a fact that many said showed how white feminists disregard women of color. Nonetheless, #MeToo marked a profound moment for the power of women's voices — particularly in a space that had become a breeding ground for misogynistic bullies and fake news purveyors.
In the days and weeks since, courageous women across the country have spoken up, bringing down dozens of men across many industries, including music, comedy, journalism, tech, sports, food, and politics. Seemingly every day there have been new allegations of sexual misconduct by highly visible men, and some of the most shocking were by those — such as Minnesota Senator Al Franken, journalist Charlie Rose, comedian Louis CK, and talk show host Tavis Smiley — who have been vocal champions for progressive causes. Some, like Louis CK, fessed up, while others, such as Michigan Congressman John Conyers, denied any wrongdoing (but resigned anyway). While disturbing allegations of beloved public figures are nothing new — see: Bill Cosby­ — never before had public opinion so overwhelmingly been on the side of the women. While there are still tendencies to downplay, disregard, or outright disbelieve women, it finally feels as if those days are numbered.
Newly uncovered allegations of sexual harassment and assault also prompted renewed calls to look at men who have long been accused of similar behavior but have managed to dodge repercussions, including R&B star R. Kelly, director Woody Allen, and — perhaps most urgently — president Donald Trump. Speaking of Trump, the fact that he endorsed Roy Moore, who has been credibly accused of child molestation and sexual assault, in the race for Alabama's U.S. Senate seat, highlighted a double standard not only in politics, but across the political divide. Whereas Democrats Conyers and Franken resigned, Texas Republican Blake Farenthold, who was sued over accusations of sexual harassment and used $84,000 in taxpayer funds to pay a settlement — remained in office, with few calling for his resignation. But even as I type this, things are changing. After pressure from House Speaker Paul Ryan, Farenthold recently announced he won't seek re-election.
And the #MeToo movement scored a clear victory when Doug Jones — a pro-choice Democrat — defeated Moore in a special election, although the win was overwhelmingly carried by Black voters. According to an exit poll, just 34 percent of white women and 26 percent of white men voted for Jones, versus 98 percent of Black women and 93 percent of Black men. It was reminder that white women also voted for Trump, even after his "pussy grabbing" comment was made public. The fact that white women have largely been the symbols of #MeToo (see: TIME's Person of the Year cover) reflects a kind of incongruity, as well as a certain privilege in being able to say "me too."
In California, more than 140 female legislators, lobbyists, and others released an open letter in October calling out a culture of widespread sexual harassment in the state Capitol. "These degrading acts over time cause us to shrink back in our personal and professional lives," the women noted, adding that their silence was perpetuated by the abuse of power. "Why didn't we speak up? Sometimes out of fear. Sometimes out of shame. Often these men held our professional fates in their hands." They implored others to "speak up and share their stories."
In the weeks since, they've done just that, leading Assemblyman Raul Bocanegra, D-Pacoima, to resign and state Sen. Tony Mendoza, D-Artesia, to be suspended. Meanwhile, the allegations have prompted calls to change how sexual harassment and discrimination claims are handled in the Capitol. Senate President Pro Tem Kevin de León, D-Los Angeles, said all future complaints about sexual harassment and assault in the Senate will now be investigated by two outside law firms instead of by Senate Rules Committee employees, and support to victims will be provided by a nonprofit. The Senate will also conduct hearings to examine the legal standards surrounding sexual harassment across all industries in the state.
One of the most outspoken politicians on this issue has been Bay Area Democratic Congresswoman Jackie Speier. On Oct. 27, she tweeted a video in which she said a chief of staff stuck his tongue in her mouth when she was working as a congressional aide. She described Congress as a "breeding ground for a hostile work environment for far too long" and encouraged other women to come forward with their own stories using the hashtag #MeTooCongress. (Her personal story inspired Leeann Tweeden to come forward with her allegation against Franken.) Speier testified before a House committee that two members of Congress had been accused of sexual harassment. She criticized the congressional system for reporting sexual harassment, saying it was "set up … to protect the harasser," and helped introduce legislation that would overhaul the process. She also called for an investigation into the misuse of taxpayer funds to settle sexual harassment complaints by lawmakers.
Perhaps most bravely, Speier is among several dozen Democratic congresswomen calling for an investigation into Trump in light of the 19 allegations of sexual harassment and assault against him, saying he is "unfit to serve."
"This has captured the interest of every American," Speier told Bay Area News Group in November. "I do think that we are in a defining moment culturally — which, at my age, I'm just reassured is happening."
In the East Bay, several prominent women wrote essays in the Express about their experiences with sexual harassment, assault, and inappropriate behavior. Oakland Mayor Libby Schaaf described an incident in which a male law school professor made a pass at her while she was working as his research assistant, saying the incident "cast me into a period of self-doubt." And former high-ranking Oakland Police Officer Holly Joshi described a hostile atmosphere against women within the department. "Jokes and references to female anatomy were commonplace in the police academy," Joshi wrote, "conversations and condemnations about the sex lives of female officers were everywhere from locker rooms to formal tactical team meetings, and women were underrepresented in the department and virtually invisible in the most coveted and highly regarded assignments."
The following week, we ran a story about a prominent Oakland counseling teacher who was being sued for sexual assault by six women; they alleged he exploited their past trauma to rape them.
While these stories can be brutal, there has been empowerment in their telling. After I published my own #MeToo essay, friends and strangers — women and men — came forward to tell me their own stories. Some said they were so deeply traumatized by their experiences that they couldn't participate in #MeToo. Yet they were comforted that others were speaking up.
Perhaps one of the most important things the #MeToo movement has done is to de-stigmatize the topic of sexual violence and turn it from a personal issue into a community one. It's clear that it won't be solved behind closed doors.
"If we are to elevate this moment into true change, it will be women who steer the course," Schaaf wrote in the Express. "Therefore, one remedy to solve this societal ill is clear. More women in power now. More women of color in power now."
As a society, we must dismantle the systems that keep perpetrators in power, uplift the voices of all women, and collectively decide we will no longer tolerate such behavior. We also need to shift the culture around male identity and stop rewarding men who promote toxic forms of masculinity.
That's the other thing #MeToo has proved — that no man is too powerful, or too well-liked, to get away with sexual assault, harassment, or inappropriate behavior. At least, not while women are speaking up. And we show no signs of slowing down.