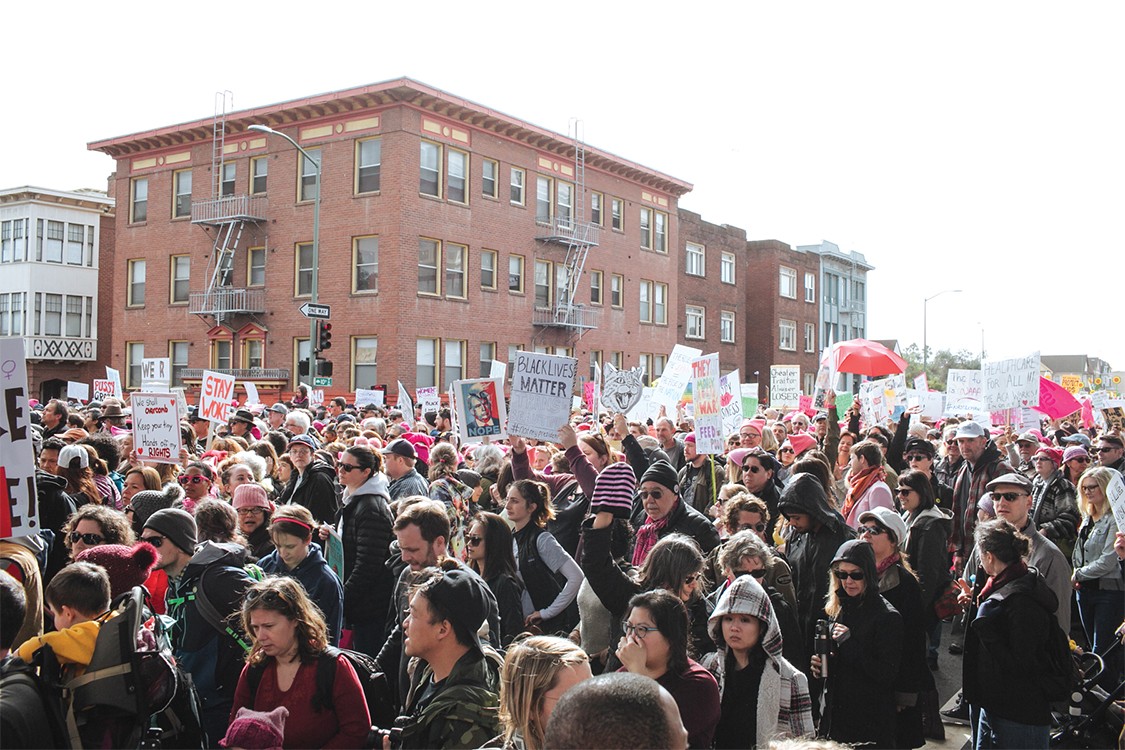 It's no surprise that one of the most diverse and progressive regions in the nation delivered such a torrent of vitriol at President Donald Trump in 2017. Still, the level of activism by local political officials to counteract a sitting president and his policies was unprecedented in recent history.
At every turn this year, East Bay representatives in Congress were there to rebut Trump's tweets and actions. The region's state representatives moved swiftly in Sacramento to counteract the president's executive orders. And local cities and other jurisdictions acted quickly to protect residents from the president's edicts. In short, local political activism was in high gear this year and the determination to fight Trump likely won't lessen anytime soon. Or, as two Alameda County state legislators said earlier this month in a preview of the coming year, "Let's kick Trump's ass!"
True to form, Rep. Barbara Lee, D-Oakland, led off the anti-Trump fervor, when, before he was even inaugurated in January, she lodged an official protest on the House floor, opposing the ratification of Trump's Electoral College victory. The Republican House leadership, which protected the president throughout the year, responded by cutting off Lee's mic mid-sentence.
Then, just after Trump was sworn in as president, at least 100,000 local residents demonstrated in downtown Oakland as part of the massive, nationwide Women's March. And in February, Lee told a town hall in Oakland that her congressional colleagues were already looking into impeaching the new president. In fact, Lee and Rep. Eric Swalwell, D-Castro Valley, were a two-person wrecking crew in opposition to Trump all year.
Lee strongly criticized Trump for withdrawing the United States from the Paris climate accords, calling the move "reckless," and she termed his decision to re-establish the embargo against Cuba an "unnecessary backwards move." After millions of Americans called on Democrats, and a few Republicans, to beat back Trump's attempt to repeal Obamacare in March, Lee told an audience at Laney College, "You saw what the power of the people and The Resistance did yesterday… You know what it looks like now." And in September, when fiery rhetoric between Trump and North Korea's Kim Jong-Un raged, Lee admonished the president, saying "Provoking Kim will not make us any safer."
Viewers of all three major cable news network, meanwhile, were hard pressed to avoid Swalwell in 2017. The three-term East Bay congressman became the go-to Democrat for offering biting commentary on the Trump-Russia investigation. "The American people will not be satisfied until they know whether the president is with us or with Russia," he said last spring. His Twitter feed battered Trump all year and attracted a huge following in the process, and as a member of the House Intelligence Committee investigating the Trump campaign's ties to Russia, Swalwell sussed out important testimony, including last month, when he got U.S. Attorney General Jeff Sessions to admit knowledge of a campaign staffer's trip to Russia.
"Our congressional leaders have been terrific," longtime Alameda County Democratic Central Committee chair Robin Torello said of Lee, Swalwell, and Rep. Ro Khanna, D-Fremont. "They've been on the forefront of taking it to Trump and looking out for us. It was not out of defiance, but about protecting all of our residents."
Meanwhile, Trump's crackdown on immigration met stiff opposition at the state and local levels. A majority of Alameda County cities joined Oakland and Berkeley in becoming sanctuary cities in 2017. In fact, the city of Alameda, not previously known as a bastion for progressivism, moved to become a sanctuary city just a few days before the inauguration. After the vote, Alameda Councilmember Jim Oddie declared to immigrants, "We have your back."
And as Trump's executive order calling for a Muslim travel ban took effect briefly in late January, an impromptu call on Facebook for Alamedans to gather at the city's Islamic Center in protest attracted a throng of more than 300. Similar outpourings of support emerged in Oakland, Berkeley, and all over the East Bay. Oakland City Attorney Barbara Parker filed an amicus brief in support of San Francisco and Santa Clara counties' lawsuit against the travel ban order.
And in March, Oakland Councilmember Abel Guillen took steps to block Trump's border wall before it gets built by introducing a city ordinance prohibiting companies that work on the wall from receiving city contracts. Oakland is "putting our values where our dollars are," Guillen said at a committee meeting later in the year.
And concern over the specter of ICE agents descending on Oakland prompted Councilmembers Rebecca Kaplan and Desley Brooks to offer a resolution making it clear the city will not cooperate on federal anti-immigration efforts. After the controversial West Oakland raid by ICE that included Oakland police serving as traffic control resulted in the arrest of only an undocumented immigrant, Kaplan and Brooks moved this month to cut off all cooperation with ICE — a proposal that Mayor Libby Schaaf said she also supports.
On several occasions, the Alameda County Board of Supervisors allocated funding to help undocumented immigrants with legal services. But some of the damage to these fragile communities may have already been done. According to testimony from county staff, clusters of high absenteeism by schoolchildren of undocumented parents are popping up in parts of Oakland, Hayward, and Union City.
House Democrats are not the only ones hoping for impeachment. In February, Richmond became the first city in the East Bay, and one of the first in the nation, to call for Trump's impeachment. Alameda and Berkeley approved similar measures a month later. And Oakland did the same later in the year with Council President Larry Reid seeking help from a higher power. "I hope God blesses us with a miracle and gets rid of both Trump and [Vice President Mike] Pence," he said. And when Trump called for Oakland Raiders running back Marshawn Lynch to be suspended in the fall for sitting during the national anthem, Schaaf tweeted back, "Let's suspend @realDonaldTrump instead." Earlier, in May, after Trump told The New York Times that Oakland was less safe than Iraq, Schaaf tweeted: "the most dangerous place in America is Donald Trump's mouth."
Of course, 2017 was also the year that the Nazis came to town. Neo-nazis and other white nationalist groups, emboldened by Trump's rhetoric, staged what became a series of surreal urban skirmishes known as the Battle of Berkeley. Protesters in fighting gear squared off against black-clad leftist activists, anti-fascists, or Antifa, as Berkeley police, city, and university leaders struggled to control the mayhem.
After a woman was run over and killed by a white supremacist in Charlottesville, Va., East Bay Assemblymember Rob Bonta declared that permits for so-called hate rallies should not be issued in Berkeley. "This is not who we are," he said of the tragedy. East Bay State Sen. Nancy Skinner went further, introducing legislation to amend state law to view hate crimes committed by white supremacists as terrorism.
California Attorney General Xavier Becerra, meanwhile, joined in a number of lawsuits against the Trump administration and its policies. And U.S. Sen. Kamala Harris, a Berkeley native and former Alameda County prosecutor, emerged as one of the national Resistance leaders — and perhaps a leading candidate to take on Trump in 2020 (if he makes it that far). Last week, Harris also became one of the first members of Congress to call for Trump to resign because of the numerous allegations of sexual assault and sexual harassment against him.
Going into 2018, the East Bay's anger toward Trump appears to be limitless. As Alameda County Democratic Party officials mingled at the central committee's holiday party earlier this month, Bonta whipped up the crowd, saying "Let's kick Trump's ass!" Holiday cheers rang out. East Bay state Sen. Bob Wieckowski then repeated the sentiment and, for good measure, added, "And send him to jail!"