These days, when newcomers to Oakland ask me where to eat, often the first recommendation out of my mouth is Swan's Market. Which is to say, even with all of The Town's gastronomical riches, I'm sending folks to a food court.
But this is hardly your typical mall food court: Walk in almost any night and you'll see diners in the large communal seating area huddled around bowls of Japanese hot pot from AS B-Dama, ladling noodles and steaming broth from a traditional cast-iron vessel. On the other side of the room, there's almost always a long line of customers waiting to order fried fish tacos or mole verde from Cosecha, a farm-to-table Mexican food stall with a Chez Panisse pedigree. Others, seated at the counter at The Cook and Her Farmer, might start a seafood-centered meal by slurping down a half-dozen creamy, fresh-shucked Miyagi oysters from Tomales Bay.
Swan's Market isn't exactly new — the building will celebrate its one hundred-year anniversary in 2017, and nearly all of the gourmet food hall's current occupants opened for business prior to this year. And yet, I don't think it's a stretch to say that the ascendance of Swan's Market has been, in many ways, the biggest East Bay food story of 2015. This is the year the market hit full occupancy and started firing on all cylinders, both in terms of its popularity and the quality of the food each kitchen was putting out. The result? Swan's is now packed all the time, and — with prominent shout-outs in both Bon Appetit and The New York Times — the buzz about this humble food court has gone national.
All in all, it's a stunning turnaround for the market, which, just four or five years ago, had largely been forgotten. Dominica Rice-Cisneros recalled that when she first started testing the waters to see if she could get a small business loan to open Cosecha, everyone she spoke to tried to talk her out of it: "They were all like, 'Don't do it. Don't invest in that market.'" Or, if she insisted on opening at Swan's, people suggested that Rice-Cisneros build a wall — to separate her restaurant from what was then a mostly empty, somewhat forlorn-looking building.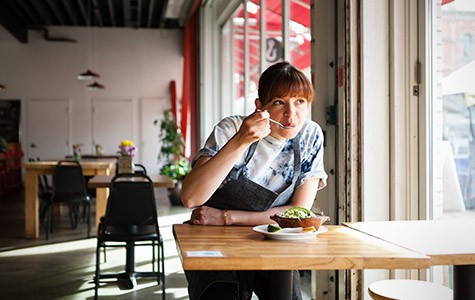 That was in 2011, and Oakland's food renaissance was already well under way, spearheaded by a handful of critics' darlings in neighborhoods like Rockridge and Temescal. But no one was saying much about Old Oakland — least of all about Swan's Market, despite the presence of a well-liked sausage shop and fishmonger (Taylor's Sausage and Sincere Seafood, respectively) and the building's long history as a bustling community gathering place.
But Rice-Cisneros, whose resume includes a stint at Chez Panisse, had a vision for the market that was inspired by a childhood spent growing up around Los Angeles' Chinatown, as well as the time she spent as a chef in Mexico City, where the vibrant mercados are the heart and soul of the city's food scene. She wanted to be part of a place like that, not walled off in her own stand-alone eatery.
Still, Rice-Cisneros admitted that, in the beginning, she wasn't sure if Swan's Market would ever take off. "I was just like, let's treat it like a three-month art installation, and let's see if we're relevant to the neighborhood," she said.
Of course, much of the success of Swan's Market can attributed to the arrival of heavy hitters such as Miss Ollie's (at the end of 2012) — probably the best Afro-Caribbean restaurant in the Bay Area — and the popular sausage-and-beer slinger Rosamunde (in 2013), both of which have stand-alone locations that are separate from the rest of the market. But the core of what most folks now think of as Swan's Market is the big communal dining area that's shared by the current occupants of the "food court": Cosecha, AS B-Dama, The Cook and Her Farmer, and Deep Roots Oakland/Henhouse (a combination wine bar and pizza restaurant).
According to Rice-Cisneros, part of the reason for the success of the Swan's food court is the diversity of options available to customers now that all of the individual stalls are up and running. She said she has one family of regular customers who embody this: The wife, a Japanese American, always orders a bunch of izakaya-style dishes from AS B-Dama. The husband, who's Jewish, usually picks up something from Cosecha, and then they'll order a pepperoni pizza from Henhouse for their five-year-old daughter. Then, the whole family sits down for dinner together, and they all share — or not, if they aren't in the mood.
Of course, even a mall food court anchored by a Sbarro, a Panda Express, and an Auntie Anne's pretzel shop nominally offers "something for everyone." What sets Swan's Market apart is the quality of the food, which is as good as you'll find anywhere in the East Bay — even compared to far ritzier restaurants. As Chikara Ono, owner of AS B-Dama, pointed out, each of the food stalls is committed to using sustainable, mostly organic ingredients. "It's totally different compared to other food courts," he said.
According to Rice-Cisneros, it makes a difference, too, that everyone has decided to serve their food on real plates with real silverware — there's no styrofoam or plastic forks. And, even as the market has gotten busier, the service has remained remarkably personal. The owners of each respective eatery are on-site almost every day. If you order something from AS B-Dama, for instance, the odds are fairly high that Ono himself will be the one to take your order, or to hustle your karaage out to the table.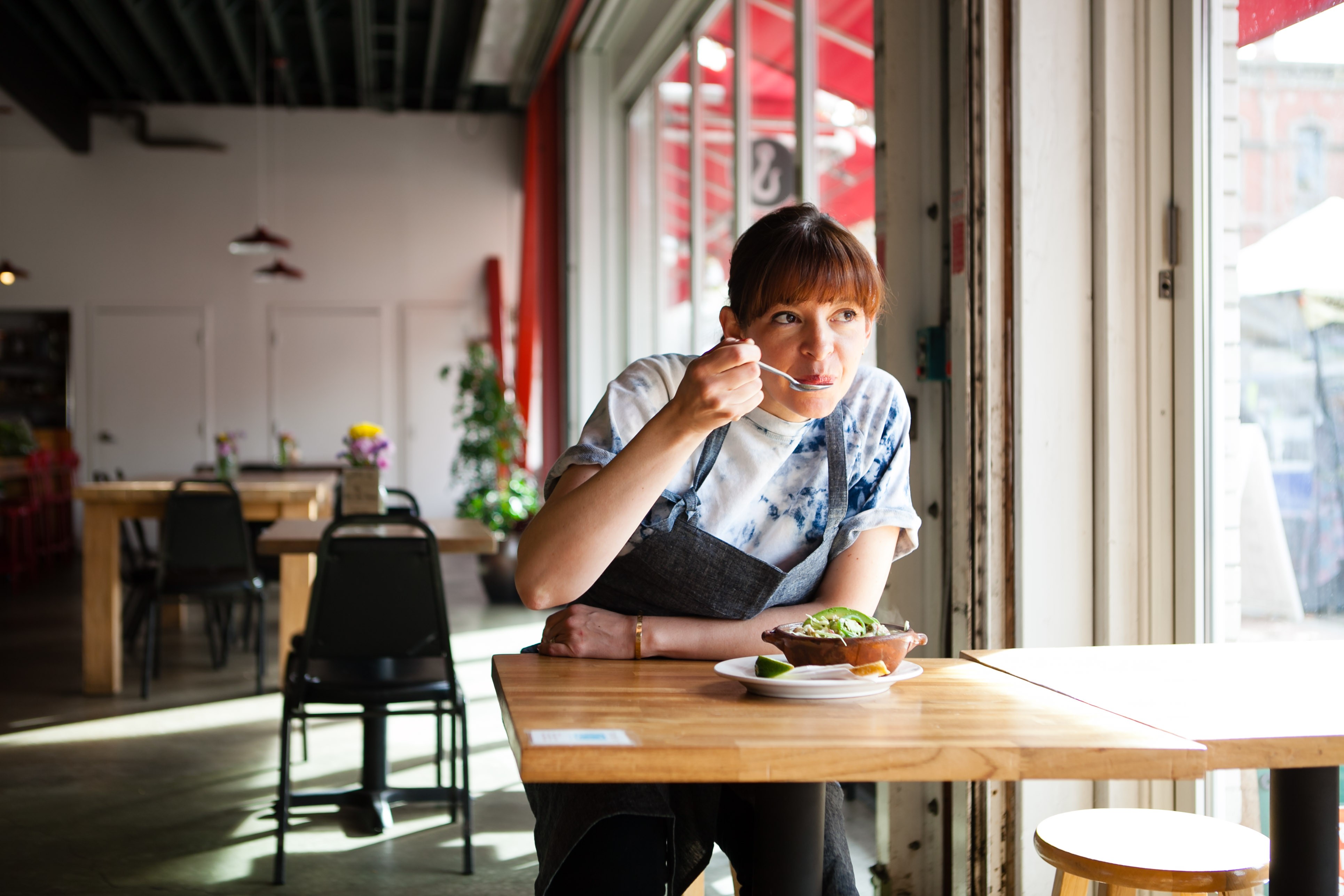 The restaurateurs at Swan's Market talked about the sense of collaboration that's fostered by the wide-open food court-style setup, wherein the more foot traffic the venue as a whole attracts, the better everyone's business will do. Romney Steele, chef-owner of The Cook and Her Farmer, said that sense of collaboration provides a kind of safety net that she wouldn't have if she ran a stand-alone restaurant. Often, she said, she has run over to Cosecha to borrow some eggs, for instance, when she was in a bind. When Steele says that Swan's Market is "like a family," she means it literally: The daughter of one of Cosecha's cooks is now the main daytime cook at The Cook and Her Farmer.
The recent success of Swan's Market has heralded a boom, if not of outright food courts, then at least of restaurants and markets that have food court-like characteristics. "The One-Stop Market Invasion," a story in the Express' September 30 Taste issue, documented the trend in Oakland of new hybrid restaurant-markets, and many of the proprietors of these businesses surely drew at least some of their inspiration from Swan's in their desire to offer a wide variety of high-quality food options in a casual setting.
Meanwhile, the recent failure of one such market, Oakland's Grand Fare — which shuttered in November after being open just one month, despite its talented fine-dining chef and gorgeous outdoor patio — might serve as a cautionary tale. Some of the criticism directed at Grand Fare was that the prices were just too high, and according to Rice-Cisneros, one big reason for Swan's Market's popularity is the fact that the prices are relatively low. "All these new markets want to start charging San Francisco prices," she said. "It's still Oakland."
What's clear is that in 2016, the East Bay will be home to even more hybridized markets and gourmet food courts — whether it be Newberry Market, which is slated to occupy the first floor of the Uber building in Uptown, or the newly remodeled Emeryville Public Market, which, after several years' worth of starts and stops, is finally rolling out its own revamped food court.
Shiba Ramen is the first of the Public Market's new crop of eateries to open, and co-owner Jake Freed said that, despite whatever stigma there might be, he embraced the food court location from the start. For Freed, the benefits are obvious: He and co-owner Hiroko Nakamura (his wife) didn't have to build a dining room or a bathroom. All they had to worry about was building a kitchen and making sure that their food was as good as possible.
If last year's big East Bay food trend was that of food trucks opening brick-and-mortar restaurants, perhaps this is the logical extension of that trend. It's no coincidence that several of the Public Market's new tenants — KoJa Kitchen, Mayo & Mustard, and We Sushi — are Bay Area-based food truck operators who are opening their first or second brick-and-mortar location.
Once it's fully populated, the Public Market should in many ways resemble a permanent, non-mobile version of an Off the Grid-style food truck gathering, Freed said. Like a food truck, a food court stall offers relatively low barriers to entry, at least compared to a stand-alone restaurant. But because Shiba Ramen and its Public Market neighbors have the benefit of fully equipped kitchens, Freed believes that the food has the potential to be better and served even more quickly than what you can get from most trucks.
Freed said that in the two weeks since Shiba Ramen opened, he's gotten a handful of Yelp reviews in which customers expressed surprise at finding high-quality ramen in a food court. But if Swan's Market and its successors continue to change the paradigm, that might not be a surprise for much longer.