It isn't easy to follow in the footsteps of a legend.
That was the task that the owners of The Wolf faced. You have perhaps heard about the restaurant's recent history: In 2015, Bay Wolf co-founder Michael Wild announced that he'd be closing the Piedmont Avenue restaurant after a 40-year run as one of the original pioneers of French-influenced California cuisine. A few months later, Wood Tavern co-owners Rich and Rebekah Wood leased the building, and announced their plans to open a new restaurant in the space that would have a similar "intimate American brasserie" concept as its predecessor. And they tapped Wood Tavern chef Yang Peng, an Oakland native who is also a partner in the venture, to head up the kitchen.
As a point of comparison, Wood Tavern has always seemed most interested in reinterpreting all-American classics — say, its famous hot pastrami sandwich — through a refined Cal-cuisine lens. Peng says she likes that style of cooking. But by the time she was promoted to the executive chef position in 2012, Wood Tavern already had such a clearly defined aesthetic, and so many signature dishes that customers didn't want tinkered with, that Peng didn't really have the freedom to put her own stamp on the menu. Peng's preferred approach is to fuse California cuisine sensibilities with the classical European traditions — which happens to be what the old Bay Wolf was all about.
What The Wolf poses for Peng, then, is an interesting contradiction. On the one hand, the restaurant represents the first opportunity the chef has had to do her own thing and build a restaurant's menu from the ground up. On the other hand, by virtue of The Wolf having the name that it does, and occupying that location, if anything, the restaurant has an even bigger shadow looming over it — and an even greater set of expectations.
Rebekah Wood, who splits front-of-house duties at The Wolf with her husband, acknowledged that the restaurant's name has set the place up for comparison to the past. She said they wanted to pay homage to Bay Wolf "just based on having a love affair with it like everyone else did." At the same time, Wood says, The Wolf's kitchen team hasn't ever felt as though they don't have free rein to put out the kind of food they want to cook.
Still, the fact remains: Between the Wood Tavern and Bay Wolf connections, it's hard to think of another recent East Bay restaurant opening with as sparkling a pedigree. Which also means that the potential for disappointment — even if it's only mild disappointment — is fairly high. After all, how do you live up to someone's memory of a celebration dinner that was eaten 20 or 30 years ago?
Maybe it isn't surprising, then, that the best dishes at The Wolf are the ones that feel the most modern, and that take the most liberties — the ones where Peng seems to be most freely expressing herself. My favorite dish over two visits was her version of
pommes dauphine
, a classic French preparation that involves deep-frying riced potatoes that have been mixed with choux pastry. (It's also her take on the popular fried potato puffs at Gregoire's, the French takeout spot where she had her first job as a line cook.) You wind up with golden-brown spheres that are impeccably crisp on the outside, and wonderfully rich and airy-light within. It's essentially fried dough that has the flavor and interior texture of mashed potatoes, Peng explained. At The Wolf, the
pommes
were topped, brilliantly, with a remoulade, fresh dill, and bright-orange trout roe, which added their briny pop to every bite.
Peng said that particular combination was inspired by her love of brandade, the French/Spanish preparation of salt-cod mashed potatoes. But it also brought to mind an appetizer of trout roe and potato chips that I ate a couple years ago at State Bird Provisions — which is the kind of forward-thinking Cal-cuisine restaurant that The Wolf occasionally brings to mind, when the kitchen is both at its most creative and technically proficient. I loved Peng's modernized, California-fied version of steak tartare — practically a prerequisite on any Francophile menu — which featured fairly large cubes of beef tenderloin and, in place of the usual raw egg yolk, an olive-oil (rather than butter) based hollandaise sauce, which added a creamy richness. My only quibble was with the hard, over-toasted crostini rounds, which would have fit in better at a mediocre French bistro.
And the one dish that was unlike anything you would have ever found at Bay Wolf was a side of Brussels sprouts, which had been fried crisp and tossed in a sweet Calabrian chili sauce, which gave the dish a tangy, slightly Asian-inflected flavor profile — more Momofuku than Chez Panisse.
At times, however, the food had a certain stuck-in-the-past quality that might have been the result of trying too hard to follow in Bay Wolf's footsteps, or to deliver the kind of "classics" people might expect from a place specializing in upscale French food. There was, for instance, a veal osso bucco entrée that hit all the notes I usually love — a glistening hunk of slow-cooked meat with a big ol' bone sticking out of it, and a rich gravy. But the osso bucco wasn't quite fatty and unctuous enough, and at the same time the dish was too salty and heavy. To balance things out, it needed a lot less mashed potatoes and more of the best things on the plate — the lemony, lightly sautéed baby spinach and the sweet, caramelized cipollini onions.
The seared duck breast, on the other hand, could not have been cooked to a more gorgeously tender medium-rare. But the accompaniments were just paint-by-numbers Cal-cuisine: polenta, broccolini, and maitake mushrooms, all rather bland despite the presence of a citrus-sage pan
jus
. (I didn't try the duck flan, which comes closest to being a direct homage to a classic Bay Wolf dish, but Peng said it's a fortuitous coincidence that she shares the Bay Wolf chefs' love of that particular bird.)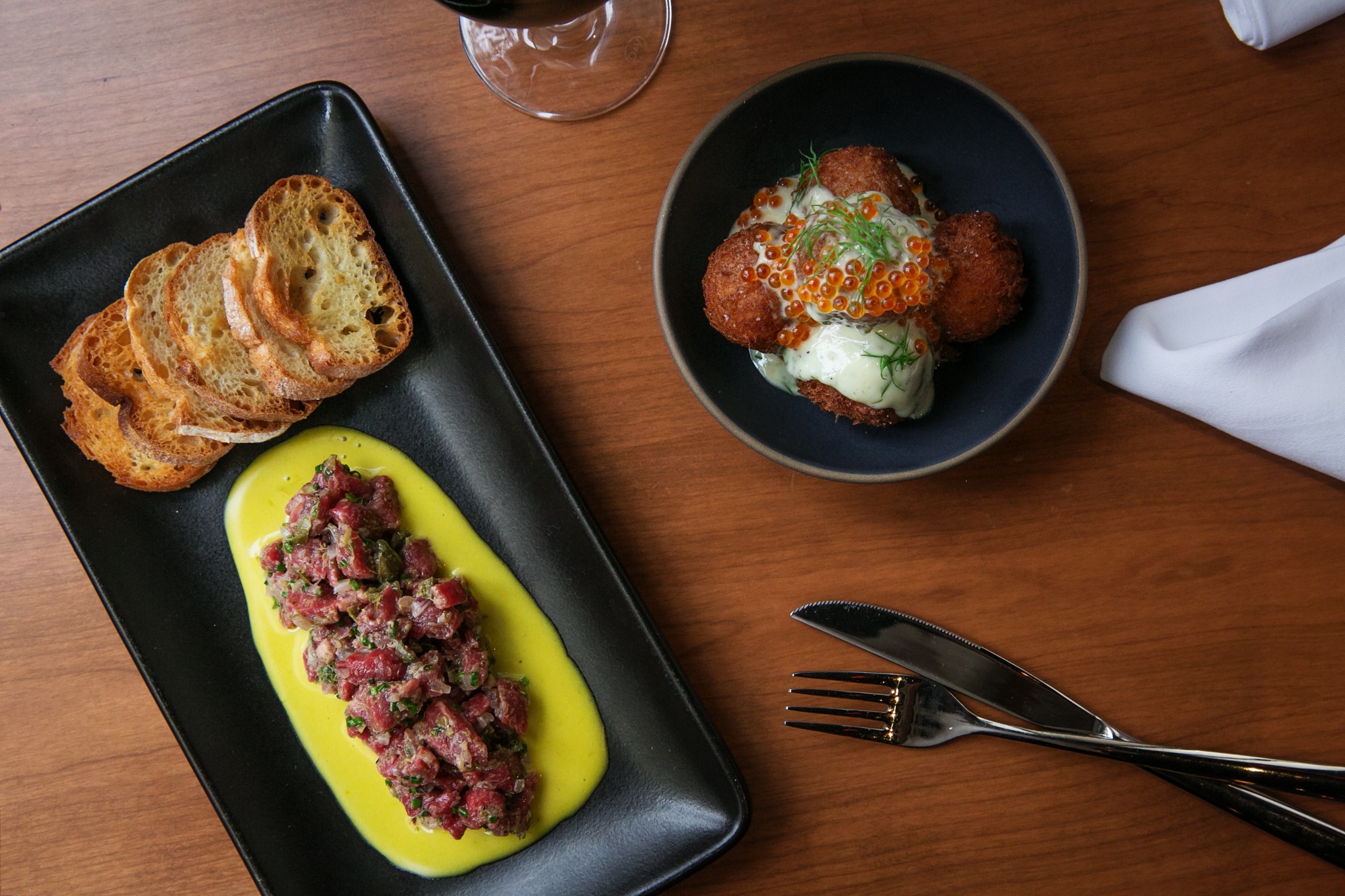 But when Peng's food is good, it is
really
good. The grilled pork loin entrée was a textbook example of how beautifully the French and Californian cooking traditions can come together. The tender Niman Ranch pork loin had been brined so that it had a pronounced saltiness that, along with the smoky flavor from the grill, served as a nice counterpoint to the dish's milder side elements: a mound of creamy green lentils and farro, some wild-looking charred mustard greens, and thin rounds of pickled kohlrabi, which helped cut into the heaviness of the meat.
This is The Wolf's wheelhouse — not dishes that push the envelope, flavor-wise, or that you'd necessarily describe as whimsical, or inventive, or "fun." Instead, most of the food is straightforward, comforting, impeccably executed, and quite tasty California cuisine — say, a salad featuring butter beans and perfectly poached tuna, or the most tender and delicately fatty piece of Alaskan black cod you can imagine, its richness offset by a tangy-sweet swipe of black garlic.
I should note that the food and drink are also quite expensive, by Oakland standards, with $12 cocktails and most entrées hovering around the $30 mark. That's part of the reason why the restaurant mostly seems to cater to an older, well-heeled crowd. It's a more formal restaurant than most of the trendier places around town, but the service is attentive and professional without feeling stuffy. And Bay Wolf's famous enclosed front patio, where much of the seating is located, remains as lovely and convivial as ever.
It makes a good place to finish off an evening with an order of apple hand pies, which were a deep-fried and oozy nod to the fact that, whatever your farm-to-table bona fides, the McDonald's apple pie, served in a cardboard sleeve, is still one of the world's perfect foods. All these pies needed was a scoop of vanilla ice cream — just one last bit of extravagance to keep things fun.