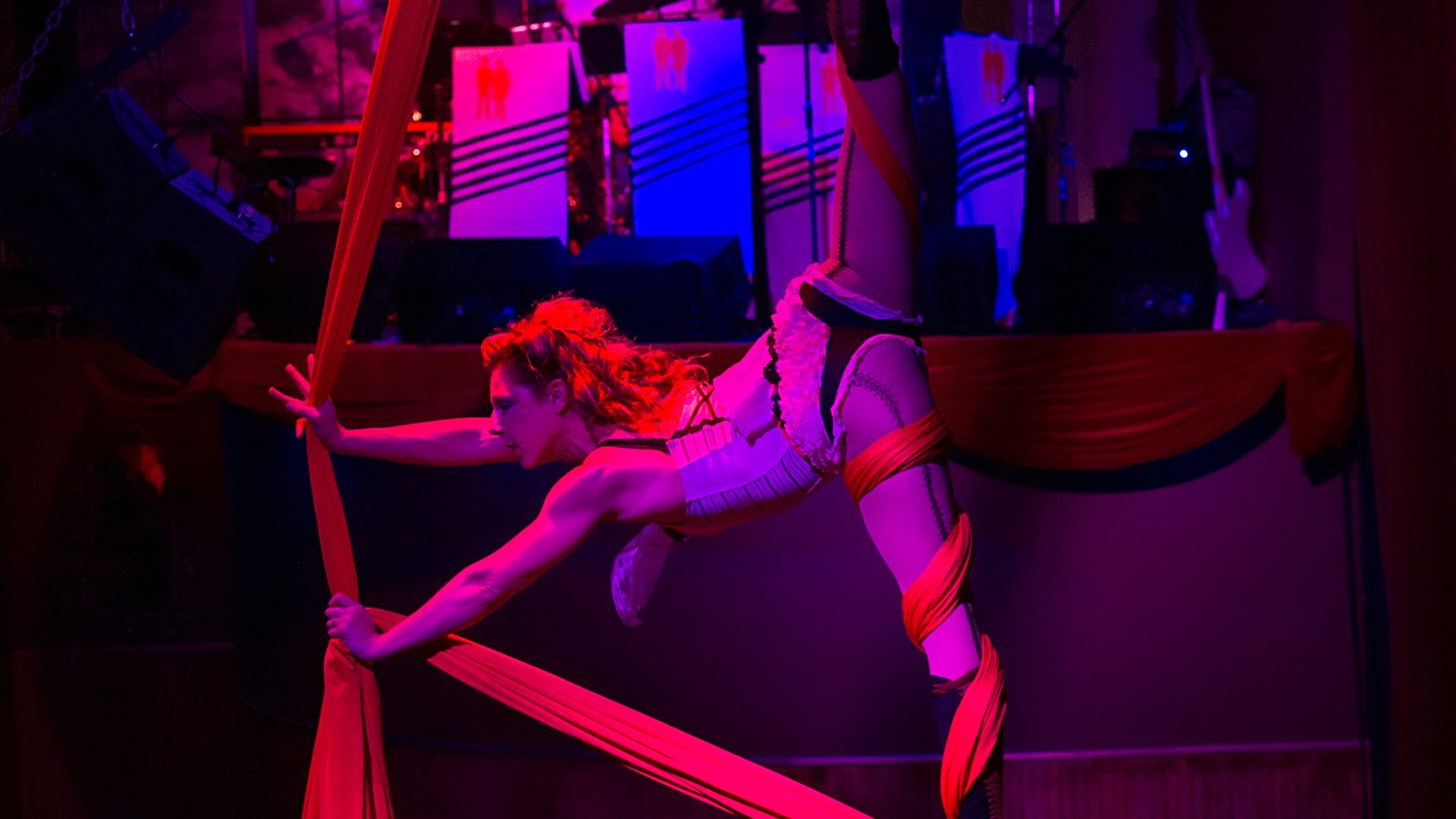 A 12,000-square-foot circus tent is coming to downtown Oakland. That's not a punchline — this is the new home of the Soiled Dove, an immersive, dinner-theater experience complete with acrobatics, comedy, aerial performances, burlesque dancing, and raucous piano ditties.

Husband-and-wife team Mike and Shannon Gaines, who live in San Francisco, combined a passion for athleticism and a love for the arts to create something a bit unexpected: a dance and circus production company. The pair founded the Vau de Vire Society in 1997, and have since collaborated with everyone from Cirque du Soleil and the San Francisco Symphony to Bassnectar and Calvin Harris, as well as produced the annual Edwardian Ball in both San Francisco and Los Angeles.
After occupying a spot in San Francisco's Mission district for eight years, the Vau de Vire Society found themselves displaced when a developer bought their entire block in 2016. Rents were too high for them to relocate elsewhere in the city, so the Gaineses decided to search for the perfect tent that they could pitch anywhere. After finding said tent just outside of Milan, Italy, they pitched it at Alameda Point, which became Vau de Vire's home for the next two years, hosting events including the Soiled Dove as well as a steampunk masquerade and art installations.
"We loved it and it's so close, but it's not in the city," said Mike Gaines. So, when the opportunity arose for the Soiled Dove to move next door to the Fox Theater, Vau de Vire jumped at the chance. One of Vau de Vire's performers had mentioned to the Downtown Oakland Association that the company was searching for a place to pitch its "Tortona Big Top" tent. Working with the city, the association helped shepherd the project at 1911 Telegraph Avenue.
Of the 40 core performers involved in Vau de Vire, over 80 percent of them live in Oakland. This makes it a spiritual homecoming for the Soiled Dove to take up a two-month-long residency in the Town. Vau de Vire will work with various local nonprofits and community groups during the residency as well, including the Vespertine Circus and Oakland's Kinetic Arts Center.
The show's theme even pays homage to local history, evoking San Francisco's Barbary Coast, the city's red-light district during the Gold Rush era. With Jazz Mafia providing the musical accompaniment, performances from sword swallowers, contortionists, fire artists, and thespians will embody the risqué spirit of the Soiled Dove, which is named after the prostitutes of the time period. It's a "Cirque du Soleil in fishnets," said Gaines.
The Soiled Dove harkens back to this "lawless, crazy, debaucherous, free-for-all kind of environment," he explained. The intent is providing Oaklanders with a slice of something "light-hearted and campy" during a politically and socially tense time.
"We're really here to give people an evening of escapism and immerse them in a creative environment that is just revelry," he said.
Come early for the four-course dinner ($137), or just catch the main show ($59) every Friday and Saturday night from Sep. 28 to Nov. 17. Costumes are not required, but encouraged — dressing up is key to cultivating an immersive experience where nobody feels like just a spectator.