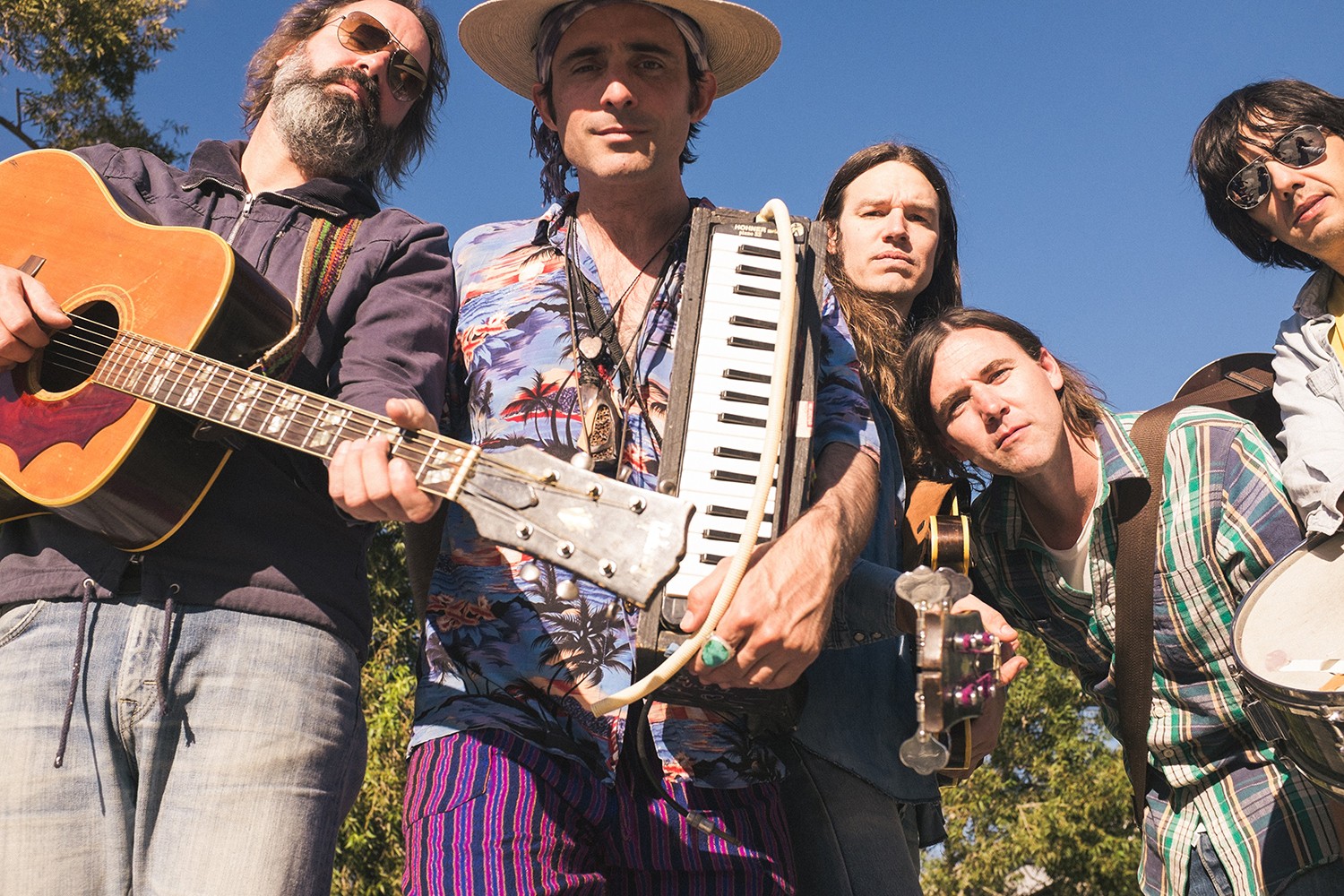 If you've ever been to one of The Skiffle Players' rare shows, the scene on the cover of their latest album, Skiff, might look familiar. The band jams out on stage with instruments as disparate as bagpipes and electric guitar while all around them the crowd is dancing the night away, drinking, and celebrating. To say that the band puts on a good show would be putting it mildly. "We've had somebody come up and say it was very spiritually cathartic for them," said band member Dave Scher, better known as Farmer Dave.
Given that each of the Skiffle Players has musical projects of their own outside the band to keep them busy, these sort of triumphant reunions onstage are few and far between nowadays. Still, they form the backbone of the band's history. In fact, The Skiffle Players actually formed onstage in 2013 at Mollusk Jamboree in Big Sur. There, Scher, who had been a fan of Vallejo-based Cass McCombs' music since they first met, backed the Anti- Records singer-songwriter up onstage alongside members of his alt-country band Beachwood Sparks and jam rockers Circles Around the Sun for a set that combined traditional folk songs with McCombs' own original work.
McCombs mentioned that he would like to be in a band and to take part in a more democratic process of songwriting. The next thing they knew, the band was born and got busy recording what they'd just played for what would soon become Skifflin', The Skiffle Players' first album. "Most of those were first takes," Scher said. "I think we got over 20 songs in three days onto tape. We realized pretty quickly that we liked what we were doing."
That's really been what the band's been all about: doing what you love. It's why they went back to the Roaring Twenties when they named themselves The Skiffle Players. While the band's music certainly sounds little like the scrappy New Orleans jazz of the 1920s or even the genre's later incarnations, the "do what you can with what you have" attitude of skiffle past finds its way into The Skiffle Players' approach to music. "Sometimes it's a little rough here and there around the edges," said Scher. But it's far from a problem. "We can take it straight to the people and based on how we feel and how the listeners feel, we know we're onto something."
It's also why the band fits so many different styles and genres into each record, best exemplified on fall release Skiff, the group's first full-length of all-original songs. The Skiffle Players is built on each band member's ideas, passions, and experiences from other projects, which includes Chris Robinson Brotherhood, Phil Lesh & Friends, and Jonathan Wilson in addition to the aforementioned acts. There is no band leader. Encouraged by McCombs, formerly the de facto leader, each of the bandmates trade roles freely. This is especially evident on Skiff where Neal Casal and Scher take on more vocals while McCombs moves to the background. Nor is there any unified notion of what the band should sound like — the band's sound comes and goes and grows based on the feelings of the moment bouncing between a buzzing, borderline mystical take on folk and bright country rock tunes.
Scher likens it to the knights of the round table — with less monarchy, of course. It's the democratic nature of the band that allows them to talk about and resolve the artistic disagreements that certainly arise from putting so many distinct voices into one project. "You're always going to have disagreements and problems," he said, "but when you have a circle, everybody has a say in it."
And besides, the disagreements aren't a problem at all to Scher. "That's a sign that people care, which is great," Scher said.
It may come as a surprise that a band whose music and history are both so vast and fluid should be so rooted in tradition, but The Skiffle Players' relationship to the idea of tradition just might be the best way to sum them up. It's something that becomes clear at even just a cursory glance at the band's Facebook page, the "About" section, which opens with, "We play traditional folk music, but at the same time are trying to create our own tradition."
This duality guides the band. On one hand, there's the feeling that the band is part of an established continuum of music leading from the earliest music ever made to whatever lies ahead. Each of The Skiffle Players does, after all, have a special place in his heart for the history of song. On the other hand, there's the tendency to cherish spontaneity and look to create something new that might exist outside of this continuum. "The Skiffle Players feel that we're a part of something in our own way," Scher said. "We're here to celebrate and have fun."
The bad news is that it may be a while yet before the Players get back together and pick up where they left off. The good news, though, is that, in the meantime, anyone can carry forward the spirit of the Skiffle Players. "Everybody should let there be song to fill the air," Scher said. "Have fun, do karaoke, play the guitar. Let's have more music and more joy and more freedom for all the people, everywhere."

[embed-1]