Looking for alternative sources for ultra-fresh, sustainably caught fish? You might like Kirk Lombard's community supported fish business — a subscription-based business much like a CSA — based in San Francisco, and now serving the East Bay.
[jump]
Lombard, aka the Sea Forager, aka Lombard of the Intertidal, is a San Francisco resident and a colorful character in the fishing community. He's known for belting out sea shanties to the accompaniment of his wife's accordion, or whilst out fishing on his commercially licensed sea kayak.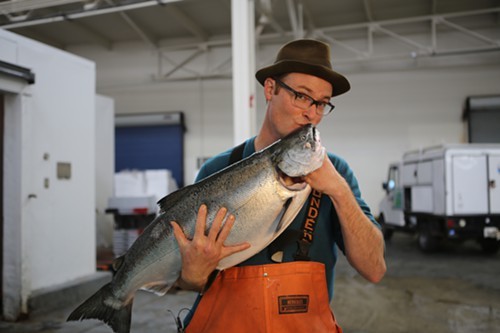 Lombard has long been a lover of that which is fishy and rarely fished. For a number of years, he has led tours around San Francisco docks, teaching people to use dipnets to catch herring, dig for clams, and basically feed themselves off the smaller, lesser-known, and sustainable local fisheries.
His community supported fish business launched last fall, in response to those who've taken his tours and are left with the question — where can I buy ethically caught seafood? Business here in the East Bay has been mainly growing through Facebook and word of mouth.
Much of his catch is brought in himself, or by other sustainably minded fishermen — by line, net, or pole. "There will be whole cooked crab delivered to the drop off location throughout the winter. In addition, I'm hoping to open people's minds to local abundant species like rock crab, smelt, herring, and the occasional prickleback," wrote Lombard in a recent email.
He said that winter is a difficult time to source ethically. "If I was willing to support drag-boat fisheries, it would be no problem," wrote Lombard. "But I'm not willing to do that. All our local hook and line/trap fisheries are spring, summer, and fall."
Other winter offerings include McFarland Springs rainbow trout, which raises its trout sustainably in California, sustainably raised sturgeon from the Central Valley, sand dabs, squid, night smelt, and last fall's smoked albacore.
When the warm weather hits, subscribers will see more common varieties — salmon, albacore, halibut, and lingcod. Packages include either a mix of fish and shellfish, or just fish, and start at $22. Bigger packages may include large, whole fish, gilled and gutted. Subscribers can choose to receive their packages weekly or bi-weekly. Pickups are on Fridays, with three locations to choose from: Lungomare in Jack London Square, American Steel in West Oakland, and Brotzeit on the Oakland Estuary.
To subscribe, visit SeaForager.com.