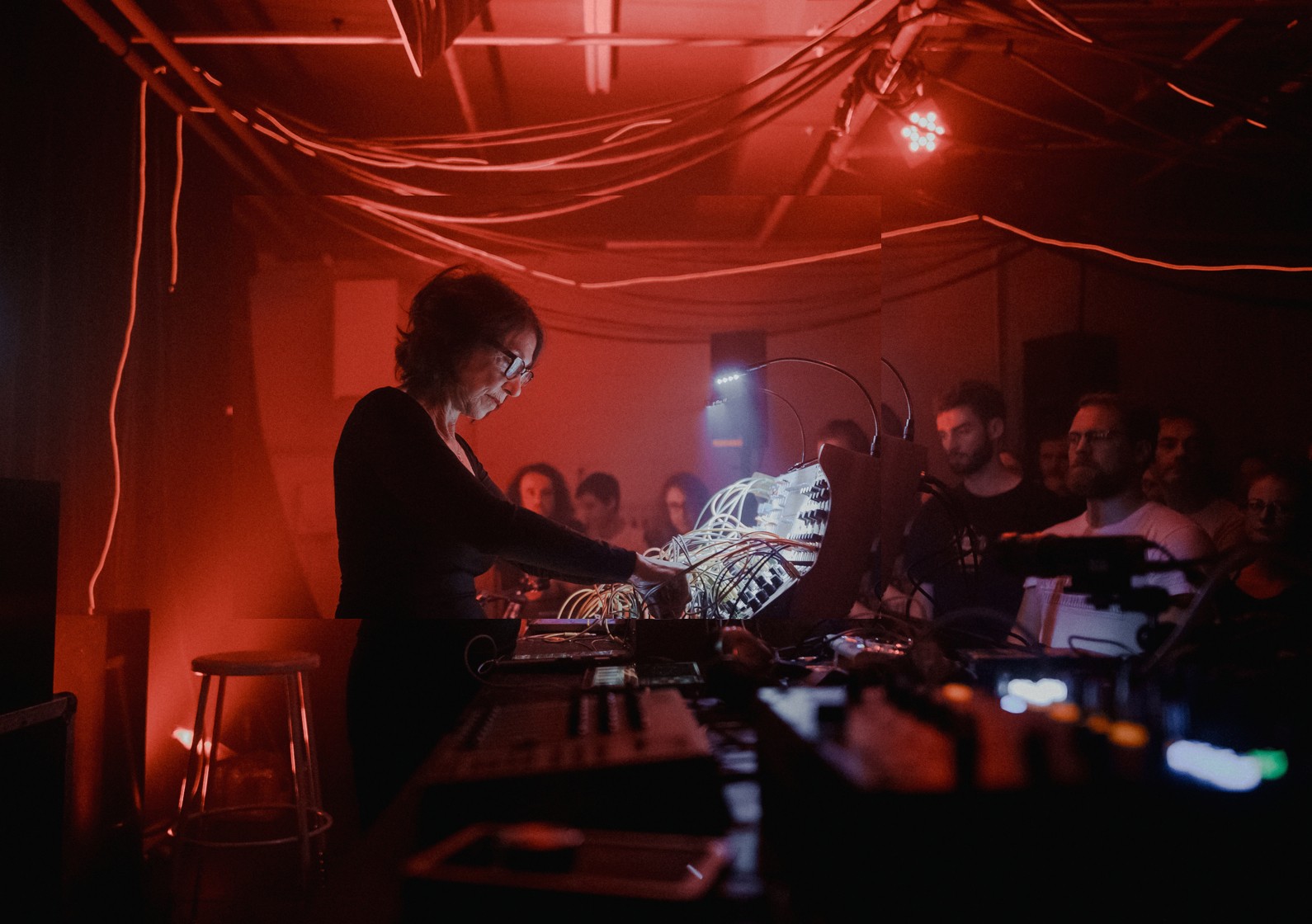 For his upcoming headlining appearance at the 18th annual San Francisco Electronic Music Festival, Aaron Dilloway has an unusual request: a creaky wooden chair.
Dilloway is an inventive solo artist from Michigan and a former member of Wolf Eyes, which has done much to broaden the audience of noise and experimental music, and his request illustrates the festival organizers' expansive view of "electronic musician." Their definition encompasses programmatic auteurs as well as madcap autodidacts — a mandate that generally animates the experimental community in the Bay Area. The lineup this weekend is unusually lean, with three instead of four main gigs, but it's perhaps more potent than ever, with an ace slate of locals and a few remarkable, out-of-town headliners.
In recent years, festival organizers have more heavily featured artists associated with academia — interesting, with some perusal and decoding of the pamphlet, yet sometimes lacking in terms of live presence. This year doesn't seem to risk any rarefied sets, and it's eclectic in other ways.
Aside from Dilloway, other headliners include synthesizer luminary Suzanne Ciani and JH1.FS3, the downcast duo of Liebestod and Puce Mary. This roster spans continents, generations, and styles. It includes punishing noise and pastoral beauty, seething aggression and lithe technicality.
Booking the festival — which occurs in the evenings of Sept. 8 through 10 at the Brava Theater Center in the Mission district, with a free afternoon reception featuring a site-specific installation by Snickers at Adobe Books on Saturday — begins a year in advance by a 13-person steering committee, itself a stellar set of local artists, such as Zachary Watkins and Pamela Z.
"It's always interesting to see how the voting goes," said committee member Derek Gedalecia. "This year we were psyched, if not a little surprised, to find that the lineup is something like 80 percent women."
Ciani, who lives in Bolinas, has in recent years received overdue critical praise for her pioneering use of late sound engineer Don Buchla's synthesizers. A raft of archival releases, notably the commercial audio-logo compilation Lixiviations, and the live Buchla Concerts 1975, plus a new collaboration with Kaitlyn Aurelia Smith, Sunergy, evince her introspective, classical-like devotion to the instrument's expressive potential.
So think of JH1.FS3 as the festival's dark side. Danish experimentalist Frederikke Hoffmeier makes enchantingly caustic noise as Puce Mary, while Liebestod is the solo alias of Jesse Sanes, scabrous frontman of hardcore outfit Hoax. Their new album as JH1.FS3, Loyalty, is a dreary, forbidding work of understated keyboard and subtle terror. Word from recent shows suggests the live incarnation skews even harsher and meaner.
Bay Area performers include synthesist and sound engineer Kaori Suzuki; multi-instrumentalist and left-field hip-hop fixture Dax Pierson; and classically trained mallet percussionist and sound artist Suki O'Kane, a member of the amorphous Thingamajigs Performance Group. Las Sucias, the reggaetón saboteurs whose new
Chúpate Estas
I
wrote
about two weeks ago, will perform with frequent guest percussionist Robert Lopez.
The Brava Theater Center (2781 24th St., San Francisco) seats more than 300 and boasts speakers from esteemed Berkeley company Meyer Sound. For local artists such as Waxy Tomb and Beast Nest, who are accustomed to playing in small rooms with modest systems, the festival will be an opportunity to premiere new and expanded multimedia works.
Julez Litman-Cleper, whose performances as Waxy Tomb involve generative visuals and a geometric headpiece, will adapt songs from her recently released GridDrip, a beguiling suite of morphed vocals and stuttering rhythms, for the venue's four- to six-channel speaker array. That means she'll deploy sound spatially for an immersive experience.
Litman-Cleper and Sharmi Basu, who performs as Beast Nest, are thrilled to open for Ciani. They began collaborating in the late Aughts as students at UC Davis. (They met, fittingly, in a class called Advanced Sound.) "So for us it feels kind of full-circle," Litman-Cleper said. "Opening for Suzanne Ciani, it's like a handshake through history."
For more information and full schedule: SFEMF.org