The San Francisco Bay Guardian
, the alt-weekly that has been "printing the news and raising hell" for 48 years, is shutting down due to money issues, effective immediately, according to an
email
sent to employees of the San Francisco Media Company (which also owns the
San Francisco Examiner
and
SF Weekly
) this morning. 
[jump] "Unfortunately, the economic reality is such that the
Bay Guardian
is not a viable business and has not been for many years," wrote San Francisco Media Company publisher Glen Zuehls in the email. SFMC took over the paper in 2012. Prior to that, the
Bay Guardian
was independently owned.
"When SFMC took over the publication, the company believed the publication's finances could rise out of the red and benefit from joining forces with the
Examiner
and the
Weekly
. We have tried hard to make that happen over the past few years. … I have come to realize that this isn't possible and that the obstacles for a profitable
Bay Guardian
are too great to overcome. The amount of money that the
Bay Guardian
loses each week is causing damage to the heart of the company and cannot justify its continued publication. The success of this company, providing the highest quality journalism for our readers along with superior results for our advertisers, is my sole priority."
Bay Guardian
editor Steven T. Jones told
SF Weekly
 that he and his staff are "in shock. We're still trying to stay cool. We're still trying to absorb this."
The
Bay Guardian
's paper slated to come out tomorrow will be its last, and its website is now mostly blank, save for this: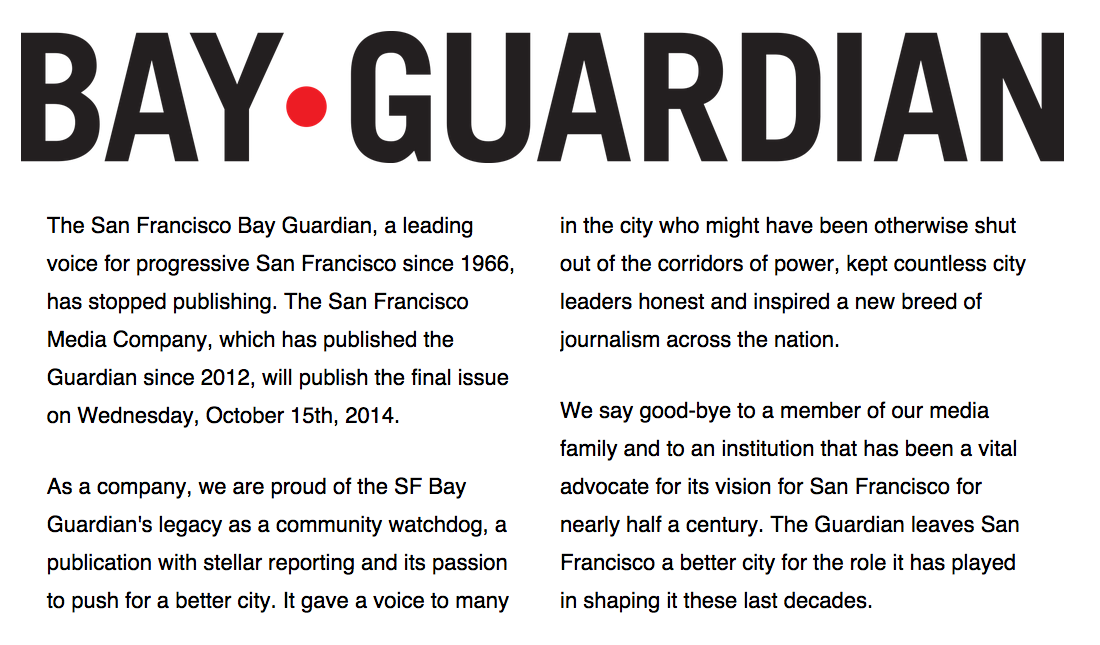 "I am a huge fan of the
Bay Guardian
and of the talented journalists that work here," Zuehls wrote. "This is the hardest decision that I have had to make in my 20 year Newspaper career. I am saddened to say good-bye to a member of our media family and colleagues here in this office, many of whom I have come to respect and admire. I wish them all well."