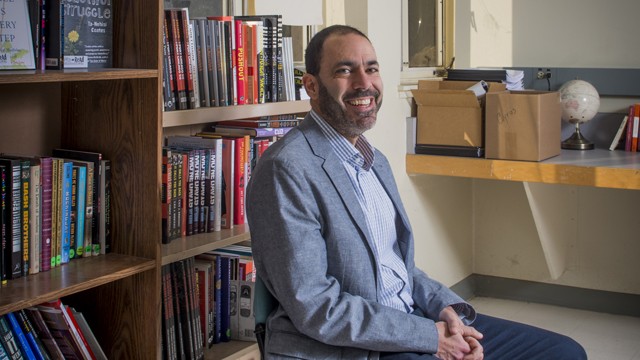 On a recent Thursday afternoon, a dozen male teenagers file into a rec room, dressed in collared shirts, slacks, and ties. An audience of adults stands up to greet them, shake their hands, and congratulate them. They lineup to load plates of fried chicken, macaroni salad, and chips. Gold, silver, and black balloons decorate the room. They're here for a graduation ceremony, during which they will receive certificates and take home a book of poetry to which they have all contributed.
In the hills of San Leandro, Camp Wilmont Sweeney is home these days to about two dozen teens at any given time. The open space, dormitory, large outdoor field, classrooms, and lack of security make it seem like, well, a regular camp. It's not, however. Youth get sent to Camp Sweeney for low-level criminal offenses. The majority of the male teens, as young as 15 and up to 18 years old, are of color.
One of Camp Sweeney's programs—the Write to Read program—has had surprising results. Students' reading levels jump by six grades, on average, during the four-month course, camp officials said. The program has an explicit focus on using literacy to achieve a more just world.
"These youth are resilient, and many have been through trauma and school systems that haven't addressed their needs in a way where they could excel," said Probation Chief Wendy Still.
Like all of the programs at the juvenile facilities in Alameda County—which, together, include Camp Sweeney and the Juvenile Justice Center (more commonly called juvenile hall)—Write to Read is a collaboration of the Department of Probation, the Alameda County Office of Education, and Alameda County libraries.
Teens at Camp Sweeney enroll in Write to Read, which has been around for more than 10 years, because they have either heard about it or are referred by their probation officer. "It was a support system," said Rodney Gohleston, who graduated from Write to Read nearly 10 years ago. "It kind of got me to where I am today. It taught me the power of self-expression and the power of a pen. It helped me get through a tough time in my life."
Write to Read, a wordplay on "right" to read, is led by literacy specialist Cyrus Armajani. Armajani believes that the success is in part due to the small group lessons, a focus on the youth's perspectives, and because they are allowed to freely express themselves—within reason—through their writing. They read works by authors such as Jimmy Santiago Baca and Tupac.
Gohleston remembers reading one of his poems at his graduation. He piqued the interest of then-Alameda County Superintendent of Schools Sheila Jordan, who was at the ceremony, according to Armajani. Gohleston eventually took a paid internship with the Alameda County Office of Education upon his release, and he's still working there, now as a paraprofessional.
The majority of the students enter Write to Read at a fifth-grade reading level. Each class is only about four to five students, and they read, dissect texts, and discuss books and poetry. By the time this year's 36 students graduated, most of them increased six grade levels in literacy, using a reading assessment, and left the program at an 11th-grade reading comprehension level. Some go back to a regular school, or a continuation school, while others receive their high school diploma while they are at Camp Sweeney—a few even take college courses while there.
Leaders chalk up this success to the small group setting and the youth themselves. "The individualized programming really allows them to excel," Still said, noting that all of the programs at the Juvenile Justice Center and Camp Sweeney are based on an individualized model. Armajani says the youth are intrinsically motivated and want to learn. "They're really curious about the world and really want intellectual stimulation. I take them seriously. But they also realize maybe this is their last chance to get up to speed on reading."
Just five years ago, about 300 youth resided in juvenile hall. Today, there are an average of 75 per day. The population at Camp Sweeney has also declined. The county has made an effort to keep kids out of facilities when possible. "We want the youth to be in the least restrictive environment possible," Still said. "I think the Write to Read program is a stellar example of a program that can be achieved when agencies come together to focus on the community or populations we're supposed to be serving. These youth are amazing. It's a testament to the resiliency of the youth and the capacity for growth."
While the county is working toward a more rehabilitative model, young men of color, and in particular black and brown male teens, are disproportionately in the system, even as the number of youth incarcerated in Alameda County has dropped. "If a white youth and a black youth come into contact with the police, the black youth is more likely to be arrested," Armajani noted.
The majority of youth on probation in Alameda County are male (84 percent) and of color (74 percent), according to a July 2013 county report, the most recent month's data made available. More than half are in for either property crimes, for violating a court order, or violating probation. About a quarter are in for violence against another person or the public, according to the same report. Public policy decisions, such as not funding universal preschool, the lack of resources for regular public schools, and the dearth of affordable housing and livable wage jobs, all contribute to the problem.
"All this makes life very difficult for my students. You can see it in their poems," Armajani said. "And you can see a possibility of a better future, for themselves, for our communities, in their poems, too." Within these confines of the system, Armajani is hoping to change lives. He recently published his own book of poetry, Benefits of Doubt, through Oakland's Nomadic Press.
The graduation ceremony featured guest speaker, artist, and rapper Maddy "MADlines" Clifford, a WritersCorps teaching artist in residence. "This is special because many haven't experienced a moment of success and being supported by their peers, their probation officers, and their teachers," said Luis Kong, program manager who oversees adult literacy programs at the Alameda County Library and attended the ceremony.
Marlon, 16, will leave Camp Sweeney in February. "[The program] helped me really express myself," he said after the graduation ceremony, which he helped emcee. Marlon hopes to get a scholarship to attend college and a part-time job to help support his mom after he leaves Camp Sweeney. "I see myself as a different person. I'm one of the leaders here."
My Poem
By Marlon
I found my poem
in the red and warm place
where you embrace love
and show faith.
My mom once told me
you have your own way
to show people
not to make mistakes.
I made my own decisions
until I was locked up away.
When I came home I did the same thing right away
But now I know what is right
and what is wrong.
I found my poem
home is where I belong.

This article was featured in the January 2018 issue of our sister publication,
The Monthly.