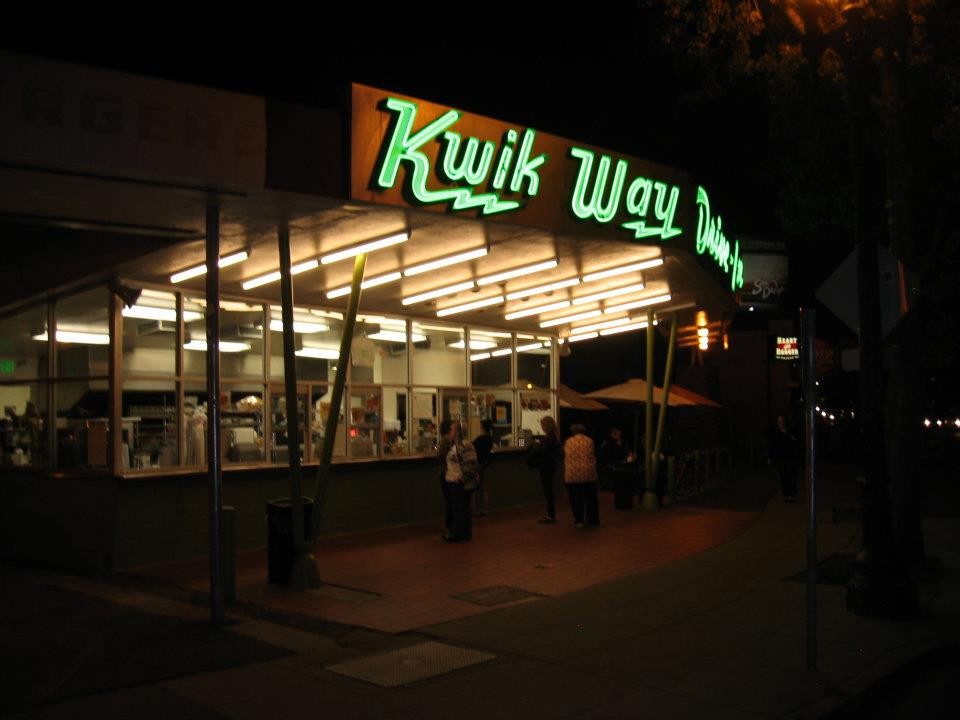 If you've been mourning
the death of Oakland's Park Way Drive In
(500 Lake Park Ave.), aka the Kwik Way, here's good news and bad news: Despite a developer's plans to tear the building down and turn it into an apartment complex, the old-school burger restaurant will reopen in the meantime, albeit not strictly as a burger joint and only on a temporary basis.
The Bay Area News Group
reports that Alex and Charles Hahn, the owners of the Kwik Way building, have made a temporary arrangement with Merritt Bakery — another iconic, if recently beleaguered, Oakland restaurant — while they finalize their plans to sell the building to an unnamed developer. The bakery has already put up signs in the Kwik Way window and will open the restaurant as a second Merritt Bakery outpost sometime this month.
It's unclear how long Merritt Bakery will occupy the space, but the Hahns told BANG that it would take the developer one to two years just to secure permits for the proposed construction project. (Whether the city will actually allow the historic Kwik Way building to be torn down completely remains to be seen.)
In an email, Charles Griffis, who runs 62-year-old Merritt Bakery, told What the Fork that he plans to open the restaurant as the Merritt Bakery Kwik Way "Bakery Department" as early as this week. Initially, the Kwik Way outpost will only sell cakes and other baked goods for the holidays, but Griffis said that starting in January the original Merritt Bakery location on East 18th Street will be closed for three months in order to install a city-mandated fire sprinkler system. At that point, Griffis said, the equipment used to cook the restaurant's most acclaimed item, its fried chicken, will be transferred over to the Kwik Way — welcome news for those looking for an alternative to the KFC located a few doors down. Griffis didn't respond to a request for further menu details, so it's unclear whether burgers and milkshakes will be served as well.
The collaboration brings together two restaurant entities with tumultuous recent histories. The Kwik Way sat empty for years before restaurateur Gary Rizzo reopened it in 2011, only to
close it again abruptly
this past August: The kitchen was stripped of all equipment overnight, and an accusatory note directed toward the landlords, presumably written by Rizzo, was left on the window.
Meanwhile, Merritt Bakery has suffered
serious financial difficulties
. In recent years, the restaurant has been bailed out by a series of loans from the City of Oakland, and the latest renovation project comes in the wake of a
major fire
that temporarily shut the diner down last May.