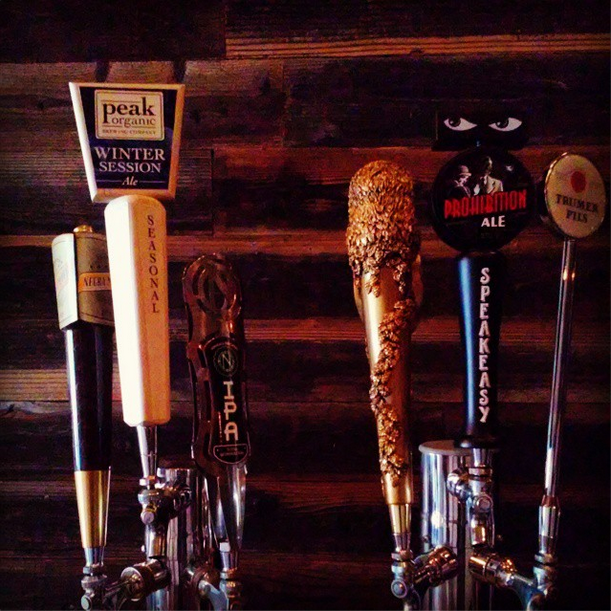 These are heady times for the Oakland beer buff: It seems like it's almost every week that an interesting new brewery, beer garden, or craft beer bar opens its doors in The Town.
The Hatch
(402 15th St.), which opened in downtown Oakland last month, offers a compelling trifecta. The bar offers the kind of East Bay-centric beer list that locavores have come to expect, live entertainment, and, as an added bonus, the return of a beloved Oakland chef.
Rico Tiongco, the former chef-owner of
Rico's Diner
, is a partner in the venture, and he'll be getting back behind the grill to run The Hatch's beer-friendly food program.
[jump] Co-owner Pancho Kachingwe has had plenty of experience managing bars and restaurants (including the original Bissap Baobab in San Francisco's Mission District), but The Hatch is the first place of his own. Kachingwe wanted to open a bar that was intimate and communal, with good food and a space where small acts — particularly bands that don't necessarily have a huge following — could perform. He said the two-story space on 15th Street, a former Hawaiian Walk In Restaurant, was perfect because of its small upstairs loft, where The Hatch has already been hosting a variety of live performances and open mic nights.
"We want it to be a place where musicians can feel at home," Kachingwe said.
As for the food, Kachingwe said he met Tiongco through a mutual friend and approached him about putting together a simple food program, "nothing crazy." As it turns out, The Hatch is located right next door to Tiongco's former restaurant, Rico's Diner, which is now occupied by Hi-Life,
a late-night pizza and beer spot
. He'll be competing with Hi-Life for some of that late-night business, too: One of The Hatch's features will be a late-night takeout window.
I wasn't able to speak to Tiongco prior to this printing, but Kachingwe told me that for the first month the bar has only been selling bacon-wrapped hot dogs — similar to the ones sold by street vendors in the Mission. Soon, though, Tiongco will expand the menu to include things like sliders, French fries, and tater tots. Fans of the elevated diner fare at Rico's will be happy to know that there's a very good chance that Tiongco's
legendary milkshakes
will make an appearance.
Meanwhile, the beer list includes twelve taps, mostly local, including beers from Linden Street Brewery, Line 51, Trumer Pils, and Prohibition Brewing Co. Kachingwe is also looking to add some local wines.