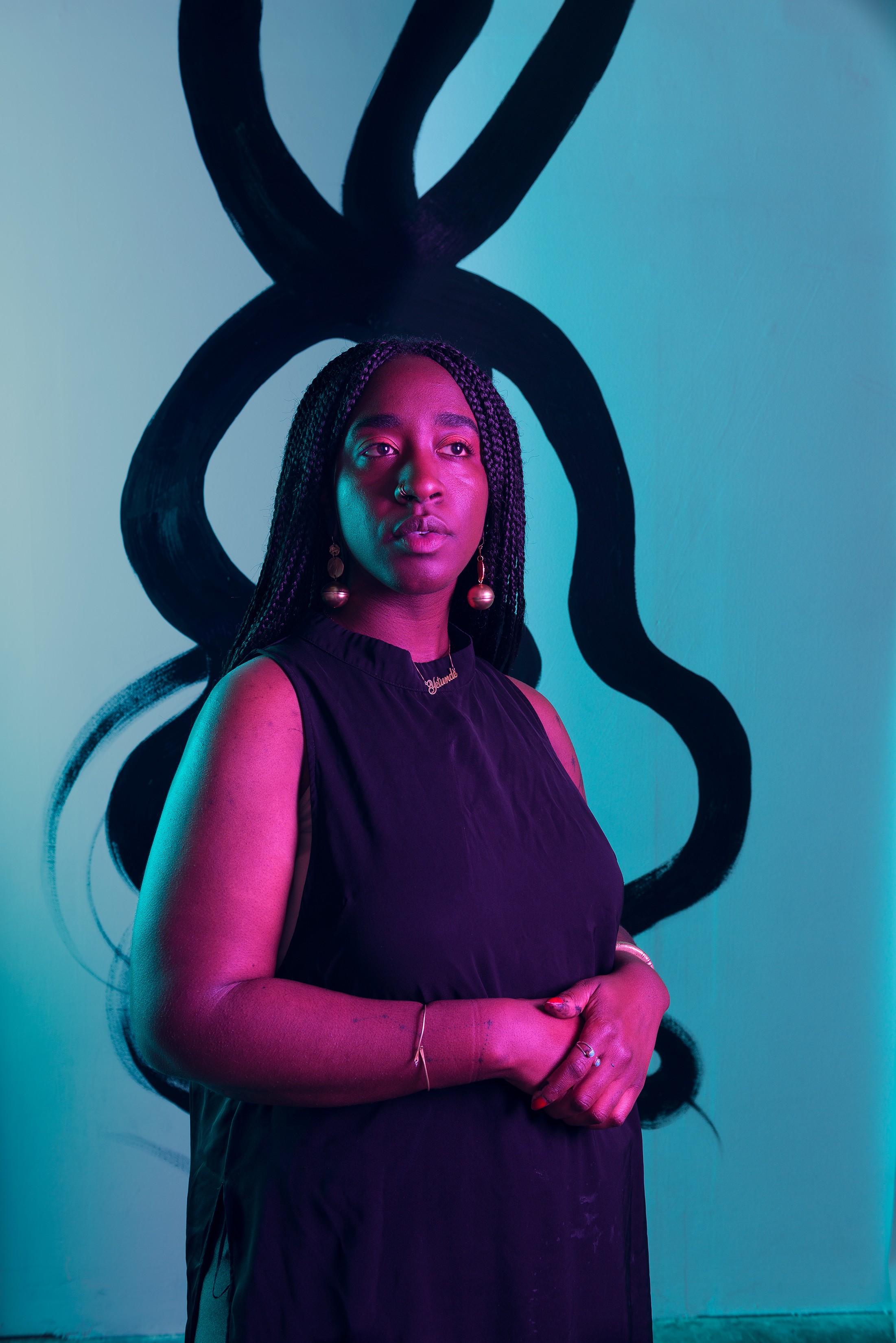 Yetunde Olagbaju is a relentless archivist of objects, sounds, and even colors — because the 26-year-old artist doesn't trust the integrity of memory, including her own.
Her earliest memory, for instance, is of being chased by her mother, among blooming sunflowers in their backyard. As dearly as she holds it, she also questions her recollection of this moment, asking: "Did I make that story up? Did I make that memory up?
"It's very easy for us to conflate [memory] with our own desires and our own issues," she admitted.
Archiving was her solution. And Olagbaju's body of work, including
her latest exhibit at CTRL+SHFT Collective in West Oakland
, is a testament to her commitment to recording and collecting nearly everything. With her first solo show in five years, the artist has a simple and powerful intent: to celebrate her matriarch — and show how ancestry informs resistance.
Titled
give it to her when she's decided she knew herself…
, the exhibition features an extensive collection of familial archives, which focus on Olagbaju herself and the influential women in her family. The walls of CTRL+SHFT brim with photographs of women in various places around the world over the course of their lives, alongside scans of handwritten letters and illustrations from the artist's notebook.
In a small room adjoining the main gallery, attendees can also watch a short film, of Olagbaju taking out her braids. The film plays on loop, backed by songs and sound clips of conversations between the artist, her mother, and grandmother. Hair, and the ritual surrounding its care, is a motif of the show. Alongside one wall of the exhibit, two platforms hold a small pile of loose braids and a satin bonnet.
Amid this tangible and intimate memory archive, Olagbaju has painted larger-than-life strands of hair, looped in preparation for braiding. On either side of the braids, she has illustrated a series of symbols on two scrolls, which extend from the top of the wall down to the floor. This centerpiece of a display is further parenthesized by two large prints: one in the color spectrum of a sunrise, and another of a sunset. The artist regards each of the pieces as cues and portals for ancestral exploration.
The show's title comes from a bracelet the artist's mother gave her when she was 22 years old. Before that, her great-grandmother had gifted the bracelet to Olagbaju's mother, with instructions to give it to her yet-to-be-born daughter when she felt she was ready. Olagbaju said she likes to imagine that her great-grandmother told her mom to "give her this when she's decided she knows herself."
The artist indeed has experienced a remarkable journey to self-discovery. The only child of divorced parents, the two sides of Olagbaju's family are from two geographically separated cultures. Her mother is of Gullah ancestry: descendants of enslaved Africans, whose isolation in South Carolina and Georgia led to a distinct language and culture. And her father immigrated to America from the Yoruba city of Ife in Nigeria, for school in the late Eighties.
[pullquote-1]The journey her ancestors took to converge and bring Olagbaju to life is something of a miracle. Digging through these journeys for information surfaced painful details, some recent and others decades and centuries old.
"My granny used to always say, 'Feed them with a long-handled spoon.' Sometimes, I do that with the more negative emotional results of this familial archiving," she said. "Sometimes, I hold it all very close, and sometimes it's pushed so far from me that I know it'll take a long time to come back into orbit for me. I always know it'll come back, though."
Haile Gerima's 1993 film
Sankofa
is a seminal work that explores the orbital travel Olagbaju is referring to. The title of the film, and the source of its thesis, is from the Ghanian Akan language, and it expresses the notion of going back to your roots in order to gain understanding, wisdom, and hope for the present and future.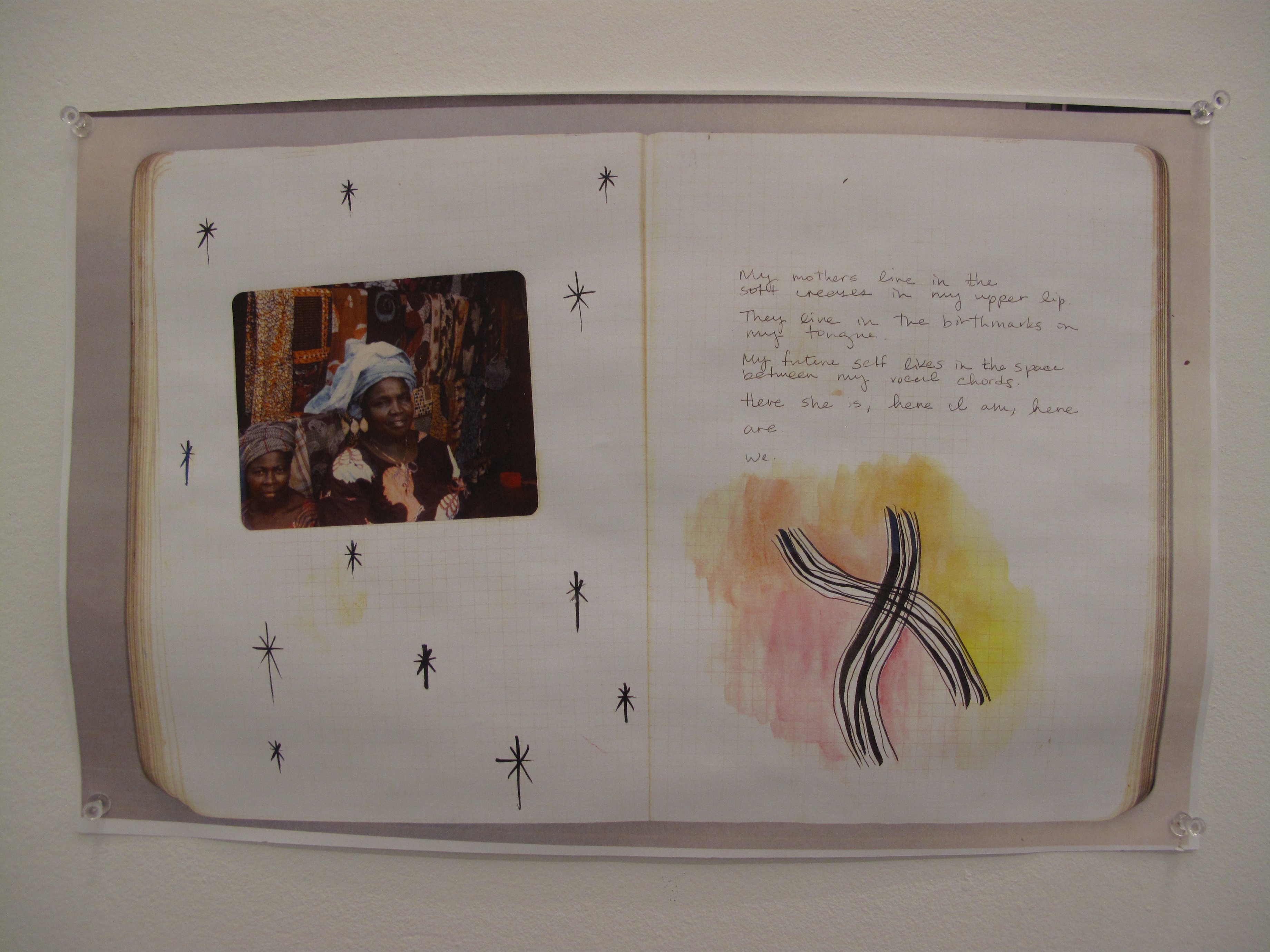 Exploring her ancestry has left Olagbaju convinced that the resilience she found alongside the trauma is worth marveling. "Survival for Black people in general is a way of magic. That is legit magic," she explained.
She told the story, for example, of how her maternal grandmother, at the age of 14, decided to move herself from South Carolina to Philadelphia during the height of the Jim Crow era. "Knowing that story incentivizes any of the radical work I do on this planet right now," Olagbaju said.
By turn,
give it to her when she's decided she knew herself …
is ultimately a spirited conversation and a dynamic family portrait, gathered by a curious and devoted daughter.
And this devotion to archiving is also an act of preservation. "Being an only child, especially being an only child of this very specific relationship that's no longer a thing anymore, [I] feel a responsibility to archive and catalog, and understand, both sides of this family, of this thing that happened that's no longer a thing, but is very much so still alive in my own existence."
Acknowledging the Past

Olagbaju spent most of her childhood in Hopkins, Minnesota, a city straddled between the suburbs and a lush countryside. Her family relocated to San Jose her senior year of high school, an especially dramatic shift. Olagbaju rebelled by graduating a semester early and moving to San Francisco.
After a few months, though, she returned to the Midwest, to attend Beloit College in Wisconsin, majoring in studio art and museum studies. Her archivist tendencies present themselves in her senior project and her first solo show in her college town.
In 2012, Olagbaju moved back to the Bay Area, eventually settling in Oakland. For the past few years, she has added to her radical art portfolio, examining trauma, identity, and relationships: through multimedia pieces exhibited at the Afrofuturism Conference at the New School in New York, and at various galleries in San Francisco and Oakland.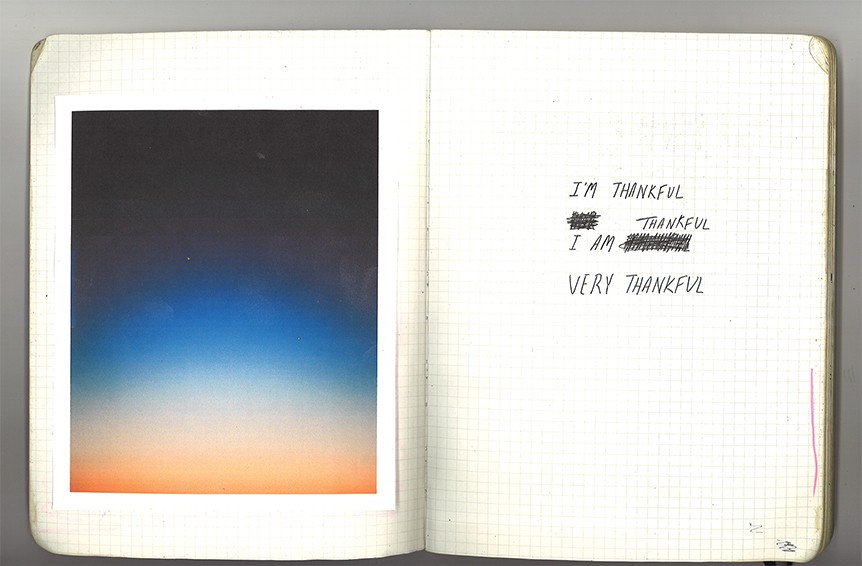 Earlier this year, she was part of a group show called Touch On: Aesthetics in the Art, Politics and Ontology of Touch, which reflected on the meaning and power of human touch. Exhibited at San Francisco's SOMArts Cultural Center, Olagbaju's contribution to the show was an immersive visual and sound installation titled "Universal Exchange." For it, she asked friends to record positive affirmations, which she played in the exhibit, set to a backdrop of projections of changing colors. "I was asking myself, 'In this moment, what do I need, and what do I feel others might need, to feel safe and secure in this world that is not safe?'" she explained of her motivation for the piece.
The unsafe world that led to Olagbaju's meditation on self-care in "Universal Exchange" is, of course, very much still here. In fact, for marginalized groups in America, things have taken a turn for the worst, as the country's leadership and institutions fastidiously discredit the lives of non-white and non-male residents.
"On one hand, I'm every day paralyzed by the racism and bigotry that exists in this country," Olagbaju shared, pausing for a moment before going on. "I do think though that one of the main ways that we become disengaged and disheartened, and not connected to our anger anymore, is that we forget how many things had to happen in order for us to be here.
"If I don't acknowledge how many people it took to raise me, or to be part of my life, or to make me into this person, then my existence becomes not worth fighting for."
And
give it to her when she's decided she knew herself …
at CTRL+SHFT crystallizes how our ancestry, and specifically our mothers and the women in our lives, inform that resistance.
For Olagbaju personally, her ancestors and their archives are a foundation of defiance and survival, something that she can look to when other institutions fail to protect her and the ones she loves.
She explained how turning inward in times like these helps her better understand her role in the world. "What can I contribute, based upon all these things that got given to me by my ancestors? What can I contribute to make this world a little better, or to make dealing with these issues a little bit easier, or to add longevity to the solutions that we come up with?" she says she asked herself.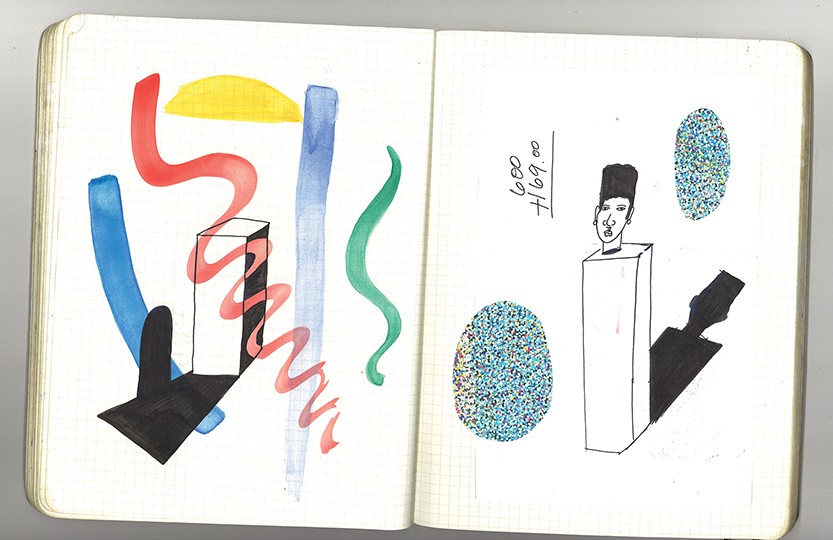 She also views family archives as portals that give her access to her ancestors at different moments, and spaces, in their lives. And, in a more literal sense, she also has drawn portals at the exhibit, in different shapes and sizes: a small, rounded doorway, warped circular shapes and the larger-than-life strands of braids — a timeless focal point of black women's self-care ritual. Each portal is painted in black, and speckled with white dots resembling a constellation of stars. The artist says that she puts these portals in places where she wants "somebody to be present, but also be open to the possibility of something changing."
She hopes the show will not only transport her audience to visit her ancestors, but also open people to the possibility of using the space to examine their own familial legacy.
"That's what I want my work to be right now. A catalyst for people to understand themselves better. I hope it encourages people to think more deeply about their ancestry."