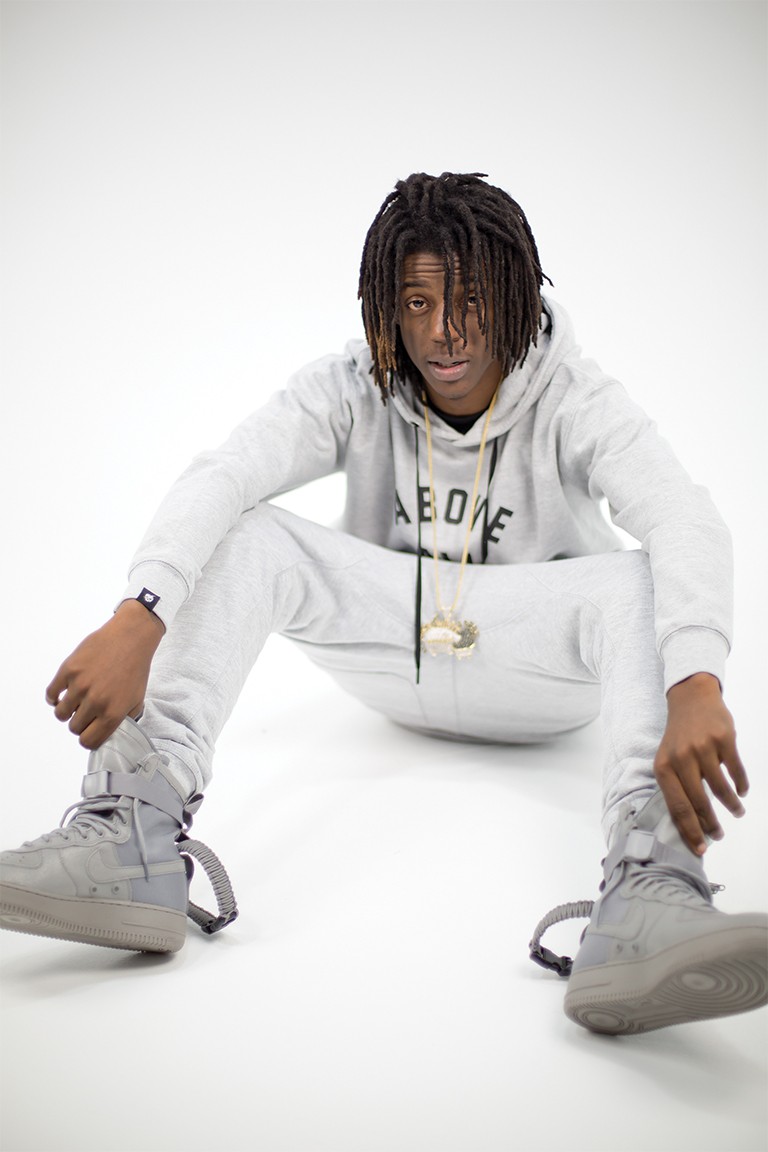 Before the verve and venom of "Lay Down" snared the streets and earned OMB Peezy his pick of hip-hop labels, the 20-year-old Sacramento-via-Mobile, Ala. rapper celebrated his modest local listenership on Instagram. One post is a screenshot of fans quoting his lyrics on Facebook. Another, showing Soundcloud plays, has a crestfallen, frustrated caption: "I just want da top. Bn at da bottom too long. … LINK IN BIO."
The success of "Lay Down," though, prompted a series of events that launched his career: Vallejo rapper Nef the Pharaoh, who'd heard the song through his manager, brought it to the attention of E-40, who signed Peezy to his Sick Wid It Records. Within months, 40 flew with Peezy to New York, swiftly up-streaming his new signee to a joint deal with 300 Entertainment, whose roster currently includes Young Thug and Migos.
The new, 10-minute documentary on Peezy, Word of Mouth, which shows a lot of stumbling around green rooms, captures the camaraderie between Nef and Peezy and provides a glimpse of their mutual concerns. Nef, clad in a bandana and bug-eye shades, laments that people in the music industry "try to compromise your style." Peezy replies, "That's why I be with 300 — they let the nigga Young Thug get on his shit with a dress on!"
"Lay Down" dropped in December 2016. Peezy has told interviewers that he didn't have a childhood; people call him a "young OG." Still, in a recent interview — ahead of his debut release, the six-song, Cardo Got Wingz-produced Humble Beginnings EP — Peezy seemed slightly dizzied by his own rapid ascent, unsure if it's been long enough even for hindsight. "Back then," he started to say, before faltering. "Well, I don't want to say 'back then' because I'm still young, but I'll still say it — back then …"
OMB Peezy is an arresting vocal stylist, warping syllables into sticky, gelatinous phrases without losing articulation. And he's versatile, wheezing creaky a's and e's like his idol Boosie Badazz (a fan), or chatter-mouthing through verses stuffed with internal rhymes. His delivery is always inflected with sun-kissed melody, which undercuts the lyrics about gun-toting, bitter vengeance. Murder murder murder/Kill kill/goin' through a nigga mind goes the refrain to "Lay Down," sounding somehow gospel in his singsong lilt.
Peezy grew up in public housing in Mobile, Ala. and moved to Sacramento at the age of 12, staying briefly with his family in a homeless shelter. People mispronounced his birth name, LeParis, so he adopted Peezy. (OMB stands for "only my brothers.") He didn't finish high school. A cellphone video uploaded in 2013 shows him freestyling, already agile and confident. Then came a jail stint on weapons charges; while inside, his child was born. "All that year before 'Lay Down' I was just getting in trouble," he said.

[pullquote-1]

"Lay Down" sounds like a Southern rapper slaying a Bay Area beat (not least because it lifts a sample from Nineties great Celly Cel), an encapsulation of his region-straddling identity. He's closely associated with fellow E-40 protégé Nef the Pharaoh, plus Vallejo group SOBxRBE (with whom he recently toured). But Humble Beginnings emphasizes other styles — and his origins. The only other rapper featured is YoungBoy Never Broke Again, from Louisiana. In Mobile last month, he did a meet-and-greet at a barbershop; the first 50 attendees got free haircuts.
Humble Beginnings, which features relatively spare beats with downcast piano flourishes, was produced entirely by Cardo Got Wingz, who's also worked with Kendrick Lamar and Drake. Peezy says the six songs were culled from more than 90 tracks— recorded in Atlanta, New York, and the Bay Area between tour dates — and the lyrics, as the title suggests, find him wrestling with the way his life has transformed, especially new-money anxieties.
"It's basically about, if you a rapper, you still gonna stress. … When you got the cheese, if anyone's struggling, their struggles become your struggle, feel me," he said. "Yeah, it gets hard to trust." In "Doin Bad," the moody, contemplative single, he puts it plainly in the first verse: I was strugglin'/Now I got different struggles/Now that I'm getting rich.
Indeed, Peezy seems keen to how the stakes mount with the clout, especially for a new father, and how easily careers derail. He knows that his deal with 300 and Sick Wid It means an enviable amount of resources for an artist based in cities that are more often overlooked by the music industry, yet he also recognizes that it's precarious. "That shit's like a machine, feel me," he said. "If one screw off, the whole machine fuck up."