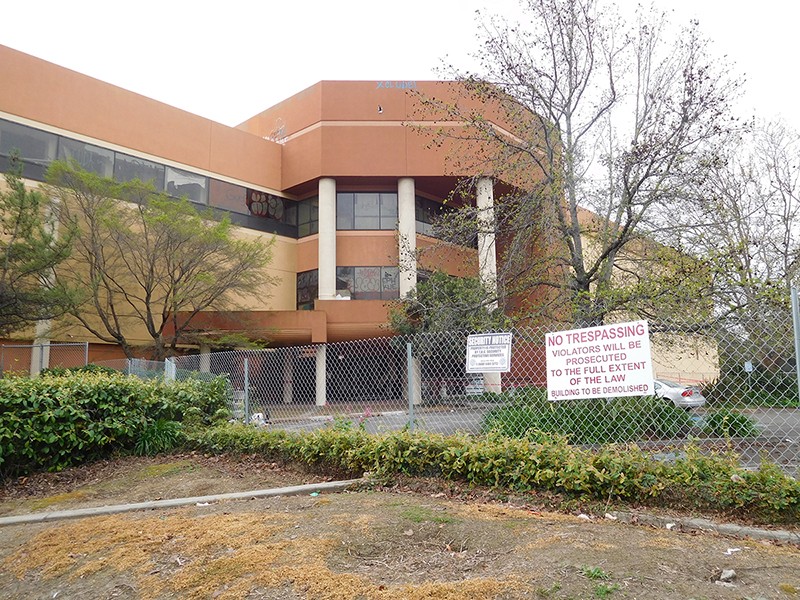 It was once known as "The Golden Strip," a mile or so of shops and
restaurants along Foothill Boulevard in downtown Hayward. At the strip's center was the sprawling Emporium Capwell's department store. When it opened in 1957, Capwell's symbolized Hayward's rise to suburban affluence. Later, Capwell's was transformed into the headquarters of the giant retailer Mervyn's.
But fast forward 60 years; the old Capwell's-turned-Mervyn's building has been abandoned for a decade. Mervyn's went bankrupt in 2008 and laid off its entire staff. And just as the Great Recession drove thousands of East Bay residents out of their homes, the empty Mervyn's building took on a new role. It became a massive, informal shelter for the destitute.
Depending on whom you ask, the building had as many as a couple-dozen residents during its heyday, but sometimes only a few people were actually living inside.
Graffiti artists and copper thieves frequented the place, too.
As of last week, the 330,000-square foot eyesore is being torn down to make way for a new 476-unit housing development. But the building's recent history underscores Hayward's growing homelessness crisis, and the dearth of shelters, a problem that won't be solved by demolishing it or building new market-rate homes.
According to several people who recently ventured inside the former Mervyn's, its inner hallways were a labyrinth of hazards, including exposed asbestos, rodents, and jagged metal protruding from the walls. Some residents had built fortifications and other structures deep inside.
According to a city staff report, between January 2015 and November 2016, the Hayward Police Department had 274 calls for service at the old Mervyn's. The Hayward Fire Department reported 22 incidents there as well.
"It's a really common issue where people with little or no means end up in these dangerous spaces that aren't meant for human habitation," said Julia Lang, a staff member with the Downtown Streets Team in Hayward. Lang and other outreach workers said the Mervyn's building was a conundrum: It sheltered homeless people on cold and rainy nights, but it also exposed them to asbestos and other hazards.
It was recently even the home of a pregnant woman and a man who uses a wheelchair, said several outreach workers.
"There's a lot of little squats in Hayward," Lang said. The Mervyn's building was only the biggest and best known.
According to City of Hayward spokesperson Chuck Finnie, the vacant, warehouse-sized, four-story structure was used as a shelter mainly because its residents just didn't see any better alternatives.
That's partly because there aren't enough shelters in Hayward to accommodate the area's large, but largely hidden, homeless population.
Kimberly Burks with the Downtown Streets Team said that, several weeks ago, one of the building's residents alerted her via Facebook that the doors and windows were boarded up, but a few people were still inside. "They had to squeeze out the windows to get food and water," she said. "Someone was in there in a wheelchair." The boards were ripped off after a few days.
Burks was on the city-county-nonprofit team that did a final walkthrough last week, just before the building was closed once and for all. She said the local authorities and developer did their best to offer help to those leaving the building, but that most had moved out weeks and months ago.
Ralph Morales has worked for years at the South Hayward Parish, one of only two homeless shelters open to adults in the city. People used the Mervyn's building partly because of its central location and ease of access. The abundance of space inside was an added benefit.
"The Salvation Army has 20 beds, and we can do 25," said Morales, about the city's existing shelter capacity. "I hear there's 200 plus homeless in Hayward."
He added that the South Hayward Parish is only funded as a "warming station," meaning that it can only open for 44 nights of the year. Its beds are closed the rest of the time.
Because the city doesn't have an adequately sized shelter, and affordable housing isn't being built fast enough, people end up living in dangerous spaces.
Upon learning that the Mervyn's building was being demolished, Alameda County Supervisor Richard Valle wrote to Hayward City Manager Kelly McAdoo on March 7, expressing his concern for the health and safety of the residents. He also asked Hayward to provide relocation assistance, including temporary housing.
McAdoo replied that, as "unauthorized occupants," the building's former residents weren't eligible for housing assistance. But she echoed everyone's observation: Hayward and Alameda County's homelessness crisis long ago outstripped the region's budgeted resources.
"There is a pressing need to create more housing units for vulnerable and disabled individuals," she wrote.
All 476 units in the new housing project replacing the Mervyn's building, however, will be market rate and out of reach to the homeless and working poor.
Morales frequently takes the city's homeless residents out for coffee. Through these conversations, he's learned that many of them are from Hayward. They're not newcomers from Oakland or San Francisco, pushed south by the police, as some in the city claim. All they want to do is stay in their hometown.
"It's amazing to me how many people are resolved to stay in Hayward," said Morales. "This is their home. Lots of them were born here. This is their city."