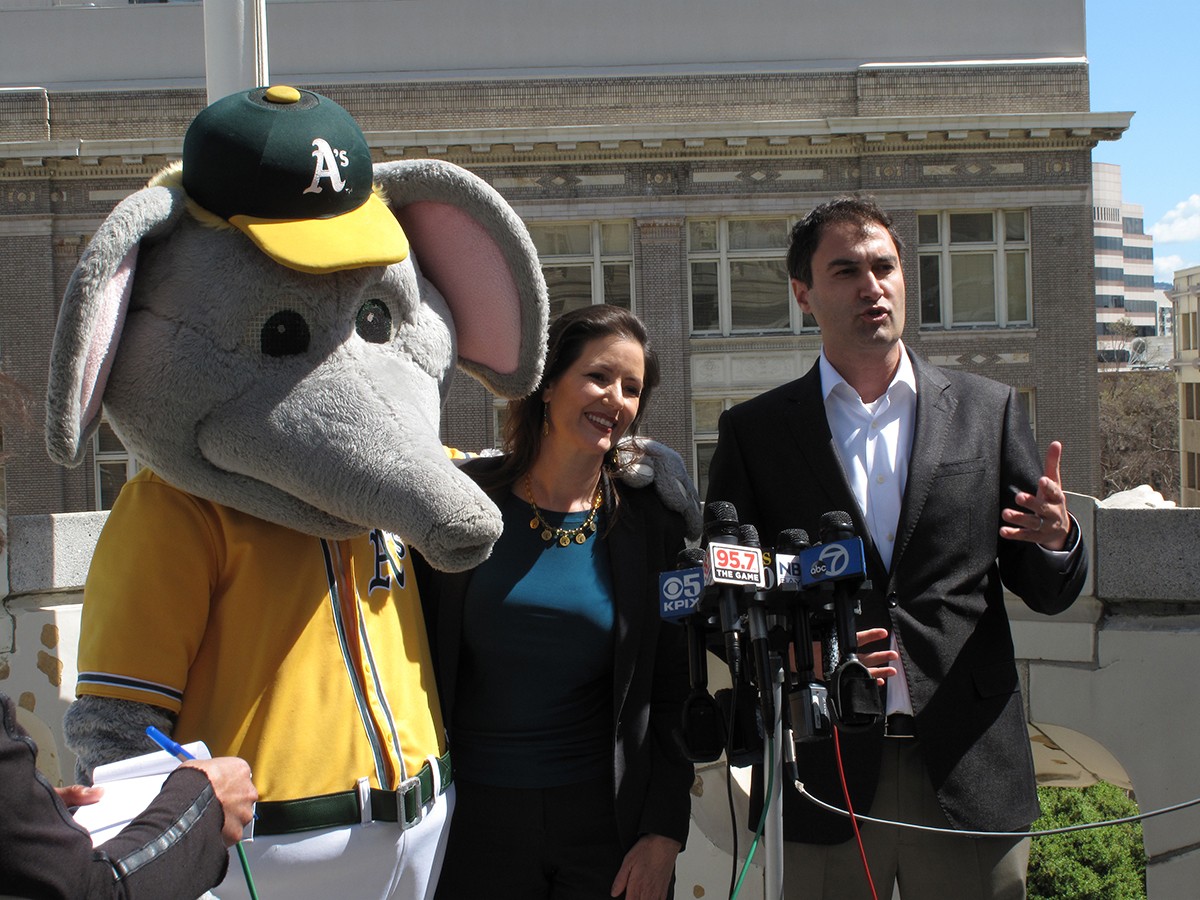 If Mayor Libby Schaaf felt even a modicum of grief about the Raiders ditching Oakland for Las Vegas, she didn't let on this past Monday morning.
Hardly an hour after dispatches from an NFL owners summit in Phoenix confirmed the team's getaway, Schaaf found herself on City Hall's roof, surrounded by a coterie of A's fans, plus the team president and even its mascot, Stomper. A scrum of reporters snapped photos as she
single-handedly raised an A's flag into the clear-blue sky
. Then she posed for more pictures while the team banner whipped in the wind over Frank Ogawa Plaza.
Yes, this actually happened. And while the event apparently was scheduled long before the NFL's decision to abandon The Town, and is an yearly ritual before baseball's opening day, the optics of the moment were unambiguous:
The mayor's flag at City Hall is a giant middle finger in the face of Raiders owner Mark Davis and his league.
As well it should be. It's bad enough that the NFL sweeps domestic-violence incidents under the rug, ignores debilitating physical abuse to its players, and gouges cities and fans while padding its billionaire owners' coffers. The Raiders unscrupulous departure to Sin City, coming on the heels of relocations by the Rams (who bailed on St. Louis) and the Chargers (San Diego), etches in stone the NFL's a unique brand of greed and shitbaggery.
I mean, what is there to say about a league so bereft of dignity that it would betray even its most loyal followers, Oakland's Raider Nation? (Save for the Miami Dolphins owner, lone honorable voice in that room of 32 NFL executives on Monday.)
You can second-guess the mayor's commitment to actually wanting to keep the Raiders, but we should all applaud Schaaf for not caving to the craven NFL money-grubbing. The league demanded public subsidies from Oakland, but Schaaf knows there are much more important uses for our scarce city dollars.
Don't take that for granted. Like countless public officials before her, Schaaf could have handed commissioner Roger Goodell Oakland's purse strings and erected man-child Davis a legacy stadium to honor his departed father, Al Davis. It happens all the time, even in California.
Don't believe that the tremendous pressure on electeds to fork over public money is real? Just look to Indianapolis, where Major League Soccer is currently shaking down officials for $150 million, in exchange for an expansion franchise.
Or Cleveland, where the champion Cavaliers' owner now wants the city to hand over $70 million, for arena "upgrades."
And there's Denver, where baseball's Rockies are asking for $200 million, so that Coors Field will last another 20 years.
And Nashville, where the NFL Titans' owners want $4.4 million for basic stadium maintenance,
including $1 million for "new doors."
And, if you think California is immune to such shakedowns, consider nearby Sacramento. Polling showed that voters in that Democrat-leaning city were overwhelmingly opposed to public money being spent on sports stadiums. Yet former
Mayor Kevin Johnson finagled a $250 million cash subsidy for tech billionaire Vivek Ranadive's new downtown Kings arena
— plus another $100 million worth of sweeteners, including property and digital billboard advertising sites.
Now, that not-too-distant burg will spend nearly $20 million annually for the next 35 years to pay off its arena debt load. (It's worth noting that Sacramento's fiscal-year budget is approximately 25 percent less than Oakland.)
All that said, we shouldn't hoist the mayor on our shoulders, carry her through the bowels of the Coliseum and onto the post-subsidy field of victory. As the Monday morning fire that destroyed a West Oakland apartment building, claiming four lives, reminded, there are more critical housing issues here in the East Bay. Much more pressing than where Derek Carr and Co. will call home.
The mayor gets to raise her flag (and middle digit to Davis and the NFL). But now it's back to work.